The final season of 'Anything Goes' at The Sydney Opera House
Reviewed by H Clements for DanceLife Australia
Last week saw the official, red carpet Sydney premiere of the all-Australian production of the classic Broadway musical Anything Goes at The Opera House after earlier seasons in Brisbane and Melbourne. It closes on October 31.
This polished collaboration between Opera Australia and The Frost Group brings together some of the best Australian talent both on and off stage in this re-worked version of the 1934 romp originally written by Guy Bolton and P.D. Woodhouse and featuring Cole Porter's timeless music and lyrics.
But make no mistake … this is Caroline O'Connor's show! From the moment O'Conner takes the stage the audience is enthralled by her throaty, theatre-filling voice and her larger-than-life incarnation of Reno Sweeney – the brassy nightclub singer onboard the ocean liner SS American en route to London from New York.
O'Connor nails the character of evangelist-cum-entertainer in both energy and performance quality. She pulls-off not just a broad New York accent but also the slap stick physical comedy, intricate songs and corny gags so convincingly that the viewer is then left in awe of her incredible dance finesse and stamina. Watching O'Connor, one can almost forget that this musical is quaint and far-removed from contemporary times. O'Connor is truly one of the most accomplished musical theatre performers of our time and her reputation earned on Broadway and in the West End is clearly on display in this production.
O'Connor gets to sing the famously familiar 'I get a Kick Out of You', 'You're the Top' and hilarious gospel-mocking 'Blow Gabriel Blow' (which are of course delivered spectacularly); but perhaps the highlight of the entire show is the ten minute all-cast tap dance number to the title song 'Anything Goes' at the end of Act I led by O'Connor which received a standing ovation.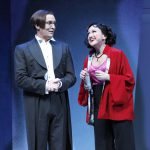 Don't get me wrong though – her fellow cast are no slouches either. Headlining with O'Connor is Todd McKenney as the daffy English Lord Oakleigh, Alex Rathgeber as besotted Billy Crocker and Claire Lyon as the object of his affection, Hope Harcourt.
McKenney is almost unrecognisable as the awkward English fiancé of Hope Harcourt. His floppy-haired-Hugh-Grant interpretation of Lord Oakleigh actually works perfectly in the context of the show. Otherwise, it would have been distracting to see McKenney – as 'Todd McKenney' – on stage. In fact, he probably has the most difficult character to play with conviction and he does it quite perfectly. After all the 'toffiness' it is a welcome relief to see McKenney let loose in his highlight number 'Gypsy in Me' and demonstrate his dance moves in the big tap numbers. He's still got it!



Alex Rathgeber delivers a clean performance as Billy, demonstrating he is a real triple-threat talent to watch out for; as is Claire Lyon as New York debutante Hope Harcourt. Lyon's performance could not be faulted as the lovely young heart set to marry Lord Oakleigh. As a character, Hope is fairly one-dimensional and Lyons does the best she can with the material on hand. The pair get to deliver another famous ditty in 'It's DeLovely.'
In the Sydney season, satire-actor Gerry Connelly has replaced AM-shock-jock Alan Jones (most thankfully!) as the comical Captain of the S.S. American and he even gets to practice his tap dancing! Anything Goes also features Carmen Duncan as socialite mother-of-the-bride Evangeline and Bartholomew John as the drunken businessman Elisha Whitney. Both provide great comic-relief amongst the shenanigans onboard.
The other two standouts of Anything Goes are Wayne Scott Kermond as try-hard gangster Moonface Martin and his lady sidekick Erma, played by (a must-watch!) Debra Krizak. Kermond does vaudeville slap stick with ease and conviction. He carries off the lame gangster jokes (read: guns in violin cases and lame disguises) and physical comedy like a pro – which of course he is! But perhaps the funniest of characters is delivered in Debra Krizak's Erma. Erma is funny via her nasally voice, clunky stance, sarcastic delivery and overt sexuality. She is delightfully over the top! Her feature routine 'Buddie Beware' sees Krizak shine as she brazenly performs with the panting-sailors in a fairly tongue-in-check raunchy manner!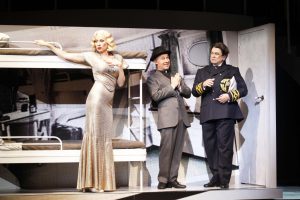 The entire cast of Anything Goes is vocally pristine, and is of the highest caliber. Unlike most musicals these days, Anything Goes is set upon a modest stage and set. What it lacks in modern whizz-bang theatre production technology; it well and truly makes for in quality cast, timeless tunes, dance routines (by Andrew Hallsworth) and the talent to bring it all to life on stage.
If you're after cutting-edge musical theatre Anything Goes is probably not for you. It revels in tradition and the storyline holds true to social and cultural references of the 1930s. In fact, I doubt anyone under 35 would understand any of the historical references! Yes it's corny at times, but the most cringe-worthy pre-'PC' element is the two Chinese characters portrayed by Aljin Abella and Nicholas Kong. They have a tough gig. Now, I know that things were much different in the 1930s and stereotyping Chinese characters as compulsive gamblers and drinkers with Imperial-issued uniforms, buck teeth and bowl cuts were once a belly-full of laughs, but Anything Goes does well to try to mock this racism and make it almost palatable … almost. Its saving grace is the finale that features Abella and Kong performing the title song in Mandarin and taking centre stage. Go them!!
Despite being 80 years old, Anything Goes does present some themes that ring true today like the cult of celebrity, infamous or not, the hypocrisy of religious morality, and appeal of hard-drinking and partying and, of course, the timelessness of a love story. Considering this show debuted in Depression-era New York and came to be one of the most successful shows of the thirties, the appeal of Anything Goes lay in its escapism and unapologetic innuendo, stereotypes and outrageousness.
Anything Goes recently won three gongs at the prestigious Helpmann Awards: Best Musical Choreography to Andrew Hallsworth, Best Male Supporting Actor in a Musical to Alex Rathgeber, and Best Female Musical Actor to Caroline O'Connor. Dean Bryant was also nominated for Best Director of a Musical.
This is a classic musical and can please both old and young. The old will love the comforting memories of familiar tunes and styles and the young should appreciate the musical theatre history lesson. After all, this is a true classic of the genre.
At the end of the day, Anything Goes is a fun production that doesn't take itself too seriously. It's a fun, slapstick and vaudevillian romp with a bit of modern bawdiness thrown in. It's slick, tight and encapsulates everything that musical theatre should be.
But most importantly – Don't miss this chance to see the amazing Caroline O'Connor live on stage in Anything Goes!
Anything Goes is playing at The Sydney Opera until 31st October.
For details visit www.anythinggoesmusical.com.au