The Legend of Mulan | 4 Performances only!
The long-awaited Hong Kong Dance Company's production of The Legend of Mulan premieres on 17th September at The Concourse in Chatswood, Sydney.
As part of the HKDC's Australian Tour the 26 young dancers held a number of workshops with some lucky dance students prior to the show opening. It is the first time the HKDC has visited Australia.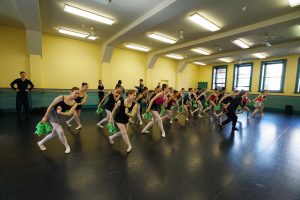 The Legend of Mulan, a medieval Chinese poem known to many through the 1998 animated Disney Film, is a story of heroism and honour. It tells the tale of a young girl, Mulan who takes up martial arts and dressed as a man goes into battle to save her elderly father.
HKDC's Artistic Director and Choreographer, Yang Yuntao has brought his own innovative and energetic style to this production combining contemporary and traditional Chinese dance to produce "thrilling battle scenes balanced by a touching portrayal of Mulan's relationship with her father." Yang uses exciting parkour and acrobatics to enhance the entertainment.
Yang's ensemble of dancers has already toured New York and won gongs in both the Outstanding Production and Outstanding Ensemble Performance categories at last year's Hong Kong Dance Awards.
This tour is sponsored by the Hong Kong Economic and Trade Office Sydney, which aims to strengthen economic ties with Australia and New Zealand and promote Hong Kong's interests in the region. The Government of the Hong Kong Special Administrative Region has financially supported Hong Kong Dance Company since their incorporation in 2001 as a charitable and non-profit-making institution.
The Legend Of Mulan


Thursday 17th – Saturday 19th September
7:30pm & 2:30pm matinee on Saturday
The Concourse Theatre, Chatswood
Tickets from $65.65 from Ticketek
For more information, visit www.legendofmulan.com.au.