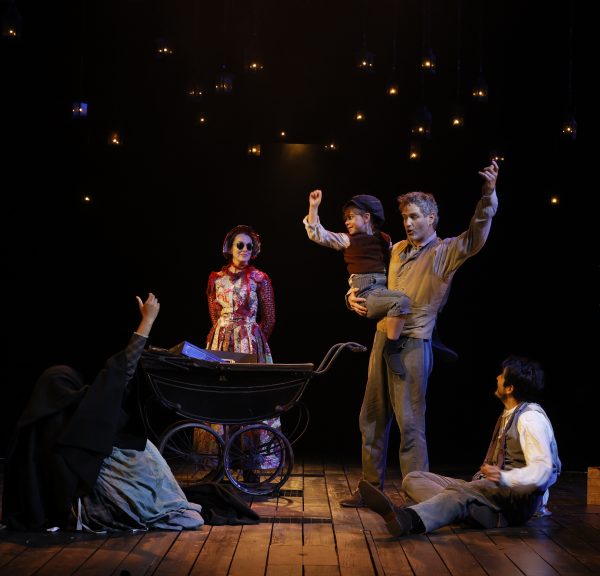 A Christmas Carol
Comedy Theatre, Melbourne
Reviewed by Brendan Daynes
With all the warm and fuzzy feelings associated with the festive season, this immersive theatre experience is a must see for all this year!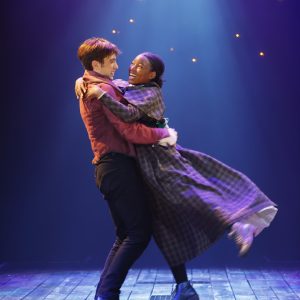 After successful seasons in both the UK and the US, it is now Melbourne's turn to experience the Old Vic revival of the Charles Dickens classic, A Christmas Carol. Audiences are taken back to Victorian London in this truely immersive theatre experience that is full of emotion that pulls on the heart strings while at the same time captures the true spirit of Christmas.
The story of Ebeneza Scrooge is a well known tale of a grumpy, selfish old man who is sitting all alone in his counting house on Christmas Eve. A number of visitors, including the "help" who is freezing next door and has been ordered to work late on Christmas, try and engage with him in an attempt to spread some Christmas cheer. Ebeneza shuts everyone down and chooses to be alone on Christmas Eve but as the night progresses he is in for a big surprise. He is visited by the ghost of his former business partner Jacob Marley. Marley is condemned due to his greedy and self serving spirit and tries to convince Ebenezer to change. Ebenezer is unconvinced and goes to sleep only to be woken by the visits of more spirits, including the ghost of Christmas Past and Present. Over the course of the night these spirits have a profound effect on Ebenezer, making him see the error of his ways and how this has effected those around him. He learns some tremendous lessons, including that of generosity, and is redeemed to be the man he once was, generous, loving and joyful.
The story portrayed here is not all that different, if at all, to the story that we know and love but the difference here is the way that it is presented. Audiences are encouraged to arrive and be seated a little early to enjoy the pre-show festivities, which include the cast handing out mince pies and fruit, adorned in period costumes, as well as the band being onstage playing some instrumental tunes all contributing to a feeling of Christmas cheer, and the show has yet to even begin!
The stage is dark and is covered in literally hundreds of lanterns which are also hanging around the audience that, thanks to the clever lighting design of Hugh Vanstone, adds such atmosphere to the already emotional journey that audiences are taken on. The sound design of Simon Baker must also be commended. His perfectly timed sound effects, such as the opening and closing of imaginary doors, are sublime and added another layer to this completely immersive experience. Rob Howell's set has an appropriately minimalist design and the costumes are aptly authentic of the period. The movement by Lizzie Gee can only be described as energetic, fun and full of life. The few moments where the cast dance together really do capture the fun and frivolity of a Christmas celebration.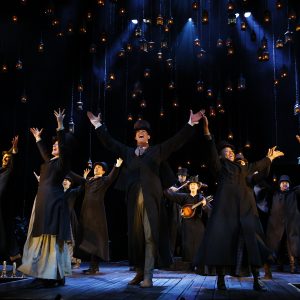 The entire cast, including the band, do a spectacular job of keeping the audience completely engaged for the duration of the pre show and the performance, which they can't help but become a part of in the second act when they are finding themselves bringing something to Christmas dinner! David Wenham is perfect as Ebenezer, capturing the grumpy old man who we meet on Christmas Eve and then lighting up the stage with his transformation on Christmas Day. Acting veteran, Debra Lawrence, is utterly compelling as the Ghost of Christmas Past, as is Bernard Curry, who shows such emotional depth in his portrayal of Bob. A special mention must be made of Theo Watson-Bonnice who is making his theatrical debut as Tiny Tim, in a performance that is full of charisma and energy, he is utterly heart warming. The supporting cast are equally as talented showing depth to their acting talents and beautifully warm tones to their vocals. The show features 12 classic Christmas carols, some with no vocals, with the supporting cast ringing the "bells" which provide a magical and captivating element to this impressive production.
A Christmas Carol is a beloved classic that audiences know and love and is a story that will, no doubt, give audiences all the warm and fuzzies. This beautiful story depicting what it really means to show the true spirit of Christmas has had another layer added, with simply breathtaking production, an incredibly talented cast, it is sure to have anyone and everyone feeling the joy of Christmas.
A Christmas Carol is playing at the Comedy Theatre in Melbourne until December 30th 2022. For more information or to purchase tickets visit https://christmascarolaustralia.com.au/