Full Cast Announced for Australian Premiere of Ragtime

11 Performances Only, 2-10 November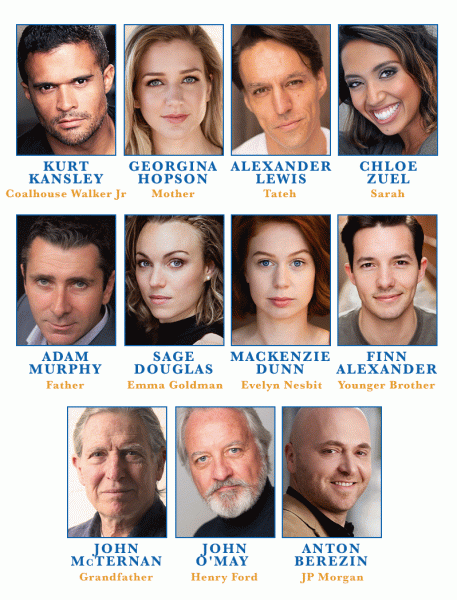 Ragtime makes its much anticipated Australian Premiere this November at Arts Centre Melbourne for 11 performances only.
The Production Company was thrilled to announce internationally renowned tenor Alexander Lewis will join the cast in the role of Tateh. Georgina Hopson, the 2017 winner of the Rob Guest Endowment will play the role of Mother. They join a stellar cast including Kurt Kansley, Chloe Zuel, Adam Murphy, John O'May, John McTernan and Anton Berezin.
 Read our previous article on Ragtime and The Production Company Season 2019 here.
Sage Douglas, Mackenzie Dunn, Finn Alexander, Joti Gore, Matt Hamilton, Louis Lucente, Ruva Ngwenya also join the cast along with ensemble members Shauntai Batzke, Kaya Byrne, Mia Dabkowski-Chandler, Mark Doggett, Courtney Glass, Gareth Jacobs, Nana Matapule, Barry Mitchell, Victory Ndukwe, Greta Sherriff, Jas Smith, Angelina Thomson. This all Australian company is joined onstage by the 20 piece Production Company Orchestra.
A powerful portrait of the birth of the American nation, Ragtime is filled with pageantry, emotion and optimism. A musical not to be missed. At the dawn of a new century everything is changing…and anything is possible. Set in the melting pot of New York, three distinctly American tales are woven together in Ragtime.
Ragtime draws upon many musical styles: the ragtime rhythms of Harlem and Tin Pan Alley, the klezmer of the Lower East Side, brass band marches and delicate waltzes, from up-tempo banjo tunes and expansive anthems. A truly unique and powerful portrait of America, Ragtime is sure to inspire. 
'A TRIUMPH FOR THE STAGE. ' – TIME
'TIMELY, STUNNING, UPLIFTING AND EXHILARATING.' – VARIETY
www.theproductioncompany.com.au/ragtime/
RAGTIME THE MUSICAL
State Theatre, Melbourne
2-10 November 2019
Bookings: www.artscentremelbourne.com.au