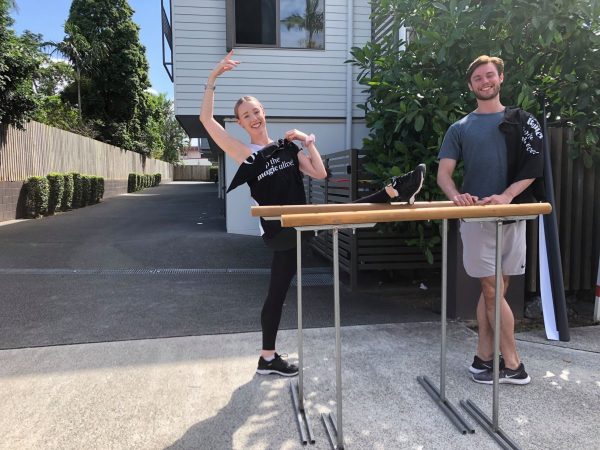 Keep The Magic Alive
QBs Supports its Dancers at Home and Seeks Donations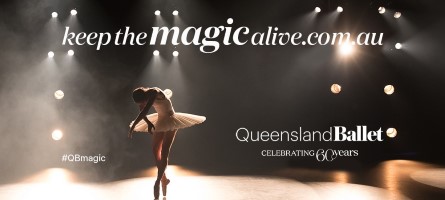 Queensland Ballet has launched a campaign designed to Keep the Magic Alive. Intended to surprise and delight both the dance community and the wider community at large, the campaign will inject creativity, dance and happiness in these strange times of an unprecedented performance shut down.
Artistic Director Li Cunxin AO said just because the company isn't performing on the main stage doesn't mean the magic has to dry up.
"We are in the business of making people happy and creating magic on stage. As soon as we knew this wouldn't be an avenue for us over the coming months, we began brainstorming how we could continue to engage our dancers, our teams and our wider community as we believe that is our ultimate responsibility."
Launching this week is a series of community engagement classes which can be accessed free of charge online.
"We'd like to continue these over the break, and we're looking at ways our teachers can record sessions from their home," Mr Li said.
Another major challenge facing the company is the need to keep its 60 dancers fit and ready to leap back onto the stage when the social restrictions are eased, and the community is safe again.
Last week, old tarkett flooring was cut up and portable ballet barres were made by Queensland Ballet's internal teams, all ready for a surprise delivery to all the dancers on April 1st. Head of Experiences and Place Lucas Gilroy said his team has been working together, going beyond their normal duties in order to bring this project together.  Queensland Ballet's team set to work distributing them today ensuring social distancing was maintained.
"It's been a surreal experience. Their reactions have been priceless, and their natural euphoric reaction is to want to hug you. So, there's this awkward moment when they're going in for the hug, and you're blocking them and then they realise they can't touch you," Mr Gilroy said.
Head of Performance Health Zara Gomes said the package will also help them look after their bodies and, importantly, their minds.
"They've been using everything from bench tops to tables and ironing boards as ballet barres, and practicing on surfaces that could be slippery.  Keeping 60 company dancers fit and injury-free is challenging at the best of times. At least now we know they have a small surface and barre which is closer to their normal situation, where they can practice safely," she said.
"Perhaps even more important is how this gesture will assist with their emotional wellbeing.  Dancers have short careers and to not be able to perform for weeks, possibly months, is really quite devastating.  Now, as they receive their online classes from Queensland Ballet's Artistic and Performance Health teams, they will be truly be able to work from home, in their own home studios," Ms Gomes said.
Queensland Ballet has been unable to perform at all this year. The company is hopeful it can recommence the 2020 season in July but will wait for further advice from health officials in this ever-changing climate.
Executive Director Dilshani Weerasinghe said at this stage Queensland Ballet has continued to engage its permanent staff on full pay, with its Executive team of three taking a 20 per cent pay-decrease.
"We have made a commitment to our dancers and our enabling teams to do all we can to continue their employment with us. However, in the absence of Box Office income due to postponed or cancelled performances, we are now reliant on cost-savings and raising income from corporate partners and donors," she said.
"We know that our Governments are working hard to keep jobs and we're proud to be doing our part.  We've asked our dancers and enabling teams to share their ideas as to how we can engage with our community off-stage and outside the studio.  Their creative spirits have shone through and we are looking forward to sharing these ideas, their stories and creating as many positive moments as possible for as many people as possible over the next few weeks.  It's what will keep the Queensland Ballet family going and it's what will ensure that we are ready to spring back when this is all over," Ms Weerasinghe said.
"We are 60-years-old this year and it has taken us that long to build to where we are now.  We have hand-picked our dancers and our teams and we will hold onto them as long as possible," she concluded.
Launching this week, keepthemagicalive.com.au will be seeking to inspire the community to support Queensland Ballet in its endeavour to keep all its dancers and all members of its enabling teams through this period.  Anyone wishing to donate can go to www.keepthemagicalive.com.au
Queensland Ballet wishes to thank its partners for their ongoing support including Principal Partner Suncorp, Government Supporters, Queensland Government and Australia Council for the Arts and our major Partners JCDecaux, Sealy, Shell's QGC Business and Virgin Australia.
Or for more information go to https://www.queenslandballet.com.au/covid-19-update.