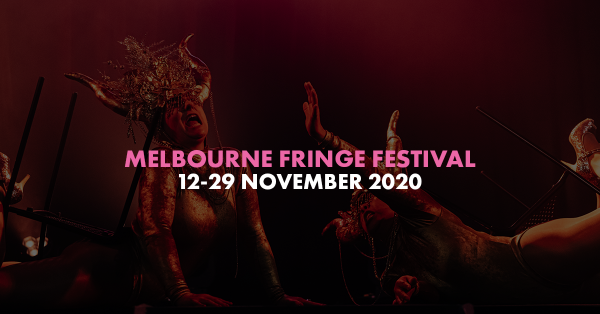 New Dates for Melbourne Fringe Festival
12 – 29 November 2020
Australia's largest independent arts festival, Melbourne Fringe, is moving its 2020 festival dates and offering support to artists who are facing challenges due to the COVID-19 crisis. Now taking place on 12 – 29 November 2020, Melbourne Fringe is working toward creating another boundary-pushing festival while supporting all the venues, arts workers, artists and the wider community who have all been impacted by the widespread closure of events, seasons and festivals. Artist registrations will open on 1 June 2020.
Melbourne Fringe Creative Director Simon Abrahams said: "We know that artists are resilient, and even in the face of this crisis, will find a way to make and share their art. We are working on changes to the registration timelines and processes to support artists as best we can. We're planning for every contingency to ensure that no matter what form the Melbourne Fringe Festival will need to take come November – in the same room, socially distant or completely virtual – we'll have ways to celebrate Melbourne's extraordinary creative expression together.
"We understand this is a financially challenging time for artists and organisations too, and we will be announcing commissioning opportunities, grants and micro-grants over the coming weeks. We can't wait to see the outcome of all this pent-up creativity at the Melbourne Fringe Festival this November. On behalf of the whole Fringe team, our hearts are with all artists, producers, venues and organisations and we're here to help in any way we can."
The new November dates have been announced to allow art makers to have more time to prepare their show and adhere to the required social distancing measures. In 2021 and beyond, Melbourne Fringe will return to its October time slot.
Melbourne Fringe was established in 1982 as an annual open access festival that champions cultural democracy and supports anyone to participate in the arts. Their annual festival takes voices from the margins and amplifies them across the city in a range of programs including the annual design exhibition Fringe Furniture, participatory public art commissions, children's programs as well as its First Nations program Deadly Fringe, disability and Deaf arts programs, mentorships, workshops, residencies, forums, awards and touring support.
Melbourne Fringe also run year-round venue Fringe Common Rooms – a home for independent artists, for workers and for people who like to party. It's a meeting place housing a licensed performance space and a salon, for one-off and regular events, including live music, performance, comedy, cabaret, dance parties, spoken word, workshops and rehearsals. Fringe Common Rooms remains closed until further notice but will re-open for programming as soon as possible.