Pro Talent Watch | Yvette Lee
Hard Work at Home Pays Off for this Creative Choreographer Extraordinaire!
Interview & article by Heather Clements
Touring with Beyonce is on her ultimate bucket list … but Yvette Lee has almost done it all as a career dancer. It seems she has hardly had a day off in years, plus she has achieved more as a dancer and choreographer than she ever thought would be possible as an enthusiastic young ballet dancer from suburban Melbourne.
But Yvette Lee has earned her stripes and place as one of Australia's most hard-working, respected and talented dance talents capable of delivering quality performances across various mediums including TV, live shows and opera, musical theatre, commercials, corporate, music videos, awards shows, artist tours, festivals and large arena events.
Currently enjoying the spoils of her hard work over many years, Yvette is now finding the perfect balance between work and her personal life where she can fully appreciate and enjoy both equally, while she sets her sights on moving more into the creative areas of dance and performance.
Please enjoy our interview with Yvette Lee and find out what she thinks of the state of the industry in Australia as well as her fears for the emerging generation of dancers and what they lack most of all!
***
Q: How do you describe yourself professionally?
Professionally I do take this job very seriously. I'd like to think that people think of me as a hard worker as I consider myself a hard worker. I work hard, I try to deliver to the best of my ability, to the people that I'm working for. And I try to give the dancers as much as they need in the room to feel valued and supported. I describe myself as a choreographer as that is generally what I have been doing for the past 15 years, and this is now shifting into creative direction as well.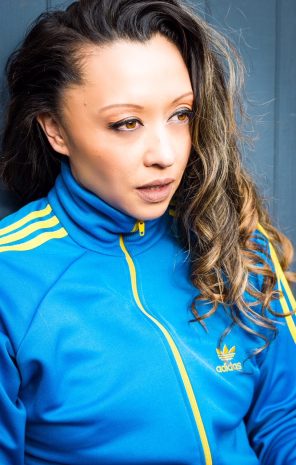 Q: So then, how would you describe yourself personally? Away from the business side of things?
I've only really gotten to know who 'Yvette the person' is in recent years, because I've really made it a focus to start having a lot of balance in my life. I started dancing when I was 3 years old, and I come from a family of three generations of dancers, and it was in my blood … it's all we did!
But, I found that I never really knew who I was as a person … I was always just the dancer. In my very early career I used to judge my self-worth off whether I was getting work or in the industry. So, I really was basing my self worth off what my job was, not who I was. In recent years I've really managed to find a bit of a balance between my personal and professional lives.
It's hard as a freelancer because you always get told to never turn a job down … which is great advice, but then you don't say no and just keep going and going and eventually burn out.
I do a lot of yoga and I take some time out where I'm not around the computer and I'm not on my phone. And I spend a lot more time with my family and with my friends, and I just sort of really try and nurture the relationships in my life, as well as my career.
Q: What's something that you've learnt about yourself as a non-dancer?
Yoga has become an important part of me. As dancers we're always exercising, so you just feel like you don't really need to do anything else. But, yoga for me is not exercise so much for my body as for my brain. Because it's just that hour that I can really just focus on myself and it's a meditative state that I think is really integral for me.
Q: What is your happy place at the moment?
Yoga and Bali actually! (Laughter)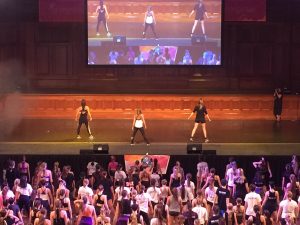 Q: You've been dancing since you were 3 … can you give me a quick synopsis of your training, how you started out, and your first job?
I grew up in Ringwood, Victoria, and started dancing with Marita Louden there. It was a local dance school but had a very strong emphasis on ballet. And I focused predominantly on ballet until I was about 12. Then once I started high school I started doing Saturday classes at the Dance Factory in Richmond, and it was there that I found my absolute love of jazz … but we called it funk back then! (Laughter)
I finished high school, got my VCE, and then did a year of full time training at Dance Factory where I had such incredible faculty such as Kelly Aykers, Andrew Hallsworth, Cameron Mitchell, Dulcie Lee and Vicky Lee. There were some incredible teachers, especially Barbara Warren-Smith who taught me everything about jazz.
I do remember my very first job, but I was hired by Jason Coleman to do the Logie Awards when I was just 17. And do you know what? I was absolutely petrified!
Q: What are you working on at the moment?
Well, I just got back from New Zealand, where I choreographed Candide for the Royal New Zealand Opera with Australian director Stuart Maunder. It was an amazing cast of Australians and New Zealanders.
And tomorrow I'm actually heading over to Manila with Darren Yap and Steven Amos to work on new musical based on the music of Air Supply (Australian band from the seventies) previewing at a resort there. It's a brand-new musical, called All Out Of Love, written by Jim Millan, and this is the first time its being performed. We've been work-shopping it for quite a few years, and we just feel like it's ready to get on its feet now. And you know what? Air Supply still tour to Manila twice a year so it's a really great place for us to test this out, as they are such huge fans.
I'm also working on a George Michael: Listen To Your Heart tribute show right now with Rob Mills, Casey Donovan, Hugh Sheridan, Andrew Da Silva and Bobby Fox. The next show is on July 8th at the Sydney Opera House.
The other big project I'm working on again is the annual Victorian Schools Spectacular. I just adore doing that; it's so great getting to work with the kids.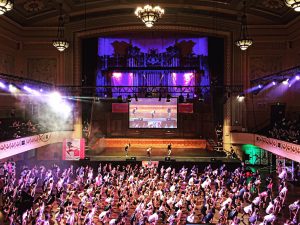 Q: When you started out in this career did you want to be a professional dancer, more than a choreographer?
No, I had such a love for choreography at such a young age. I loved creating from when I was young … maybe that's the bossy side of me!
I had a great performance career, and I did a lot of commercial dance and musical theatre, but I felt like it was winding up. Just not the work itself, but I could really feel myself when I was in the room, as a dancer, just watching the creative team and really wanting to learn. So, I made the conscious decision to switch from dancer to choreographer because I always think it's really important that people have a clear impression of what you are. It's really important that you are clear with people about what you want to do, and where you see yourself placed.
Q: What is at the top of your bucket list?
I want to go on tour with Beyonce!
Q: Do you think you've been lucky to have had so much work in Australia? Or, do you still feel that you really do need to go abroad and get those experiences and contacts?
I think travel is always good, and gaining as much experience and as many contacts can be beneficial. But, in saying that I really rooted myself here in Australia, and I feel that the benefits of doing that have really come to fruition for me. But there're two sides to it … I see people that have left and done incredible things, like The Squared Division and Shannon Holtzapffel (The Greatest Showman) … He's a perfect example of somebody who decided to audition for a major tour (Michael Jackson) and his career has unfolded to be incredible outside of Australia. But, I guess it's really the individual, isn't it? It's what you put in and what you make of it.
Had I thought a few years ago, "Oh, I'm going to go and see if I can make it in America", then, I would have lost everything here I've built.
Q: How do you see the state of the industry in this country at the moment?
I feel like it's just constantly evolving, and I think that's what's so wonderful about it. In Australia there's so much that happens artistically… and I think in terms of work that this year, in particular, dancers have (well the ones I know) have been constantly employed. And of course we have the musical theatre industry, which is always simmering away with work and talent.
The commercial dance industry in Melbourne is really big… there're people that are making weekly wages from it, that don't need to have supporting jobs. And I can only comment on that in Melbourne. But I feel like there's so much creativity, and there's a lot more people now that are producing their own work and their own shows… all pushing the industry further.
People like Marko Panzic and Paul Malek are out there actually creating companies and creating work for dancers that didn't happen 10 years ago. Now we've got so many independent companies in commercial dance and independent theatre companies … actually out there generating work, so I definitely feel like the industry is in a really good place.
Q: Looking at the younger generation coming through, what do you see are the positives and negatives? And what advice could you give them?
The kids coming through now are so talented… it's incredible! It's the YouTube era; they've got so many more reference points than previous generations had. And it really is helping the training.
Aside from the fact that we've got incredible educators and trainers here in Australia, I think that the standard of talent is mind blowing. But, I must say; traditional jazz is sadly getting overlooked. It's hard for me, because for the majority of the work that I do, the people that I hire and get rehired are the ones that have technical jazz technique with a ballet background!!
I feel like there's this real emphasis on style classes, which is great for being a great hip hop dancer, or a great hard-out commercial dancer; but I feel like the real jazz is getting overlooked, and it's really concerning. I can be in an audition and everyone can do a incredible hip-hop component – But then you ask for a stylistic jazz combo where they have to throw steps together, use jazz technique and clean lines and put flair into it … and only a small percentage of people that can do it … for me that's very concerning.
Because having jazz technique is the stuff that gives a dancer longevity. Styles are going to change and evolve … But it's the core jazz and ballet training that is going to give you the stay in your career.
For example, look at Kate Wormald … She is literally the best jazz dancer I've ever seen! And you look at her career and she's still going strong because of how she was trained… she trained under Robert Sturrock actually, who is someone that still teaches proper jazz.
Q: What is your perfect day off?
Okay, so I get up at 6:00 everyday. And I love that, and so, I get up and I have a shower and I get ready. And I pick up my little Pomeranian dog and we go and walk on the beach together. Then, we go and make some breakfast, do a yoga class, go meet some friends. Like, that's the perfect day off for me… just casual St. Kilda.
Q: What's your perfect work day?
Actually, my perfect work day is when I feel like everybody has had a collectively good experience. I really, really love to come back from a rehearsal and feel like everybody has benefitted. I love the togetherness of rehearsals. When I have a rehearsal and I feel like I've given the dancers everything they need, and they've all had a great day dancing, and I know that they genuinely have loved being there. That's a perfect rehearsal, that's a perfect day at work for me.
Q: What's on your playlist at the moment? What are your favourite tunes?
Interestingly, at the moment I have been listening to a lot of disco classics … and I don't know why! They're good house cleaning hits! One I've had on repeat is 'Best of my Love' by The Emotions. It's the happiest song in the world!
Q: What TV show are you bingeing on at the moment?
'The Handmaid's Tale' season 2 and a cool documentary called 'Wild Wild Country' on Netflix which is the strangest thing I've ever seen, but I loved it!
Q: Final words of wisdom?
You need to find balance in your life. And also … I can't talk about it enough … is to stop comparing yourself to other people's lives on social media.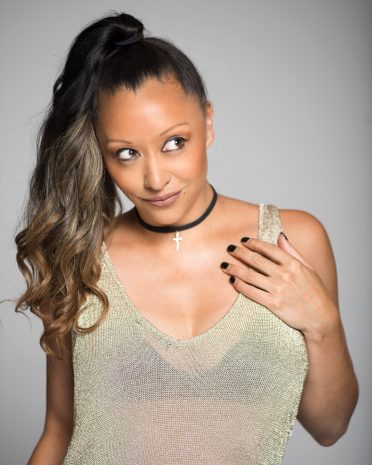 My advice to the current young generation is that in this industry you have to build your business and you have to be your own brand. But, you have to know the difference as well, you have to know who you are, as a person. And you have to know who you are, as a brand.
And you need to know now that everybody is looking at your social media. It's actually one of the first things I do when I meet new dancers, if I'm thinking of hiring them. I'll look on their social media because I need my business to be represented in the best possible light. I look for people that are presenting themselves professionally. And so, if you're going to not do that, then you need to have a private account that nobody else can see. Use social media as a tool for building your brand. And just be very aware that everybody is always watching.
BIO | YVETTE LEE
Yvette has enjoyed a diverse choreographic career working in all facets of the entertainment industry.
Television credits include – Dancing with the stars, Dance Hero Japan, So You Think You Can Dance Australia, The Big Music Quiz, X Factor, Chinas Next Top Model, Chris Lilly's J'amie Private School Girl & Jonah from Tonga, Cosentino -the Master Illusionist, Australian Idol, The ARIA Awards, The Logie Awards, So You Think You Can Dance Greece, Nickelodeon Kids Choice Awards, Comedy Inc, Neighbours, Carols in the Domain as well as The Taiwanese Wiggles for the Disney Chanel. The Pacific', produced by Stephen Spielberg and Asias Got Talent where she was an assistant to the Squared Division.
Recording Artists Include – Zara Larsson, Andy Grammar, Illy, Vera Blue, Dami Im, Harrison Craig, Aston Merrygold, Josh Groban, Samantha Jade, Ricki Lee, Guy Sebastian, Bonnie Anderson, Rob Mills, Casey Donovan, Hugh Sheridan, Andrew Da Silva, Dylan Joel, Cyrus, Selwyn, Tim Campbell, Rondah Burchmore, Bobby Fox & Dan Hamil.
Theatre credits include – Candide (NZ Opera), In The Heights (Stage Art) Reefer Madness (RL), Moonshadow – Cat Stevens World Premiere (Sue Farrelly) , Rock of Ages (Rodney Rigby) , Little Match Girl at The Malthouse & Queen Elizabeth Hall London, Song Contest (Glynn Nichols) , The History Boys (MTC), Carnival of the Lost Souls Spiegeltent, assistant Choreographer for Sweet Charity, Dusty, & Shout the Legend of the Wild One.
Live events encompass the roles of Associate Dance Director for the Victorian State School Spectacular, Staging Director for the Adelaide Symphony Orchestra – George Michael Tribute Tour, Choreographer for the Hong Kong Disneyland Groundbreaking Ceremony
Casting Producer for Australia's Got Talent & Jason Derulo (Warner Music).
Yvette has newly been appointed as Artistic Director the Victorian Dance Festival 2018 and is currently working on All Out of Love and 'Air Supply' Musical.