Pro Talent Watch | Darren Disney
Original Tap Dog Still Inspiring Young Dancers
Interview by Chris Duncan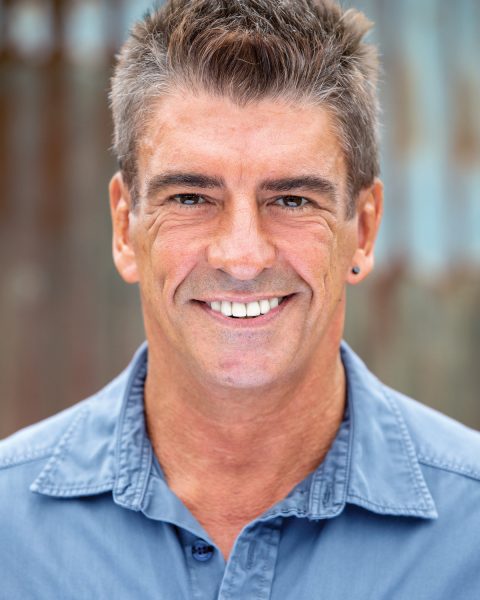 Darren Disney is proudly one of the original six members of the legendary Tap Dogs, the Newcastle-launched group of lads who re-invented tap dancing for the masses in the mid-nineties. Since then, he has travelled the world as a performer in all guises and has now reflected on his global experiences as a dancer, performer and choreographer and decided to concentrate his efforts on teaching the next generation of dancers ⏤ whether tappers, ballerinas, jazz dancers or hip-hoppers at his Central Coast studio, D3 Darren Disney Dance. He is excited about what he sees in the future of Australian dancers.
Darren was with Tap Dogs from 1994-1997  [the OG!] which consisted of Ben Read, Drew Kaluski, Nathan Sheens, Aaron Cash, Darren Disney and Dien Perry. 
He has taught dance across Australia for over 30 years. His current studio (since 2012), D3 Darren Disney Dance, is based on the Central Coast of NSW. We invite you to get to know Darren Disney.
***
Q: Most people may know you as an original Tap Dog, and now a studio owner producing amazing dancers, but how did you start out?
As a kid in Newcastle I trained with Les Griffith and Tessa Maunder. I left Newcastle when I was 18 and went straight to Korea and did a massive cabaret show there … a big feathers production with 30 other Australian dancers by Regmat Productions, a really fine company. Then I came back to Australia and did an Australia casino circuit with them. After that, I joined Dance Encore Productions in Sydney and I did shows around Sydney and then around Australia. They were fantastic …  after that, I entered into the commercial mainstream dance business in Sydney, trying to break into the industry.
Back then there weren't any 'full-time' dance courses, so we were just doing classes with people like Ross Coleman, David Atkins, Jackie Howard and Ramon Doringo from Bodenweiser Dance on Broadway (Sydney) and Sydney Dance Company…  and Jackie Howard took me under her wing at Brent Street in the early days. I started teaching for them during my time doing 42nd Street in 1989-90, and teaching for her at Brent Street. And then, I started working and getting into that mainstream, so I started dancing at the Hilton in 'Give Me Five Dance Group', under Jackie Howard's production there.
I also toured with Tina Arena and Melissa Tkautz. I performed in all of Melissa's dance videos of 'Sexy is the Word', 'Skin to Skin' and then travelled with her touring, also with C&C Music Factory around Australia. So, all of that was amazing! I was loving it. And then, I toured with 42nd Street, followed by a lot of commercial work like The Logies, AFI Awards and lots of ABC documentaries and so forth.
And then, finishing touring with 42nd Street I did Me and My Girl for a short stint and then Dein Perry (from Tap Dogs) came calling and said, "We're finally doing our show."
Q: So Tap Dogs was a project that built long-term?
Yeah, I worked with the dancers to help get the initial grant for Hot Shoe Shuffle for David Atkins and Dein Perry. But then I booked the Tina Arena gig and so I had to leave for that before filming of the grant application. Then, everything aligned and Tap Dogs finally came along and we create the show and did a world tour.
Q: Exactly where and how did Tap Dogs start?

To be precise … The Star Fish Club in Sydney.  Sydney Theatre Company came calling to Dein saying that Stomp needed a support act for the 1995 Sydney Festival. And then, they came up and they got an industrial tap boys group to go alongside them – Tap Dogs! –  next thing we know we sold out alongside them and took over as the late
show. And they had to put on new telephone lines for the amount of bookings! …  it just sold out.
After that we did a little trip around Australia and then we went to the Edinburgh Festival. Following that, we did a short stint at Sadler's Wells in London, and then came back to Australia. I toured so much with Tap Dogs … the West End in London, Ireland, Canada, America and then ended up in New York.
In total I think I toured for about four years with Tap Dogs. It was great! … we create a real phenomenon. It was amazing, 58 cities in four years. And yeah, it changed my life forever.
Q: What was your biggest take away from that experience?
Having dinner with Prince in New York (laughter!) at the Fashion Café after we performed at there. The Fugees cancelled, that was the launch of Benetton's 'Hot and Cold Perfume' show. So, The Fugees cancelled and they bought out our theatre that night, and put us on as the entertainment and Prince was up in the VIP section, so we sat at a table quite close to Prince. So, it was like a true highlight of my life! … can't really have that on your resume, though!
But in a professional sense, my biggest takeaway was opening the Prince's Trust charity concert in London.
Q: How does that make you feel as a performer?
Accomplished.  I felt like Tap Dogs had finished and I felt … and that was alright. Like, completed … you know what I mean?
I was doing an interview in San Francisco and they said, "You're going to New York soon, what else for you guys? What's next?" And I said, "I guess Mars." Because we've done everywhere else, and I just felt at that time, that all the performing that I loved doing so much in live theatre and now on this rock level with Tap Dogs, I think finally I didn't have to do it anymore, I felt completed. I felt I'd done it … an incredible sense of satisfaction.
Q: How did that transpose into your professional career when you came home, once Tap Dogs touring was finished for you?
I just wanted to share my life experience with everyone, especially the kids. I wanted to give them all the pointers and all the tips and everything I knew. Plus I wanted to share what I had learnt from going along the hard road, which was just hard work…  like it looked glamorous to everyone else, but we didn't even have time to stop and enjoy it. It all happened so fast and it was hard work. I just want to pass the short cuts on to the next generation … that's why I wanted to have my studio to pass on high quality dance training and industry experience to the next generation of performers.
***
BIO
Darren Disney is one of Dein Perry's original Tap Dogs, he performed live around the world, 58 cities and all the way to Broadway New York. His high level of professional experience has ranged from interview's to television appearances and many castings in stage shows, he performed in 42nd St, Me & My Girl, Mack & Mabel in concert. Toured with Tina Arena & The Ramjets, Melissa & C+C Music Factory, Gimmie Five Dance Group and Belinda Carlisle.
Darren has also appeared in numerous Films including: Tap Dogs-Original Cast Live In London, Melissa-Sexy Is The Word, Skin To Skin, Jo Beth Taylor-You Don't own me, Mark Stevens-Cold War and Toni Pearon-Walk Away Lover.
Darren Disney has extensive experience on Television including: Network Ten Pro-mo's, Midday, Hey Hey It's Saturday, The Logies, Peoples Choice Awards, AFI Awards, ABC-Party Machine, Denton, Today, Princes Trust Concert-Royal Albert Hall London, Blue Peter, Good Morning AUS- UK-USA, Ellen De Generes-Sitcom, Jerry Lewis, Jay Leno, Ru Paul, MTV, NBC Today-London-New York, Regis & Cathy Lee with Cindy Crawford, Just For Laughs-Gala-Montreal.
Choreographed major events including: The Super league Grand Final 'Grease' 20th Anniversary Starring Olivia Newton John, Jon Stevens & Gina Jeffries. The Gala Film Festival-State Theatre Sydney. That's Dancin', Star Search, Cathay Life Summit-Darling Harbour Convention Centre-Dance Encore Productions.
Darren has been training & performing in dance since 7 years of age with original training with Les Griffith and Tessa Maunder in Newcastle, Australia. He is forever grateful for his early work opportunities with Regmat Productions and Dance Encore Productions for their guidance and ongoing support.
Darren has taught at Brent Street Studios, Sydney Dance Company, Danceworld, The McDonald College, David Atkins Dynamite Studios & The Australian Tap Festival, many workshops and a partner with Ignite Dance Team.
Darren has adjudicated for the City of Sydney McDonalds Challenge in 1998, Showcase Dance Championships and Final in 1999, The Ultimate Dance Finals in 2006, the Gold Coast Eisteddfod 2008, the Launceston Dance Festival 2010, Get the Beat Gold Coast 2014, Get the beat National Finals 2015 and Dancelife Unite 2015,16,17,18. Darren is an examiner for Glenn Wood Tap.
Darren is currently the owner of D3 Darren Disney Dance at the Central Coast, NSW and provides intense training.