PRO TALENT WATCH | Cat Santos
This creative powerhouse is doing it all & nourishing dancers' bodies and minds along the way!
Interview & Article by Alisha Coon
Cat Santos has had such an incredible dance career to date, working with the likes of Katy Perry, Nick Jonas and Ricky Martin (just to name a few!) Most recently, she was the Creative Assistant on Dance Boss, a member of the Dream Dance Company and choreographer of the 'I Am Her Project.'
In her spare time, Cat has been growing her blog #notinmybelly, bringing nutritional goodness and wellness advice to the dance community.
Alisha Coon recently spoke to Cat about her dance career, her amazing blog #notinmybelly, and what's coming up for her in the year ahead.
***
Q:  Health and wellness is becoming increasingly important in the industry. How do you feel about this?
Personally, I believe that the definition of 'health and wellness' in our performing arts industry is something that is blurred and has been mainly focused on what we look like versus how we FEEL!
Growing up I thought that being healthy meant focusing on eating foods that kept me trim and lean, but what I didn't realise (and had to find out the hard way) is that health and wellness is extremely unique to the individual and that it's not just about focusing on the body, but the mind and spirit also. I believe it's so important because I see so many talented people becoming lost in the dance world because we are taught so much about ourselves as dancers, but so little about ourselves as human beings.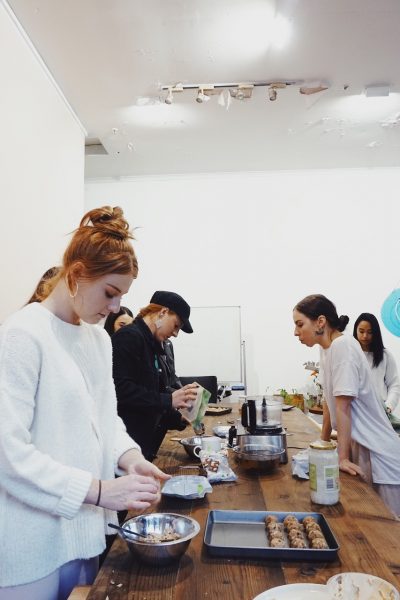 Q:  Tell us a little about your career highlights so far.
I have so many moments that I am grateful for and that are highlights for very different reasons! I am grateful for all of the opportunities of working with artists such as Ricky Martin, Katy Perry and Nick Jonas and for all the creative teams I have been a part of such as X Factor and most recently, Dance Boss. But I have 3 highlights that are extremely close to my heart. The first would be being a member of The Dream Dance Company for the last 4 years, the second would be creating a week program for female's in the industry called 'I Am Her Project' and thirdly, a moment I will never forget which was performing as Liza Minelli at the Australian Dance Festival in Kelley Abbey's recreation of "Sure Thing Baby" from The Boy from Oz.
Q:  Which of your achievements have you been most proud of?
Ohhh that's hard! Well #notinmybelly would definitely be one. It was such an organic process that I couldn't have planned it if I tried, but I am definitely proud of what it has opened up for people in our dance community.
And also, most recently, the 'I Am Her Project'. Early this year I was asked by Lucy Doherty from One Dance Collective to be the next choreographer in her development series. This gave me the motivation to bring to fruition an idea that I have had for so long about creating time and space for females in the creative arts industry to explore their depths and celebrate their individuality, set goals and find direction and to break away from the mould and instead revel in their own unique perfection. I am beyond proud of the 17 girls I got to work with that week.
Q:  What do you consider to be your biggest asset working in this industry?
I believe that would be my positive mind set and work ethic. Also, simply being truly kind to others can go a long way.
Q:  What are you working on at the moment?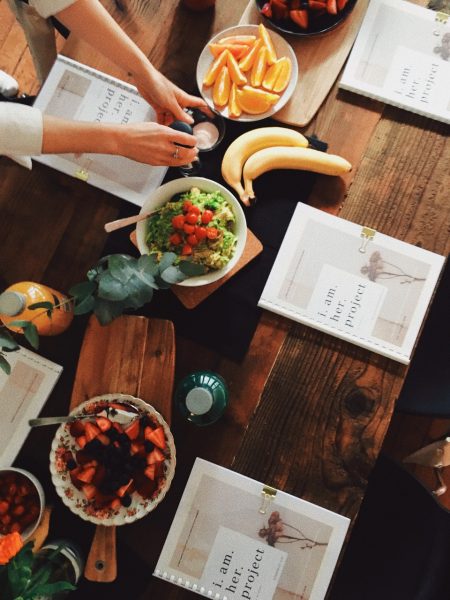 At the moment I am continuing to work on #notinmybelly and also I Am Her … building that, but also allowing it to grow organically. I also start rehearsals for Prodigy with The Dream Dance Company very soon!
Q:  What does the rest of your year look like?
Oh gosh, this changes almost every week! I have lots of travelling, teaching, choreographing and judging booked this year, but I also allow room to breathe (sometimes!) and room for last minute magic to flow in. I am also celebrating my engagement to my love David McLean this year!
Q:  What do you like to do when you are not dancing?
When I am not dancing, I am still creative… Whether that's cooking, drawing, writing, blogging and making things. I also live by the beach so there's lots of walks, swims and cafe hangs. And of course… #notinmybelly!
Q: Which gig did you gain the most life experience from?
Being a part of  The Dream Dance Company has allowed me to learn about myself as an individual artist and what my brand is. Something we rarely get to experience, so most definitely that. And I would also have to say that I've gained a lot of experience from working on television. There are so many personalities, deadlines, pressures, hours and hours involved that can teach you so many things about yourself, work and life! So I would have to say most recently working as Creative Assistant on Dance Boss with The Squared Division.
Q:  What advice you would give a young dancer?

Know who you are and love who you are without dance. As you get older you start to forget who you are without it because we spend SO much of our time investing in it. Then, as time goes on you will learn that there are periods of time when you're not on a contract, or not on a job, or not in class, where you have to go home and sit with yourself, on your own. And that's the dangerous part where our negative mind can get the better of us. So, the more you know about this person, and other things they love doing that can make them just as happy, the better your overall mind and mental health will be. The more you know about YOU, the more YOU, you can put into your dance!
** Cat Santos will be a special guest speaker at the first ever SOLASTA Winter Wellness Event, on this Sunday 29th July, where she will be talking about her #notinmybelly approach to nutrition and food lifestyle for dancers. Details on the event here … plus win a pass!
BIO | CAT SANTOS
Born in Sydney, Australia, Cat Santos began dancing at the age of 12 at All Starz Performing Arts Studio, based in Peakhurst, NSW, and went on to complete her High School Certificate at Newtown High School Of The Performing Arts. Deciding to further her training and continue her passion as a career, Cat joined the Brent Street Studios Full-time Course, attaining her Certificate IV in Dance in 2010.
A highly respected & influential figure in the Entertainment Industry, she prides herself on her versatility and ability to create & produce work in various fields of the Performing Arts. Cat began her career by assisting some of the most respected Choreographers in the Business, and the experience and knowledge gained by being such a vital part of these in demand Creative Teams has allowed her to gain extensive knowledge and led her to Choreograph & Produce her own work for Film, Artists, Theatre, Corporations, Brands, Festivals & Performance Studios.
Cat has been privy to a variety of opportunities and has worked with, assisted in choreography and performed alongside International & National Artists such as Ricky Martin, Katy Perry, Nick Jonas, Macklemore, Dannii Minogue, PNAU, Ruel, Aston Merrygold, Zara Larsson, Havana Brown, Ricki-Lee, Flo Rida, Timomatic, Betty Who, Cody Simpson and has also been a featured artist in the last 4 seasons of The Dream Dance Company, as well as a part of the Creative Team for "UnTold – Season 4" and was one of three chosen for the #shiftyourshirtgame Campaign for Sportsgirl.
Cat made her debut as choreographer for Film in Skinford 2 by Blackpill and has choreographed for corporate companies such as Westpac, Mumm Champagne, SAP, Chep Pallets. Cat was also the assistant to The Squared Division for the 2016 Australia Television Series "X Factor" and Creative Assistant for the new Channel 7 Tv Series "Dance Boss"
In 2012 Cat was thrilled to have been given the opportunity to work with Kelley Abbey in Opera Australia's production of "Carmen" on Sydney Harbour as one of the featured dancers and later was featured in the role of 'Liza Minelli' in her Australian Dance Festival piece for Project Dance – a recreation of her choreography "Sure Thing Baby" from the 2006 Arena Production of "The Boy From OZ".
Cat began teaching at the age of 15 and has received many accolades and awards for her teaching work over the last 13 years. Between her choreography & creative work Cat balances travelling around Australia to teach at some of the most prestigious dance studios. Cat is an Ambassador for The Australian Dance Festival and in 2017 was a finalist in the "Next Choreographers Award". She graciously took home the title.
Cat's ultimate goal is to reach out to all young aspiring dancers all over the globe, whether that be through teaching or performing and to motivate them to believe in them selves, how to be their own support system and how to also support the people around them through lessons that not only involve dance, but simply, lessons that are needed in every day life, through a fun, energetic and inspiring teaching method.
Cat is currently represented by Forward Management