#PTW | Amy Campbell
The Bodyguard Musical Opens April 21 at Sydney Lyric Theatre

To describe Amy Campbell as a busy person is an understatement. Currently, Amy is performing as principal dancer in Opera Australia's Carmen by night, and by day, she is the Resident Choreographer and Swing on the upcoming premiere of The Bodyguard musical. Now established as one of the country's leading choreographers and performers, Amy relishes the many opportunities she has had recently and wouldn't have her life any less busy right now. DanceLife recently spoke to Amy during rehearsals for The Bodyguard in Sydney.
***
Q: So how are you managing juggling the two jobs at the moment?
I'm not sure actually. I've eaten a lot of food and I pretty much just eat, sleep, and drink! And do operas and musicals. Yeah, I don't know how I'm surviving … I'm just very focused and organised.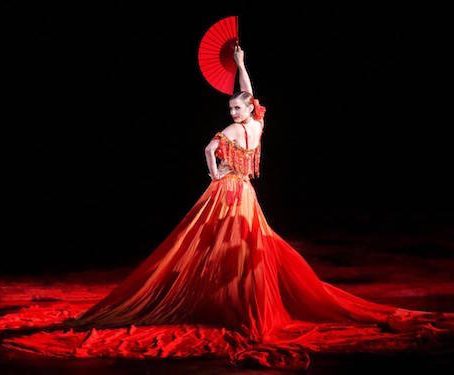 Q: Tell me about your role in The Bodyguard.
My role is as the Resident Choreographer on the show. The original choreography is by Karen Bruce from the UK production. So what happens is… Karen sends out an associate who knows the show and … she shows the cast and me the show's choreography and then once they leave … (because the creatives always leave after the opening)… it's my job to look after the show and the choreography for the rest of the tour and represent the Australian brand of the show.
So I basically keep everything tight and polished and teach the understudies and help orchestrate all the dance elements of the show. 
Q: So tell me about this musical of The Bodyguard. What can audiences expect if their knowledge is based on the movie version?
I didn't even know what to expect walking into the rehearsal room to be honest. It's quite an unusual musical… because its storyline is based on a stalker… so that's quite a different premise! I don't think people will expect the level of dance and performance numbers it has… compared to the film but we've actually got some of the greatest Australian commercial dancers in the show and they do everything from hard hitting commercial dance through to soul-funk and nineties jazz funk.
So, it's quite diverse. There are lots of styles and there's so much partnership dancing as well. So I think people are going to be pleasantly surprised! I'm not sure people know what to expect with this show… it's not a show based on Whitney Houston's personal story… it's based on The Bodyguard story with Whitney Houston's music catalogued additionally.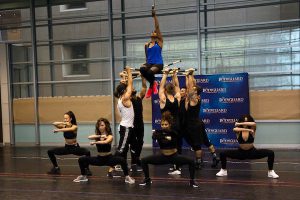 Q: So have they created any new numbers/songs for the show or is it all based purely on the music from the movie?
No, there's a whole bunch more Whitney Houston songs than were ever in the film, plus some of her later stuff like 'Million Dollar Bill'. There are classic Whitney songs that have nothing to do with the actual movie but are being implemented in a really clever way in the story.
Q: There isn't a whole lot of dancing in the movie version – tell me about the new interpretation of The Bodyguard as a musical.
The beauty of it is that the space of the character of Rachel Maron – who's a superstar kind of like a Beyoncé is now. She performs with the dancers and they're quite the big production numbers. The story has a way of implementing dance in a really great context as opposed to just putting dance into the crazy-stalker-number… it's nothing like that. The dancing really supports the story because it's based on a music superstar.
Q: How's it been with working with the leads of Paulini, Kip and Prinnie?
I was lucky enough to start working with Paulini pretty much immediately after she got cast. I got to jump on board pretty early in the process of the show and we were doing one-on-one lessons and coaching and having a great time teaching her. What she's expected to do is massive… it's learning all the songs, it's doing all the scenes and she does four dance routines.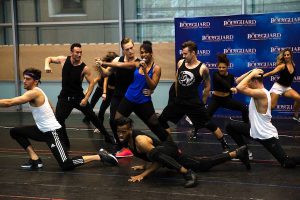 Q: How does she cope with the dance routines?
She's really good! She's a great mover and she's just getting her confidence up now because when she's on fire she's really incredible! The sad thing is we don't get to see Kip (Gamblin) dance very much and he's a great dancer!
Q: What have been some of the challenges so far with this particular production?
There were a couple of challenges. The hardest thing has been the dancers struggling to get their stamina up. Karen Bruce's original choreography asks a lot of a dancer… all the big movement and all the styles… and you've got to try and sing, so the boys are flipping the girls and then flipping themselves… so just getting their bodies used to such demanding work has been pretty challenging. We're doing moves I've never tried before! I've been a professional dancer for 15 years and we're doing stuff in the show that I've never even done myself! So there's a lot of new stuff to tackle, which is great.
Q: What have been some of the pleasant surprises with the cast, or the script or production or the musical numbers?
Yesterday we cut out the walkthrough of the show and it was really great to see everyone do their thing. You meet everyone, there are a lot of new faces and there are actors and commercial dancers who don't traditionally work together that much so we've got a cool mix of people. Yesterday I got to see and hear Paulini sing 'I Have Nothing' and that was awesome! She was born to play this role.
Q: The Bodyguard is another movie-to-musical trend of the last last few years. What's your opinion on this… do you think it's a positive thing or a bit of a trend?
I think it's been a pretty popular thing to do because people… have favourite stories and these classic movies they get to see done in a new way and they get to relive them again. Shows are expensive and I think people like to know what they are getting when they come to a show. I also think it's kind of cool to see – and it doesn't always go successfully – but I love that people are just trying new things. I think the most important thing is to be creative and I don't think that's a bad thing when you're forced to think outside the box with storytelling. The more people that come to the theatre the better.
Q: What do you do when you have downtime?
I'm actually working these two months straight with no day off, so no downtime for me currently. I actually just like doing really simple things… my downtime usually is catching up with my family or going to the shops and just doing free things. I like the beach and yoga and just being outside, because my job involves being inside a lot… actually I just like to not-do-a-lot in my downtime and just relax my brain.
Q: What's something people may not know about you?
I have a few guilty pleasures. But for someone who is supposed to be up on the trends of what's happening around the world I am actually a bit of a dag. I love listening to the old school radio station in the car and I have a terrible chocolate addiction. As someone who likes taking care of herself, I like really daggy music and I eat vast amounts of chocolate! It's not the most exciting thing, but I'm fairly normal and I think I'm really funny too! (HaHa – modest too!)
My sister thinks it's hilarious that I can dance so well but I actually struggle to cross the street in a straight line! … I can't walk in a straight line but that's ok.
Q: You are Resident Choreographer now, but how have you gotten here?
I've played lots of different roles and choreographed a lot myself but I'm always up for the next challenge and to learn new skills… so I like to learn about all the jobs that are involved in putting a show on. So yeah, being resident choreographer is teaching me a lot of different things that hopefully I can implement as a choreographer in the future.
Q: You are also a Swing in this production? [A swing knows each dance role and fills in when necessary]
Oh yes! In fact the first musical I was in I was Swing. It's a good charge to my brain, as it has to think so fast. Being Swing is not for everybody. You either have a 'swing' brain or you don't. You have to be able to cope with the pressure of it every last minute… I kind of like the adrenaline rush of it but lots of people don't like that.
Q: So long term, what do you still have on your career bucket list that you would really like to achieve?
What I'd like to do… before I'm too old to do it physically… I'd love to choreograph a new musical. I'd love to have a big show on a big stage. That's the goal that I'm working really hard towards because I think that there are lots of challenges. But there's something really satisfying about starting off as I did in the ensemble and then to think that you're a part of the creation of what's on stage that's kind of the big goal. So a big musical is on my bucket list next. I'd love to work on something from scratch.
Q: Do you still teach?
I'd love to have the time to teach because it's always good to do it and give back. Currently my days are scheduled within a minute of themselves – so I have no time! I mean it's just something that I've always done, the studio is a great place to continue exploring your choreography it doesn't matter how big the jobs … it's really great to go back and work with a dancer and keep it simple. Every time I create a solo I'm kind of learning new things about the way I move or what suits particular dancers and it's a cool way to keep learning and giving back to the young ones and share the knowledge.
BIO
Amy Campbell is one of Australia's most accomplished dance talents with career spanning all areas of the entertainment industry. Her extensive list of credits as one of the country's top choreographers include the Australian Premiere of the critically acclaimed Violet, for which she won the Broadway World Australia award for her work, ATYP's sell out season of Spring Awakening, Side Show and Hispanic Attack for the Hayes Theatre (for which she was also the co-creator), the original Australian work Guilty Pleasures for Bluesaint Productions, Wicked for Packemin Productions, Dance Academy, The X Factor, ABC's Giggle and Hoot and most recently Amy was assistant director on Sydney Symphony Orchestra's Porgy and Bess. Her clients include ABC, Commonwealth Bank, the Sci-Fi Channel and Deutsche Bank. She was assistant to award winning choreographer Kelley Abbey on Miracle City, Xanadu The Musical, Channel 10′s I Will Survive and Natalie Bassingthwaighte's live performances and music video of All We Have.
Amy's theatre credits include dance captain and role cover in the Australian tour of Dirty Dancing, Fame The Musical, Saturday Night Fever, the world premiere of King Kong Live on Stage and principal dancer in Opera Australia's Carmen. She has appeared in commercials for Sony, Vodafone, Coca Cola, Video Ezy, Sci-Fi Channel, Kmart and was an ambassador for Lorna Jane's Active Living Campaign. Her other television credits include Everybody Dance Now, placing in the Top 3 on So You Think You Can Dance Australia Season 2, as well as appearing on The X Factor, The Nickelodeon Awards, TV Week Logie Awards, Australia's Next Top Model, Australia's Got Talent and The Biggest Loser.
Amy has performed domestically and internationally, dancing alongside Kylie Minogue, Flo Rida, Redfoo, Tina Arena, Natalie Bassingthwaighte, Sam Sparro and Sam and The Womp. She Amy continues to work with the majority of Australia's current elite choreographers including Kelley Abbey, Jason Coleman, Matt Lee, The Squared Division, Jason Gilkison, John O'Connell, William A Forsythe and Marko Panzic.