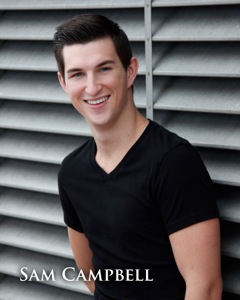 At DanceLife we love hearing about how current working professionals have made the transition from student to working in the industry. Sam Campbell is a young Aussie dancer who has worked hard and is now enjoying the fruits of his labour travelling the world and entertaining with the Disney group. Sam give us his perspective …
Sam, what is your background? Where did you train and for how long?
"I started dancing at the age of 10 after entering the school talent quest. Not knowing what kind of act I was going to do, I decided to improvise a dance to Vanessa Amorosi's "The Power". I never thought anything of it until after my Dad was approached by Mothers in the audience urging him to get me professional training. From there, I went to my first jazz class and loved it! I was so eager that I started training in every class and genre that I could. I then decided to take my career further by auditioning for The Australian Dance Performance Institute in Brisbane. I spend my time there training mostly in classical ballet under the direction of Barbara Eversen and Janeece Graham but also with Helena Moore, Michael Edge, Lisa Graham-Wilson and Jacqui Devereux (Jazz, Tap and Musical Theatre). Upon completing my 2 year Advanced Diploma I also trained on the Gold Coast with Shannon Atkins at Dance Technique up until I received my first contract with Royal Caribbean."
Who do you see as your mentors?
"I have had many amazing supportive teachers throughout my training. I have always been able to pull guidance and assistance from them. One example being Helena Moore whose experience in this industry is unparalleled. Her constant support and belief in my potential always taught me to exceed even my own expectations. Also Brisbane based professional dancer Steven Bishop whom I worked with on my first & third contracts. Not only is he an exceptional performer, he always lead by example and helped me illustrate what it is to be a professional dancer and that it is not just about the footwork."
What steps did you take after your training to secure professional work?
"Some of the best advice I was ever given was by Nicole Davis; "as a dancer, you never stop learning, the minute think you know everything… your out of the game!" and it is very true! I kept training and taking classes, pulling what I could from each teacher that I had. Pre and post contract, the best things to do are network and make contacts, stay current, go to class and make sure that you are audition ready. Also, if you can get a show reel together, it is a great tool to promote your self when you are unable to attend the audition in person."
What advice can you give to our DanceLife readers on how to best prepare yourself for professional work?

"Preparing for professional work can be a little overwhelming at first but don't let fear deter you from doing what you love. Stay in class and keep training. Take a variety of different styles so that you are prepared for whatever a choreographer may throw at you. Do your research. Always find out the style of the show you are auditioning for and what type of movement goes with it.  Make sure you have a current resume and headshot and a valid passport for possible overseas employment. On the day of your audition, have appropriate audition attire, be confident, and most importantly perform have FUN! The less stressed and nervous you are the better. They want you to be great … so show them what you can do!"
What have been the highlights of your professional career to date?

"Just turning 21, I have been extremely lucky with my employment opportunities taking me to 22 countries and 62 cities such as Alaska, Hawaii, Tahiti, New Zealand, Singapore, Japan, France, Italy, Portugal and the United Kingdom. To me, traveling the world has been a highlight in itself. Every contract has been amazing, each very different from the next. The overall highlight is where I am now, a part of the 30th cast for Disney Cruise Lines 'Disney Magic'. Traveling around Europe I have been expanding and building my skill set having been given the opportunity to sing, dance and act. Another exciting element of this job is unveiling the ships $150 million dollar makeover in October. This is a first for Disney Cruise Line and I am thrilled to be a part of it!"
And, what are you future goals?
"For now I am under contract until December. Being on Broadway has always been a dream of mine so I guess I will just have to wait and see what the Universe has in store for me. I would love to follow in the footsteps of many other Australians who have made their Broadway debuts! Stay tuned…"
We wish Sam all the best with his already exciting career!