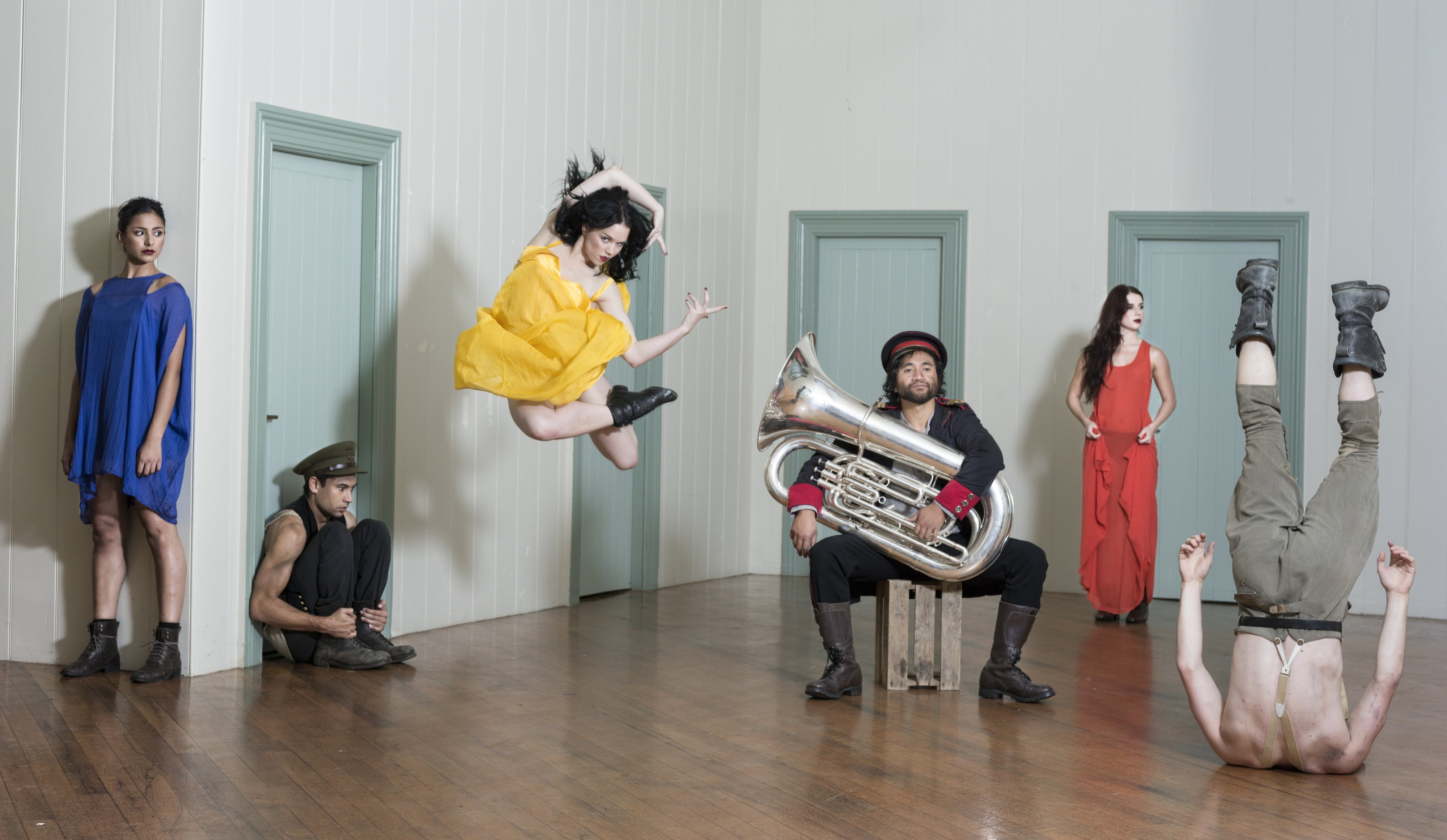 The New Zealand Dance Company's Rotunda is a unique production that features a powerful collision of a 24-piece live brass band with the raw beauty of contemporary dance to honour the Gallipoli landings in 1915. This expressive and emotive work is showing at Riverside Theatres from 13 to 16 May.
Rotunda is created by The New Zealand Dance Company Artistic Director, Shona McCullagh, in collaboration with a cast of eight dancers, musician Chris O'Connor, musical director Marc Taddei, and composer Don McGlashan. The production brings to life the world of the band rotunda, an iconic symbol of early 20th Century community where memories of loss and love are rekindled in a haunting snapshot of the joint history of Australia and New Zealand.
The innovative and unmistakably New Zealand choreography combines an earthy, free-flowing mix of styles and highly physical contemporary dance. It also integrates shadow play, mace twirling, a fusion of Maori tradition, and a local 24-piece marching band from the City of Holroyd Brass Band. This rhythmic and expressive dancing is supported by a range of heartfelt hymns and stunning new brass works. The result is a haunting, jaunt and deeply felt score.
The production draws from the extraordinary courage and indomitable spirit of Australian and New Zealand Army Corps (ANZAC) men and the women who set about running the country with aching hearts and dread that their men might not return. It is the second of three shows at Riverside Theatres in 2015 to commemorate the Centenary of ANZAC and is part of Riverside's continuing commitment to presenting work from New Zealand.
Over this week, DanceLife had the opportunity to chat with The New Zealand Dance Company's Artistic Director, Shona McCullagh, about the production. Here's what she had to say:
Can you tell us a little about the background of The New Zealand Dance Company?
The Company had its first public performance in 2012. There has been a rapid growth in the company since then which saw us starting international touring within two years of establishment. NZDC was founded with the ethos of creating new connections to dance, to be a hotbed of creative alchemy and to foster the development of great dancers, choreographers, designers and arts managers.
What is Rotunda about?
In the space of a Band Rotunda, a community witnesses challenge and change as they endure the worst of human experience – the loss and brutality of war. But there is a great deal of joy, love, compassion and hope within the work, which has a stunning score of rich, deeply moving brass music performed with a full live band.
What is The New Zealand Dance Company most excited about visiting Australia?
This is our inaugural Australian tour and we are thrilled about all of the venues we are performing in and the local brass bands we will be working with. This is a work to commemorate the ANZAC Centenary of the landings at Gallipoli, a time in our shared history that created deep bonds between New Zealanders and Australians.
What can audiences expect from the production?
To enjoy a rich theatrical experience that they will understand. The show has humour, pathos, compassion, huge energy and a big heart.
What does your role of Artistic Director entail?
Artistic programming, creating the concepts for the marketing, building relationships with festivals, presenters and venues and of course selecting the dancers, interns and secondees. I am also the Chief Executive of the company which means I am responsible for the overall vision and strategic development of the company, sponsorship and partnership development and long term planning for the company.
What does The New Zealand Dance Company look for when they are auditioning/ hiring new members of the company?
Originality, clarity and personality. The company is made up of a small group of very individual dancers who all bring a different body of knowledge and intelligence to our work. The creation of all of our works is highly collaborative and the dancers generate a significant proportion of the movement material.
Do you have any advice for dancers wanting to break into the contemporary company industry?
Be bold. Be brave. Be persistent. Be generous. And most of all, be curious.
Presented by arrangement with Arts Projects Australia with support from Creative New Zealand's Touring Australia Initiative, this extraordinary performance will celebrate and commemorate the ANZAC spirit and the themes of courage, loss, kinship and a desire for peace.
Dates: Wed 13 to Fri 15 May at 8pm; Sat 16 May at 2pm & 8pm
Tickets: Adult $57 / Conc $52 / 30 and Under $43 / School Students $35
Bookings: From the Box Office (02) 8839 3399 or www.riversideparramatta.com.au
Venue: Riverside Theatres – Corner of Church and Market Streets, Parramatta