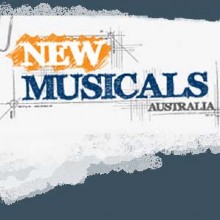 Sidetrack Theatre, home to New Musicals Australia (NMA) was abuzz with NMA's premiere season of presentations, forums and workshops throughout two weeks in March. Capacity audiences attended a range of programming that showcased Australia's great new original musical theatre talent and created opportunities for authors to work with and present to our country's finest directors, performers, musical directors and producers.
Following the success of the March presentations and workshops, authors are able to submit their shows for consideration for NMA's 2011/12 season, with submissions being accepted between April 11 and May 31 2011.
"The most exciting thing was seeing such a thriving environment of writers, producers and performers, all of whom have a clear commitment to the future of Australian musical theatre," said the director of New Musicals Australia, Kris Stewart.
The first season of New Musicals Australia was launched with the hugely successful Opening Night Concert, a sell-out event that allowed audiences to experience Australian musical theatre songs by artists such as Casey Bennetto, Dean Bryant, Terence Clarke, Anthony Costanzo, Anthony Crowley, Jon English, Nick Enright, Mathew Frank, Michael Harvey, Mark Jones, Paul Keelan, Max Lambert, Sean Peter and Gary Young. Performers for opening night included Hollie Andrew, Marika Aubrey, Olivia Beardsley, Andrew Bevis, Nick Christo, Amelia Cormack, Margi De Ferranti, Toby Francis, Rob Mills, James Millar, Tyran Parke, Adam Rennie, Matthew Robinson and Christy Sullivan.
Following this was New Musicals Australia's key workshop initiatives. They were:
THE WORKSHOP PRESENTATION, a two week workshop of David Peake's a.void, which concluded with two public presentations of the show. The workshop explored a new side to music theatre through a.void's use of electronica music. The cast included Sam Anderson, Avigail Herman, Rob Mills, Kate Parry, Adam Rennie, and Nigel Turner Carroll.
THE DEVELOPMENTAL WORKSHOP, a one week workshop of A Little Touch of Chaos, the third musical from talented duo James Millar and Peter Rutherford. The show received a week of rehearsal and two staged readings, with a cast that included Marika Aubrey, David Berry, Andrew Bevis, James Bryers, Tamsin Carroll, Amelia Cormack, Michelle Doake, Josie Lane and TJ Power. Exploring the themes of family, freedom and chaos, A Little Touch of Chaos interweaves the lives of fascinating characters from 1975 and 2011.
THE MUSICAL SNAPSHOTS INITIATIVE, where twenty to forty minute portions of three different works were presented to industry panels. Those selected for a Musical Snapshot opportunity were;
from Award-winning musicians Julia Plummer and Nicholas Gentile, La Creole, which was presented to a panel including Peter Cousens, Kris Stewart, Kellie Dickerson and Peter Casey;
Russell Bauer and Dr Bruce Dawe's Houdini- The Man From Beyond, which was presented to a panel including Matthew Robinson, Neil Gooding, Peter Casey and Dennis Watkins;
Zvonko Jovicic and Andrew Worboys' Showtrain, which was presented to a panel including Peter Casey, Dennis Watkins, Kris Stewart and Anne-Maree McDonald.
In addition to the presentations and workshops, New Musicals Australia hosted Writers Forums and an Industry Panels, allowing aspiring writers and composers the opportunity to discuss some of their experiences and queries with industry professionals. New Musicals Australia also made an appearance at the National Play Festival at Riverside Theatres, with selections from A Woman's Eyes, Handle with Care, Kells and 3 Weeks in Spring: The Gallipoli Story being performed in concert to an enthusiastic audience of writers and industry representatives.
New Musicals Australia, launched in Sydney through the support of the Australia Council Music Board and Century Venues, has been founded to provide creators of new musicals with a series of professional workshopping opportunities that will enable their work to be developed and publicly presented. This model mirrors the successful processes witnessed in the US and UK, and allows writers and composers the opportunity to have their scripts and songs workshopped and presented to high level industry peers, creative industry leaders and Sydney audiences.
For more information on New Musicals Australia
www.newmusicals.com.au