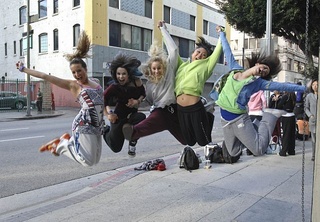 Americans grooved to music and celebrated their first National Dance Day yesterday. The event is the brainchild of executive producer and judge of "So You Think You Can Dance" Nigel Lythgoe. Eleanor Holmes, the Congresswoman introduced National Dance Day resolution to promote dance education and physical fitness across United States and also encourage dancing among the people of all age groups.
Nigel Lythgoe in one of his interviews said that he was concerned about the obesity problem and he thought getting people dancing is an absolutely perfect way for people to try and reduce obesity. The executive producer and judge hence posted in a reputed social networking site his idea that United States Of America is going to have a Dance Day. However, Nigel Lythgoe was surprised to see that people responded to his idea immediately. He received innumerable response to his post and it was approved by the citizens and also recognized by Congress. National Dance Day Celebration was sponsored by The Dancing Divas Inc. and the event started from 4 pm at the Colony Square Mall center mall area.
The people of all age groups joined the event to encourage the National Dance Day Celebration. They learned dancing and performed together in the mall along with the other dancers. Other than Colony Square Mall, there were many other places where the National event was celebrated. Nigel Lythgoe was excited when he said that the event of National Dance Day Celebration encourages people to learn about the art of dance. He also added that the purpose of celebrating the event was not because he wanted to promote "So You Think You Can Dance" but it was his effort for the entire country to realize how much they enjoy dance.