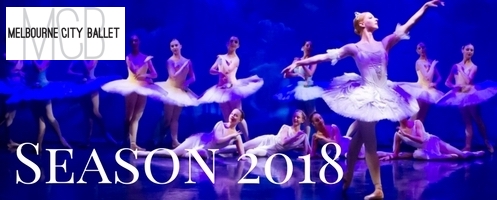 Melbourne City Ballet's Season 2018
The Classics Celebrated and to Tour Nationally
In 2018 Melbourne City Ballet breathes new life into some of its greatest classical works to date. Four full-length classical works and a children's ballet will grace the stage – Sleeping Beauty, Sleeping Beauty, Carmen, Madame Butterfly, Peter and The Wolf and The Nutcracker.

"The dancers will not only be challenged by the breadth and depth of drama across the year, but the intense choreography and artistic virtues I am seeking in each season will cultivate their skills and captivate audiences alike," says Artistic Director, Michael Pappalardo.
"In 2018, Melbourne City Ballet aims to be inspiring, inclusive, influential and relevant," he continues "which is why I have not only chosen this particular repertoire, but will tour to over 40 different locations across Australia."
The year will commence in Melbourne with a perennial favourite, Sleeping Beauty. A true classic, the glorious music of Tchaikovsky will combine with stunning sets and costumes to create a charming ballet suitable for the whole family.


The Company will then pack its pointe shoes and in a show of its strong commitment to making ballet accessible for even the most regional and remote communities of Australia, will tourfrom May until September where the Company will present the powerful and passionate Carmen and the exquisite and sensitive production of Madame Butterfly to audiences in Tasmania, South Australia, New South Wales and Queensland.
With an extensive touring season in addition to its home-based performances, more people than ever will have the opportunity to experience the beauty of Melbourne City Ballet.
"We are embracing the challenges all arts companies face while remaining true to our values," says Pappalardo. "As we continue to grow into a leading performing arts organisation, these qualities ensure Melbourne City Ballet continues to stand out from the crowd."



www.melbournecityballet.com.au
MELBOURNE CITY BALLET 2018 SEASON
Sleeping Beauty


19 April – 5 May
Venues & Bookings here
Peter and the Wolf


July
Venues & Bookings here
Carmen


25 May – 5 August
Venues & Bookings here
Madame Butterfly


4 July – 25 September
Venues & Bookings here
The Nutcracker


14 – 22 December