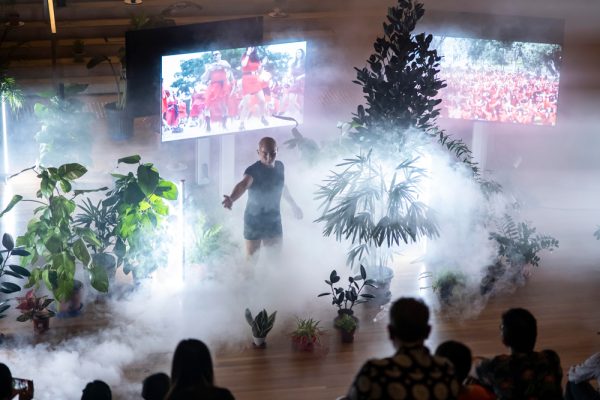 Liveworks Festival of Experimental Art 2022
Presented by Performance Space
Liveworks Festival of Experimental Art 2022 presented by Performance Space will launch their full-scale 10 day program with a free party 'Opening Sounds' on Thursday 20 October from 8pm-late. The opening night invites audiences into the Liveworks experience through electrifying works throughout the Carriageworks spaces with music performances by Rainbow Chan and Sui Zhen; video and performance installation by pioneering experimental art collective BoneDirt; a major new large-scale art installation by Yuriyal Eric Bridgeman, a digital performance, diary like video essay on loading bars by Sophie Penkethman-Young and the ticketed world premiere dance performance of Follies of God by Raghav Handa exploring the complexities of the Gita.
Jeff Khan, the outgoing Artistic Director, Performance Space said: 'I couldn't be more excited that we're throwing open the doors—both in-venue and virtually—and returning to a full-scale Liveworks Festival program this year. I hope this year's Liveworks will be a refreshing and revitalising experience for audiences and communities, inviting us to consider new perspectives and offering us the rush of creativity at its boldest and most adventurous.'
FESTIVAL HIGHLIGHTS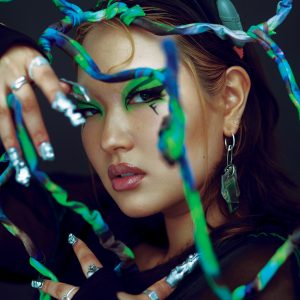 For its eighth year Liveworks 2022 will present 18 extraordinary live shows and 9 distinctive digital events featuring over 61 Australian, First Nations and Asia-Pacific artists – the 10 day program includes accessible online events as well as an exhilarating array of in-person installations, performances and experiences created by some of our most visionary contemporary artists.
Festival highlights for the cultural calendar listed in chronological order with all live events at Carriageworks: 
Opening Sounds – Rainbow Chan, Sui Zhen & DJ Krystel Diola: 20 Oct 8pm-late – Free
Rainbow Chan and Sui Zhen alongside DJ Krystel Diola will celebrate the opening night of Liveworks 2022 with experimental pop sounds for Opening Sounds to mark our collective return to liveness, performance and experimental art.
Follies of God – Raghav Handa: 20 Oct 7pm, 21 Oct 7pm, 22 Oct 1pm & 7pm, 23 Oct 5pm – Ticketed
LIVE FUTURES: FUTURE TRUTHS, Raghav Handa is a panellist: 30 Oct 2pm – Ticketed
Raghav Handa Australian-Indian, Sydney based dance artist will perform the world premiere of Follies of God, an astonishing full-length performance exploring the Baghavad Gita—an ancient Sanskrit text considered to be one of the holiest scriptures of Hinduism. Sharp and inventive choreography is set against sung and narrated Sanskrit verses, manipulated live to create a sonic expansion of space.
A Barrow, A Singsing – Yuriyal Eric Bridgman: 20-30 Oct Various times – Free
LIVE FUTURES, KEYNOTE CONVERSATION: ERIC BRIDGEMAN with Bradley Vincent: 22 Oct 2pm – Ticketed
Australian-Papua New Guinean artist Yuriyal Eric Bridgeman will premiere a major new work, 'A barrow, a singsing,' 19 large-scale shield paintings with sculpture, photography and installation in the public space at Carriageworks; a major new commission by Performance Space and HOTA as part of a new three-year partnership.
Rupture – BoneDirt: 20-30 Oct Various times – Free
Virginia Barratt, Jessie Boylan & Linda Dement are pioneering experimental artists who have been performing since the nineties and known together as the collective BoneDirt. Their work Rupture is an affecting video and performance installation, revealing the ways in which the body and the world mimic each other in states of panic and crisis. Rupture explores how symptoms of environmental and human 'disorder' can be seen as an appropriate response to personal traumas and global disaster. You can catch BoneDirt artist V Barratt's short improvisational performances at the following times listed here
In Progress: The Wait of Expectation – Sophie Penkethman-Young: 20 Oct 6pm, 21 Oct 1pm, 22 Oct 6pm – Ticketed 
Sophie Penkethman-Young's witty digital performance examines what loading bars—those digital icons that appear when we wait for our apps to load—mean and how their personality, quirks, smell and function have changed over time. In Progress: The Wait of Expectation is A diary-like live video essay that looks at the techno-psychology of the loading bars and digital icons that placate us as we wait for our apps to load and our technology to come online. Pushing the boundaries of the digital performance medium and inviting us to rethink our digital lives. Part MTV TRL showtime, part vaporwave mumblecore dystopia.Developed through Performance Space' LIVE DREAMS platform in 2021, the work makes its world premiere for Liveworks 2022.
Hundreds + Thousands – Luke George & Daniel Kok: 21 Oct 8.30pm, 22 Oct 8.30pm, 23 Oct 6.30pm – Ticketed
Daniel Kok (Singapore) & Luke George (Australia), long-time collaborators perform their major new work Hundreds + Thousands (an evolving project with a growing number of participants and collaborators across the globe), an extraordinary performance for humans and plants, blending choreography, experimental music and installation — with an array of plant species as collaborators, mediators and audience. Audiences are invited to bring their favourite plant to watch the performance with them!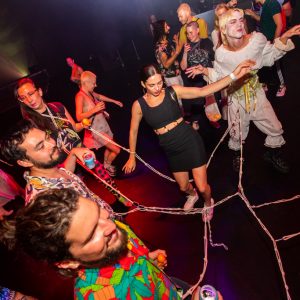 e fishpool – Knowledge of Wounds : 22 Oct, 11am – Ticketed
A transportive sonic performance, Knowledge of Wounds: e fishpool.  e fishpool is a Budawang artist based in Long Beach, Budawang Country. Their work maps processes of unlearning and (re)learning identity through sampling sound, dialect and field recordings. This intimate performance is part of the ongoing Knowledge of Wounds program. Knowledge of Wounds is an independent, Indigenous-led gathering space that is co-curated by artist and writer SJ Norman (Koori, Wiradjuri descent) and writer and scholar Joseph M. Pierce (citizen of Cherokee Nation)
LIVE FUTURES – Future Toolbox: Beyond The Bug Out Bag: 23 Oct 2pm – Ticketed
Curated by experimental artist Loren Kronemyer who is joined by three experts from different disciplines including Tallulah Brown, Ian Millis and Diana Chester. What lies beyond the bug-out bag? Our planet is rapidly changing, and so are the tools and skills we need to survive it. Survival tools can take a range of forms, from familiar traditional skills to uncanny techniques borne of challenges, opportunities, and ingenuity.  How can we learn to identify and wield the right tools for the monumental job of surviving the future?
LIVE DREAMS invites artists to present works-in-progress that imagine radical futures: 25 Oct 6pm, 26 Oct 6pm, 27 Oct 6pm – Ticketed
CLOISTERED curated by Alex Wisser refers to recent events with the provocation 'cloistered' – every inside exists in relationship to its outside, featuring artists Oriana Panazzo, Laring Kolektif, Katrina Elizabeth, Jenny Brown and John Shipton with Richard Banati, Allegra Ceccarelli and Juundaal Strang-Yettica.
Tues 25 Oct, 6pm
TIDAL curated by Louana Sainsbury invites artists to reflect on the constant cycles of change. Featuring artists Chang Kang Hua, Ebony Rattle, Katya Petetskaya, Rowena Potts & Ceridwen Dovey, Jingwei Bu,  Michelle St Anne and Chloe Kim. Wed 26 Oct, 6pm
IRL curated by River Lin explores the notion of IRL and invites artists to critically rethink what makes real lives real. Featuring artists Raymond Liew Jin Pin, ena_groz (Ena Grozdanić), Jacinta Larcombe, M@ Cornell and Merinda Davies, Emma Varker and Mark Kleine. Thur 27 Oct, 6pm
Night Songs – Jon Rose: 26 Oct 8.30pm, 27 Oct 8.30pm, 28 Oct 6pm & 8.30pm – Ticketed
Jon Rose, legendary Australian experimental musician and composer presents Night Songs – a remarkable sonic exploration, an interspecies engagement, drawing from musicologist Dr. Hollis Taylor's extensive field recordings of the Australian Pied Butcherbird, the 13 million year old music of a uniquely Australian songbird, and performed by eight human musicians, Sydney's premiere new music group Ensemble Offspring. Night Songs is a compression of geography and time; shrinking a twenty-four hour period into a one hour concentrated audio-visual encounter.
RINSE – Amrita Hepi: 27 Oct 7pm, 28 Oct 7pm, 29 Oct 4pm & 7pm, 30 Oct 5pm – Ticketed
Amrita Hepi, award winning Australian artist of Bundjulung/Ngapuhi Territories premieres her full-length dance work Rinse. An intimate yet epic solo performance based on a dynamic improvisational score which explores the romance of beginnings and what happens next, when those initial thrills begin to fade and inertia takes over. What is it about the beginning that remains intoxicating? The work is co-commissioned by Performance Space, the Keir Foundation and Carriageworks, and produced by Performing Lines.

RUSH – Field Theory: 27 Oct 7-10pm, 28 Oct 7-10pm – Free
Field Theory are an intrepid art collective including Sidney McMahon and Del Lumanta who have created a new work RUSH in collaboration with a diverse group of queer people from different generations. RUSH lovingly and hazily reimagines our experience of the queer club. After surveying queers across Sydney about their nights out—what they love most, what they dream about and what is missing from their club lives—RUSH offers audiences an array of different experiences and invites you to pick and choose the ones you love best, creating your own perfect night out. An activated installation experience, that is both nostalgic and a space of the future, with artist encounters and refreshments for every sense. 
DAY FOR NIGHT: 29 Oct, 12pm-12am – Ticketed
The queer dancefloor party and performance experience returns with the acclaimed Day For Night.
Day For Night, Sydney's hottest 12 hour queer immersive art party, brings together an extraordinary group of intergenerational artists and queer performance legends: from bright young things to incredible community elders who have led the way for decades, to take you on a journey on the dancefloor through queer space and time. Helmed by Stereogamous and joined by awe inspiring artists and performances including Fetu Taku, The Cosmic Nuns (Victoria Spence, Sarah Barry & Aunty Rhonda Dixon Grovenor), Betty Apple, Wojak & cloudbeard, Jo Kingskin + Co. Ayebatonye, Solomon Frank, Field Theory, Nini Voss, BVT and AnSo. Experience the best of experimental and electronic music, intertwined with explosive dance, trance-like states, intoxicating installations and queer performance art at its finest.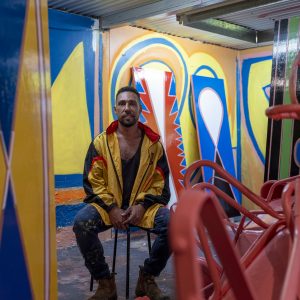 LIVE FUTURES – NIU BEGINNINGS: 29 Oct 2pm – Ticketed
NIU BEGINNINGS, SaVAge Lab in conversation, introduces the artists of the SaVAge Lab and explores new ways to apply Pacific-led principles into contemporary art-making and world-building. Moderated by Jeff Khan and featuring artists of the SaVage Lab Rosanna Raymond, Latai Taumoepeau, Salvador Brown, Rameka Tamaki, and Kilia Tipa who will be undertaking a residency across the duration of the 2022 Liveworks Festival, responding to the Pacific collections held in museums across Sydney and exploring collaborative methods for devising and developing performance.
Closing Sounds – Haco & Lisa Lerkenfeldt: 30 Oct, 6.30-8.30pm – Free
As Liveworks 2022 comes to a close, land softly with a free closing show. Let the captivating, atmospheric music of Haco and Lisa Lerkenfeldt wash over you in intricate sonic waves. Haco (Japan)'s unique and dreamlike music fuses elements of post-punk, electroacoustics, avant-garde, improvisation, post-rock, environmental sound and technology—don't miss this rare opportunity to see her perform live in Australia. Lisa Lerkenfeldt's multidisciplinary works embrace musique concrète, environmentalism, noise and classical motifs in their composition and imagining. Curated by Lawrence English (Room40). Liveworks 2022 is at Carriageworks from 20-30 October with tickets on sale now and prices ranging from Free-$45.
Explore the full program details and book tickets at https://performancespace.com.au/