Return Sydney Season for LSOH
WIN TICKETS! See Below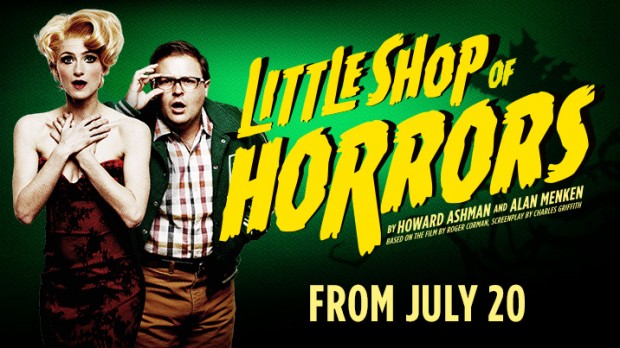 Quirky musical comedy Little Shop of Horrors enjoys an encore return season to Roslyn Packer Theatre from 20 July to 31 July. Starring Brent Hill and Esther Hannaford, the production will then conclude in Perth in August.
"Following the critical response and overwhelming demand for tickets, we are delighted to announce a return Sydney season of Little Shop of Horrors at the Roslyn Packer Theatre.  Sydneysiders who are lucky enough to enjoy an up-close and personal experience with Audrey II at the Hayes Theatre, will now have the opportunity to witness this extraordinary production in all its glory on a bigger stage and bigger theatre.  For all those musical theatre goers that missed out on tickets, here's your chance to see this sensational revival of Little Shop of Horrors that is slowly taking over the country!", said producers.
The production has toured Australia and received glowing reviews from critics and audiences alike.
'4.5 stars… It is hard to imagine a more satisfying revival of this beloved minor classic'– Sydney Morning Herald
'The nine-member cast is an all singing, all dancing knockout, but Hill and Hannaford are the glorious lynchpin. When they get together for Suddenly Seymour, watch out. The place goes off.' – The Australian
'Little Shop of Horrors has always been a crowd pleaser. But this sensational production raises it to new heights. With Owen Phillips' surprising set, Tim Chappel's kitsch costuming and Andrew Hallsworth's witty choreography, this is an eye popping delight. Dean Bryant brings it all together in a production that is dazzling entertaining, creepy in a comical way and yet tough enough to leave you pondering it long afterwards.' – Sunday Telegraph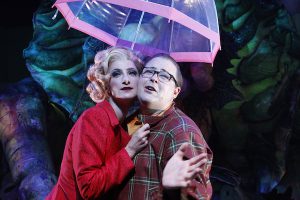 Produced by Luckiest Productions and Tinderbox Productions this gleefully gruesome musical combines the upbeat, doo wop Motown score, puppet wizardry and a wickedly talented Australian cast. Award-winning creative duo Director Dean Bryant and Choreographer Andrew Hallsworth have once again combined their ingenious minds to bring Howard Ashman and Alan Menken's book and score to life, creating a deviously delicious out-of-this-world musical experience. They have joined forces with master puppet-makers Erth to create a brand new Audrey II for the 21st century.
LITTLE SHOP OF HORRORS



SYDNEY

| Roslyn Packer Theatre from July 20th
roslynpackertheatre.com.au or ticketek.com.au


PERTH

| His Majesty's Theatre from August 4th
ticketek.com.au
WIN Tickets to See
LITTLE SHOP OF HORRORS in Sydney
1x Double pass on offer to see Little Shop of Horrors in Sydney at the Roslyn Packer Theatre on Wednesday 20th July at 8pm. To enter, simply answer the following question via win@dancelife.com.au:
Q: What is the name of the carnivorous plant in Little Shop of Horrors?
Please send your answer along with your name and contact number to win@dancelife.com.au by July 13th.