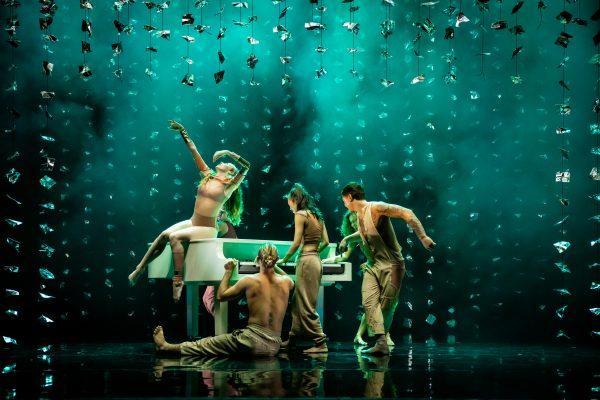 Cast Interview with Felicia, Shontaya & Neven
Amy Campbell Choreographs with Neil Gooding Productions
Interview by Chris Duncan
LEAP has captured the attention of audiences in its debut productions across Sydney and the NSW Central Coast. With exceptional reviews of cast, choreography, narrative and intent, this production has drawn standing ovations from all who have witnessed it. Sadly ticket sales have not been as spectacular as the production itself leading producers to cancel some venues, however shows will continue for the Newcastle, Port Macquarie and Gold Coast dates.
This week Chris Duncan had a chance to interview three of the brilliant cast – Felicia Stavropolous, Shontaya Smedley and Neven Connolly – to get a sense of what it's been like working with Amy Campbell 'behind the curtain' to create this incredible show.
***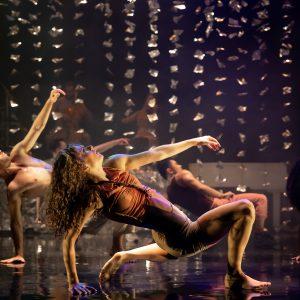 FELICIA STAVROPOULOS
How did you first become aware of the creation of LEAP?
Amy and I were having a coffee one day and she very casually said "… so I'm writing a show …"
It was obviously a very exciting thing – for Amy, for the industry. A brand new dance show. The ambiguity of the show made it very enticing. Immediately I wanted to be involved.
What drew you to audition for this show? 
I knew that anything Amy did would be incredible. I have worked with her since I was seventeen and she has always been someone that I loved being in a room with. I knew that any opportunity to work with Amy again would be a great one. When Amy first told me about the show, she was still figuring out the mechanics and what it was going to be. I helped Amy prepare the audition combination and, at the time, things were still very much in the works. In the room, it was already so much more than 5,6,7,8. There was a lot of tasking, finding ways to translate ideas through movement and freestyle. It was clear that day in the room that everyone knew that this show was going to be something special.
Tell us about the rehearsal and creation process …
The creation process for this show was something very different to what I am used to. From the first day in the audition room, the creation of this show and the show itself was destined to be outside the box. It was so much more than 'cool' steps. Collaboration was a very important part of our process. As artists in the show, we had a lot of creative freedom. We drew ideas from tasking, character building and asking questions – who were we in this world? What did we want? Our own perception of the world of LEAP and our characters' journeys was the driving factor of this story. Everything had a purpose, an objective.
Amy and I were workshopping some choreography one day in rehearsal and I remember fighting every instinct I had to go into my usual habits. My brain was screaming at me for trying to do things differently to what I am used to. This show forced my brain to work in a new way and challenged me to push my creative boundaries.
***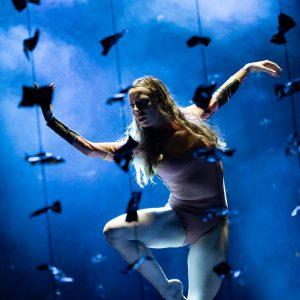 SHONTAYA SMEDLEY
What has it been like working with Amy Campbell in creating this production? 
A few things come to mind when working with Amy… Amy created a strong physical and emotional space for us dancers, band and creative team to collaborate on the show. She produced a safe environment for everyone to explore all concepts and ideas we had in regards to the world of LEAP, as well as any rehabilitation needs and wellness rituals that were needed. Amy encouraged myself and the cast to question the intent behind our characters purpose and the meaning of every step included in the piece. She pushed us both choreographically and our own personal boundaries which made us more aware, smart and considerate dancers and individuals. The energy Amy created every day for us in the space is so refreshing and inviting, it has been such a wonderful experience and if I could I would do it again and again because of Amy. The experience and opportunity to be part of such a lovely team has been incredible and so excited to show new cities what the world of LEAP is.
The show brings together an eclectic mix of creativity and choreography – how does that fuel the narrative?
LEAP is aspirational, ambitious and mythical it has no boundaries in the land of creativity. It allows unique challenges to be set for the cast in their respected dance forms whilst they dare to be great by diving into the uncomfortableness of learning new dance forms and taking risks. From the picture perfect choreography to the dazzling score we capture the desired concepts of Leap igniting the imagination of the audience. LEAP is its own playful, daring world that is captured through each individuals unique character. The intent behind every slow paced and fast paced choreographic movement has a profound meaning for the narrative of Leap. The music itself created by Victoria Falconer wouldn't be in the world of LEAP if it weren't for its unforgettable, dynamic and exciting frequency. The set design is placed in a trance like manner captivating the audience imagination before the dancers even step upon the stage. From the set design, to the lighting, to the music score, to the concepts they all combine to make a cohesive experience for all that is adrenaline rushed and inspired. The choreography tells the story of what day to day life in this world looks and feels like whilst we as individuals and a collective explore the unbound world of LEAP. It is so incomparable and unlike anything anyone has ever been part of or experienced. So that's why the choreography pushes boundaries and forces the audience to feel a sense of unease, intern forcing them to question their choices and judgements. Therefore, it does not just fuel the narrative of LEAP but expands on its desires.
***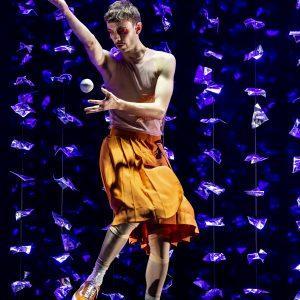 NEVEN CONNOLLY
I love the comical elements interwoven in the piece … what are your favourite parts and why?
I enjoy finding moments with the audience during my act, our focus stays within our world and on Lionheart/Callum Mooney usually but juggling is a traditionally performative discipline so Amy gave me permission to peep through the fourth wall when it felt right. I love when our custom ball-drop machine snows down onto me and I zone in entirely when Callum and I start our connected sequence, mainly because if we don't match energy then the ball won't do what we want it to but also because it's our very personalised innovation on the dance-juggling genre and I want to do it justice.
Tell us a little about your personal journey in your career so far …
It's been way more eclectic than I could have imagined.
I grew up doing pantomime theatre (at Marian Street Theatre for Young People) and dancing came later so I learned early that mixing dance and character was my favourite niche. I was adopted by Phly Crew and became comfortable with dance-comedy, fell into burlesque under the tutelage of Russall S. Beattie, learned the trade of immersive theatre with Dirty Dancing by Underground Cinema as well as a residency with Brand X, and ended up with Cirque du Soleil just before the pandemic in two shows – Cosmos and Exentricks. That experience most inspired my recent work since as I was hired as a dancer but came to understudy the clown tracks and learned juggling throughout by the best in the biz.
I'm a very curious artist and I have no doubt that I'll find many more niches yet to study and add to my silly bag of skills
What can audiences expect from LEAP?
Audiences can expect a journey! Amy created a world and guides you in and around it through the lens of an innocent newcomer. The idea of play is bounced throughout the acts and often inverted to surprise you, there are rules and challenges presented which create an arc to follow and the production value between the band, the set, the lights, costumes and composition keep you engaged and attached till the end.
***
BOOK TICKETS
Newcastle

 – Civic Theatre – Tues 7th, Wed 8th June – Book Tickets Here


Port Macquarie

 – Glasshouse Theatre – Friday 10th June – Book Tickets Here


Gold Coast

– Star Casino Theatre – Fri 17th, Sat 18th June – Book Tickets Here

***
Bio – Felicia Stavropoulos
Born and raised in Sydney, Felicia has trained extensively in all facets of the performing arts and has attained a Cert IV in Performing Arts from Brent Street. Felicia has also been working professionally on stage and screen from a young age alongside her studies. 
Felicia's professional credits include La Traviata (Opera Australia) performed on Sydney Harbour, Carmen (Opera Australia) performed on Sydney Harbour in 2017 as well as 2020's Carmen (Opera Australia) at the Sydney Opera House. She has also worked with Artists such as Kylie Minogue, Dannii Minogue, Hilary Duff, and Hailee Steinfield.
On screen, Felicia has been engaged as a regular dancer on The Masked Singer Australia and X Factor Australia and has appeared on The Voice AU, Sunrise, Dance Academy along with various television advertising campaigns for brands including Optus, and Turbo Tax. 
***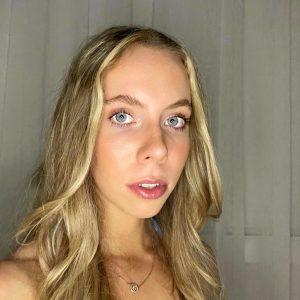 Bio – Shontaya Smedley
Shontaya began dancing at the age of three. Training in a commercial background she had won Overall National Champion in Australia five times and was set to compete in America and won Overall National Champion Dancer in USA four times. Backup dancing for Pussycat Dolls Melody Thornton as well as Patti LaBelle. Shontaya transitioned into fulltime ballet and performed with Australian Ballet for Nutcracker and won various scholarships. She moved to New York to train at American Ballet Theatres Jacqueline Kennedy Onassis School and performed with American Ballet Theatre for their productions of Swan Lake and Whipped Cream. Upon graduating she decided to move more into a contemporary dance direction and completed her Diploma of Professional Dance Elite Performance at Sydney Dance Company Pre-Professional Year. Now completing her second year of PPY and will be receiving an Advanced Diploma of Professional Dance Elite Performance. 
***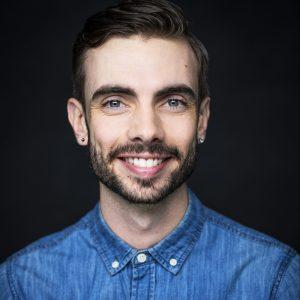 Bio – Neven Connolly
Neven is a variety act whose craft is rooted in live theatre experiences growing up. His creative career was born from a diverse mix of experiences as a performer culminating in the last few years dancing, acting, teasing and clowning between Cirque du Soleil and 'The Empire Strips Back' Burlesque overseas.
Local experiences as a creative and performer stretch from light hearted; Dirty Dancing with Underground Cinema, numerous productions with Phly Crew company, co-founding and creating two original shows with Working_Title Productions and a string of television commercials and music videos, to darker-toned productions; R+J Variations with Sydney Opera House, immersive theatre with Brand X Inc and his choreographic debut of Fates with Supply Evolution Co as well as horror film work for the likes of Russall S Beattie and Dane Hallett.
Amidst a sea of competitions, residencies and community events, highlights include winning the title of Australia's N.E.X.T Choreographer in 2018 and becoming a recipient of the Sidney Myer Foundation Grant in 2020. Recreationally, he trains and engages with street dance forms and their cultures and when his legs get tired he juggles.