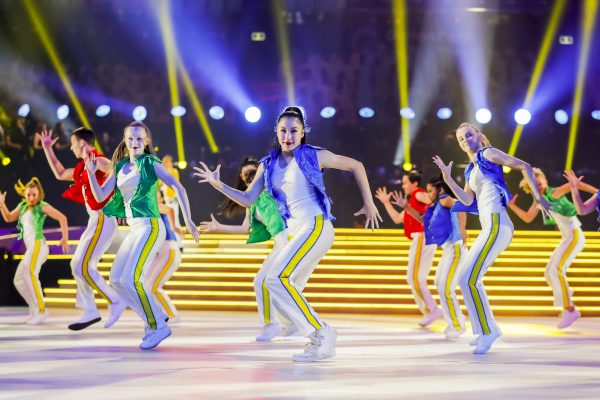 Schools Spectacular 2022
QUDOS Bank Arena 
One of Australia's most popular annual variety shows, Schools Spectacular, is proud to announce that 350 schools have been selected from across NSW to take to the QUDOS Bank Arena stage on 25 & 26 November.
After two years of COVID, 2022 marks the return of this hugely popular extravaganza, and this year 4,700 students will be performing from the following schools.  Click HERE to see the list of schools.
The Secretary of the NSW Department of Education, Georgina Harrisson said "After the last two year's when we have been unable to get together it's just fantastic that we can return to Qudos Bank Arena and celebrate with Schools Spectacular live. It really is a flagship event for the department and represents the values of public education giving every student from every school the opportunity to be engaged and challenged. 
Teachers are the backbone to this event and if you haven't already said thanks to them let me hear it now "thank you teachers!"  … for your amazing work across the state to bring this together. 
It's really what we need as a community right now a chance to come together at the end of this school year and really celebrate in the way that only the Schools Spectacular can.  So, I want to thank and personally recognize the demonstration of commitment, dedication and creativity of our staff and the support you have provided for every student has been amazing.  And finally, congratulations to all of you to be chosen; to have the chance to perform in such an incredible event."
This year's show will feature a 2,100-voice choir, 2,200 dancers, 100-piece symphony orchestra, 250 students from the signing choir, stage bands, VET crew and specialist ensembles all under the guidance of 600 dedicated teachers.   Students of varying ages, cultures, skills and socio-economic backgrounds will be showcased.
Deputy Principal, Tanya Scicluna, from Harbord Public School said "The past few years have been difficult for the Performing Arts so this chance, to reconnect, and come back into the arena to perform in front of a large audience including family and friends will be an exciting opportunity for our students.  Schools Spectacular provides a unique experience for our students to connect with schools across the state and perform in a high quality, professional production. We are thrilled to be back! "
Schools Spectacular 2022 is proudly supported by Telstra, NSW Teachers Federation, School Bytes, RØDE, Smartsalary, Teachers Health, ASM Global and the Seven Network.
Schools Spectacular
Sydney

– QUDOS Bank Arena
Friday 25 November 11am & 7pm
Saturday 26 November 1pm & 7pm