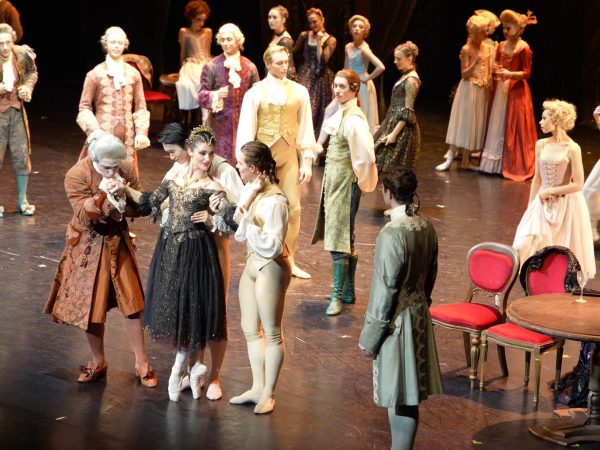 Kenneth MacMillan's Manon
Queensland Ballet
Queensland Ballet's Chiara Gonzalez has been promoted to Soloist following a spectacular performance in Kenneth MacMillan's Manon.
After the curtain call on Saturday's matinee performance, Artistic Director Li Cunxin AO announced the promotion.
"It is my great honour as Artistic Director to acknowledge the hard work, dedication, and growth of Chiara Gonzalez. She has demonstrated exceptional professionalism and artistic excellence over the last four years and after her outstanding portrayal of Manon this afternoon, she deserves to be recognised," Mr Li said.
Starting out the season as a First Company Artist, it was a career coup for 25-year-old Gonzalez to be cast in the role of Manon. Manon is up there with Giselle as many a dancer's dream gig. It's an extremely challenging and dramatic role requiring more than just maturity and experience to learn but Mr Li believed she was ready.
"Chiara is truly a wonderful dancer, who brings something extra to every role she performs. She demonstrated that she was ready to learn the role of Manon and the responsibility it involved. 
"As an Artistic Director, it is truly rewarding seeing our talented dancers develop into accomplished, versatile, and extraordinary artists. I look forward to Chiara's continued growth as she takes on new and challenging repertoire in our upcoming productions," Mr Li said.
Celebrating with her friends and fellow dancers on stage, Gonzalez said she didn't expect to receive the promotion.
"I was extremely surprised when it happened. I had invested all my energy into my performance that I hadn't even seen Li come on stage at the end. I'm still not sure if I have quite processed it yet!" Ms Gonzalez said.
"I'm humbled to have been given this recognition as a Soloist, and I want to thank the whole Queensland Ballet family from the bottom of my heart for their constant support throughout the years. The artistic staff, helpful therapists, and caring friends; and to my director Li Cunxin for nurturing me over the years and providing me with the opportunities to grow and learn, enabling me to get to where I am today," she said.
Chiara was born in South Africa and moved to the Gold Coast where she started her dance training at four years old. In 2015, she moved to Brisbane to join Queensland Ballet's Pre-Professional Program and on graduation joined Queensland Ballet as a Jette Parker Young Artist in 2017. Chiara accepted a contract as a Company Artist in 2018 and was promoted to First Company Artist in 2021.
Her roles with the Queensland Ballet include Lucy in Kryzstof Pastor's Dracula, Giselle in Ai-Gul Gaisina's Giselle, Sugar Plum Fairy and Clara from Ben Steven's The Nutcracker, and Aurora in Greg Horsman's The Sleeping Beauty.