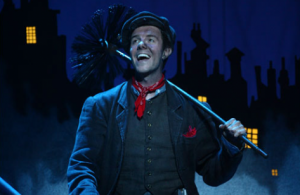 Hi Everyone,
A few years ago I was walking down 5Th Avenue in NYC when I bumped into an old College acquaintance – MR GAVIN LEE! I hadn't seen Gavin since we were at College together in the UK ( except for a brief moment when he toured the country with Crazy For You) and it was amazing to run into him on a New York street.
Unbeknown to me at the time, Gavin was playing the lead role of Bert in Mary Poppins and was on his way to the matinee. Of course I headed straight to the theatre and bought some tickets for the show the following day, after which Gavin gave me a tour of the backstage area and we shared a few old College memories! (he was FABULOUS, by the way)
Having originated the role of Bert in London's West End Production and then come to the USA to bring the role to Broadway, Gavin had taken a bit of a break and a change of scenery over the past few years (no pun intended ha ha ha) – but now the man himself, originator of this coveted music theatre role is back! And the Broadway audiences are loving it!!!
So how does a student from The Doreen Bird College of Performing Arts in Sidcup, Kent, UK, get to iconic status, in a ground breaking show, on the hallowed ground of Broadway? I had a chat with Gavin to find out.
CHRISTINE: All those years ago at DBC in London, did you have a vision of playing a lead role on Broadway one day or was it like a lovely surprise to find yourself there all the years later?
GAVIN: When I was at college, all I dreamed of was to get cast in a West End show. I'd seen so many shows in London growing up and just LOVED IT! While at college, we used to go into the city on weekends and try and get student stand-by tickets. I must have seen Chess and Starlight Express each 20 times!
Just to be in the ensemble of a West End show was the dream. Playing a lead was not even on my radar!
CHRISTINE: I have memories of you being a great tapper at college – were your tapping skills a big part of you getting this role? And how did it feel to be performing such a well known choreographic piece as "Step in Time" on two of the most iconic stages – The West End and Broadway?
GAVIN: Tap was my favorite class at college – I'm sure it was yours too, (you were easily the 'top tapper' in the school!)
I had to do tap, jazz and even a ballet combination for my Bert auditions. The choreographers, Matthew Bourne and Stephen Mear, were very generous in letting me work out quite a lot of my tap solos in the show – including my 'upside-down tap dance' around the proscenium arch during "Step in Time."
CHRISTINE: You started off your career in the UK, touring with such productions as Crazy For You – how did these smaller roles prepare you for your "big break" as Bert in Mary Poppins?
GAVIN: I was with Crazy for You in London as a swing for the ensemble, became dance captain, then I got understudy to the lead and later became the resident director. Finally, I got to take over the lead role when the show went on the UK national tour. It was definitely worth sticking with the production for four years! I certainly learned a lot and worked my way up.
CHRISTINE: How did you land the role of Bert in Mary Poppins? Was there a long audition process? And how did landing this particular role change your life?
GAVIN: I had four auditions for Poppins over three months that were very intense and made worse because each appointment was so far apart from the last! The final audition was with Laura Michelle Kelly, who had already been cast as Mary and the creatives just wanted to see how we worked together.
Getting this role has truly impacted my life. I created a new character for the London stage, was honored with award nominations, moved to NYC, made my Broadway debut in a new musical and performed at the Tony® Awards (at Radio City Music Hall) just to name just a few of the amazing things – all because of this awesome job.
CHRISTINE: There is something quite "magical" about this show in particular…….what do you think that is? And why does it appeal to so many people in so many different age groups?
GAVIN: I love that the creative team didn't just pick up the Disney movie and plonk it on stage! They went back to the six original P.L. Travers' books and took the best bits and the best bits of the movie and made a new Poppins story for the stage. It has visual magic, amazing sets and costumes, exciting choreography and a relevant story. Hopefully that's something for everyone!
CHRISTINE: The set is amazing and you have some wonderful moments in the show? What are your favorites?
GAVIN: I used to love all the big, energetic dance routines the best but after six years playing Bert, I prefer the less tiring parts of the show (laughs). At the moment, I really love performing "Let's Go Fly a Kite." It's such a simple, beautiful scene.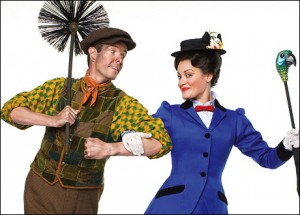 CHRISTINE: Playing the same role, eight shows a week, year after year after year, is a huge challenge. How do you keep every performance fresh and alive for your audience? And how do keep up your own motivation and enjoyment of the role?
GAVIN: The short, boring answer is – it's my job!
CHRISTINE: How did you go about creating the role of Bert for the original West End production? Did you watch the movie version or just go with your own interpretation of Bert?
GAVIN: I had never seen the movie all the way through before I auditioned and deliberately didn't rush out to buy the DVD. I did watch the film after I'd been cast and thought "wow, those are very big shoes to fill." Dick Van Dyke is pretty incredible as Bert! Luckily, the stage version is quite different so I didn't have the idea of a carbon copy of Mr. Van Dyke.
CHRISTINE: You received Tony® and Olivier Award nominations for this role – how exciting was that?
GAVIN: The award ceremonies were so exciting! Especially, attending and performing at Radio City Music Hall – that building is just breathtaking.
CHRISTINE: Having worked extensively in both the UK and USA, what would you say are the biggest differences between the way the British and the Americans approach their rehearsals and performances and the industry in general?
GAVIN: I have to say the Americans are much better at maintaining their craft. Most of the Broadway cast takes dance and vocal classes during the day – making me feel like a total slacker!!!
CHRISTINE: What have been the best moments and worst moments of your career thus far?
GAVIN: Well, of course, THIS job is the high point of my whole career but I've done my share of terrible shows too. In London, I performed in Let's Kick Arts(!) and it was an awful, awful sketch-type show with just four actors. Some nights there were more of us on stage than in the audience and we dreaded saying the "funny lines" to absolute silence. Ya' win some, ya' lose some (and it really makes you appreciate the good jobs!)
CHRISTINE: Finally – what advice would you give to aspiring dancers, who are dreaming of becoming a star on Broadway or the West End one day?
GAVIN: Get as much experience as you can while you are young and take classes. Community theatre, high school shows – however large or small the production- experience is invaluable!
So there you have it. It is possible to make your dreams come true. So keep on working hard and believing in yourself and you just never know where those dreams may take you.
If you haven't seen MARY POPPINS yet – then get yourself a ticket and either get yourself to
New York City and Broadway to see GAVIN LEE in the title role.
Or hop on a plane to Melbourne and catch our very own MATT LEE in the role of Bert.
Either way – you are in for an absolute treat.
For ticket information in New York, USA go to: www.disney.go.com/theatre/marypoppins
For ticket information in Melbourne, Australia go to: www.disney.com.au/marypoppins
For information on TAPATAK OZ go to: www.tapatakoz.com.au
Till next time… Dream Big and Expect it to Happen!
Christine