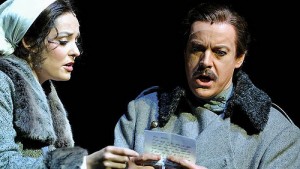 DOCTOR ZHIVAGO
Directed by Des McAnuff
Music by Lucy Simon
Choreographer Kelly Devine
"Front and Centre." Yes, as in front row, dead centre, behind the conductor is where I was seated to witness this new musical. I saw every wrinkle, every drop of sweat and every genuine tear. It was truly remarkable to be so close to all the action!
Doctor Zhivago is set in an intense and turbulent time and focuses on a deep and rich love story. It follows the journey of young Lara and the older, wiser Doctor and Poet, Doctor Zhivago. Lara's radical pro-communist husband, Pasha Antipov played by Martin Crewes is extremely well cast in the role; he has a great voice and the right look and characterization plus an element of wit, which offers a dash of lightness to this fairly heavy show.
Lucy Maunder (Lara) gives a refreshing and raw performance, her voice has a kind of innocence in its timbre, and you could imagine this voice in a Disney movie. Anthony Warlow (Doctor Zhivago) and Maunder have developed their characters with great depth and generate an intense chemistry onstage. Warlow's voice truly never disappoints. The rest of the cast complemented these two leads, but none of them particularly stood out. I also found it odd and amusing that Doctor Zhivago's 'son' appears to be played by a girl and then when Lara and Zhivago have a daughter, this 'son' then plays the 'daughter' (I think they're relying on the fact most people aren't sitting front and centre!).
Memorable moments were Anthony Warlow and Lucy Maunders duet, performing the signature song "Now" and the incredible duet between Lucy Maunder and Taneel Van Zyl who plays Zhivago's wife, Tonia. They sing in the Library, where they lament and sense a common link over their love for Doctor Zhivago.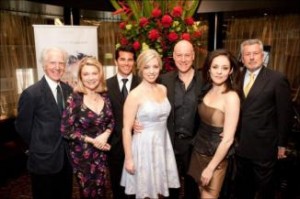 With the recent events of Egypt in my mind this musical couldn't be covering more relevant issues if it tried, the problem however, is, if you're sketchy on your Russian political history you may be wondering what's going on.
The musical is based in the early part of the twentieth century, a time when there was deep unrest within the Russian people. The 'Bolsheviks' or the 'Reds' believed the Czar needed to be jettisoned in order for a more cohesive, fair society to exist, this generated a revolution as 'the workers' rose up and had the aristocrats overthrown. Just to give you the heads up!
The set is absolutely nothing to write home about, an array of broken chairs, drab columns and a bland chair and table. This no doubt captures the essence of the time, however for a musical I expected more. Plus there is this quite outrageous use of a black and white image over a curtain of Lara undressing. Lara is singing about her past and this image is meant to symbolize this but it was just so naff, it was distracting from the singing and completely unnecessary. The costumes are dull, understandably this type of show does not allow for much colour or razzle dazzle but I still wanted something more interesting.
There's really two sides to this show, on the one hand it's grey, drab, and oppressive to look at and on the other hand this intense energy makes the show powerful, thought-provoking and incredibly moving. Director Des McAnuff
has done a superb job with frequent scene changes which are quite fast paced, seamless and unpredictable allowing us to stay engaged, keep our energy focused and keep up with the story.
Doctor Zhivago is not for those who love an all singin', all dancin' sequin sparklin', toe tappin' show. This is for those who no doubt loved musicals like Phantom and Les Mis. This is not my favourite kind of musical, however I did find it incredibly moving, extremely well cast with consummate performances and it made me want to brush up on my Russian history. I do recommend stepping outside your comfort zone if you normally don't go along to these types of musicals and checking it out, it will definitely enlighten, excite and engage you, even if you're not sitting front and centre.
Emma Bell is a writer, reviewer and interviewer and can be found at www.emmabell.com.au or follow her at www.twitter.com/emmafbell