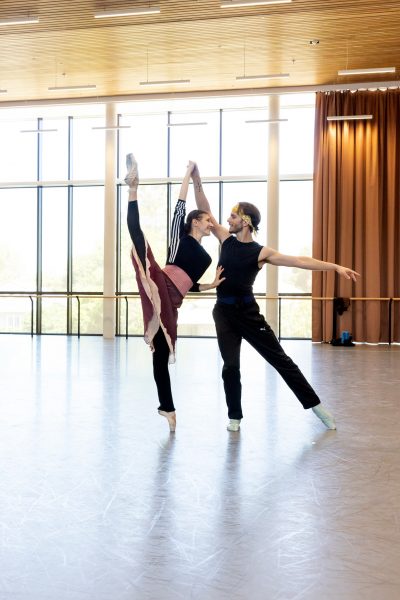 Manon
Queensland Ballet
Romanian-born prima ballerina Alina Cojocaru arrived at Queensland Ballet this week ahead of her guest performance in Kenneth MacMillan's Manon.
Former Principal of The Royal Ballet and English National Ballet, Cojocaru is widely considered one of the world's best ballerinas.
As soon as Cojocaru touched down in Australia, she wasted no time heading straight to the studio to begin rehearsals with the Company.
"We had a great rehearsal. I can't believe that we've rehearsed the entire ballet together already," Cojocaru said.
Cojocaru will dance alongside Queensland Ballet Principal Artist Victor Estevez, who will play her love affair Des Grieux.
"This is the first time that we have danced together. It has been nice to meet his Des Grieux. For me, it's wonderful to see that technically everything works, so that we can work on the aspects that make a performance and partnership really special," she said.
Principal Artist Victor Estevez said rehearsing with Cojocaru was an incredible experience.
"We just had our first rehearsal together and I can already see just how much she is willing to connect to the role of Manon. She is an incredible artist from our generation, probably one of the most recognised, so it's an absolute pleasure for me to be partnering her," he said.
Queensland Ballet Artistic Director Li Cunxin AO said Cojocaru will be the first international guest star at Queensland Ballet since the start of the pandemic in 2020.
"Queensland Ballet has always been committed to collaborating with global guest stars to provide Australian audiences with world-class performances, so we are delighted that we can continue this now that the borders have reopened," Mr Li said.
"In my opinion, she has delivered one of the best portrayals of Manon, so it's truly wonderful we can share her exquisite talent with our audiences," he concluded.
A ballet she has performed countless times, Cojocaru explains how she portrays the character of Manon.
"I am more open to exploring more extreme thoughts but also looking at what makes her human. Human emotions and human choices are not always good. I think it's okay to accept that she makes bad choices and then it changes the way I portray the role and I portray those bad choices without demonising her," Cojocaru explains.
"I have to like Manon otherwise I can't make her likable for the audience, and then the ballet doesn't work. In order to like her, I've had to accept all of her flaws," she concludes.
Alina Cojocaru will perform the role of Manon with Queensland Ballet on Wednesday 5 October and Friday 7 October.
Manon
Melbourne

– Lyric Theatre, QPAC
From 28 September – 8 October 2022