Hot Talent Watch | Callum Mooney
interview by Nikita Liddell

Taking a different path than most young dancers today, Callum Mooney has recently emerged to be one of our most exciting, unique and creative talents in the dance and arts scene. It seems that 2017 will see Callum take the next steps in bringing his performance dreams to life. 
This is what we learned about Callum in our recent interview.
Q: What did last year bring for you?
"Last year brought a lot of insight into what I want to do. I want to start creating my own pieces, and my own shows. I spent the year training and performing with The Dream Dance Company, and to be in a production like that really gave me a lot of inspiration and drive to kind of create my own works and really put myself out there!
"It also brought a lot of courage for me to just be open to any opportunity that comes my way!"
Q: Who, or what, has helped shape the performer you are now?
"A big one would definitely have to be my mum! My mum was an ex-dancer, she got me into dancing because she used to perform and I watched her as a kid and she caught me trying to tap dance so she put me in classes. I've loved it ever since… so she definitely helped me become open to that.
"I feel like my experience going overseas straight out of high school was important. I didn't go to a full-time dance course, I decided to move to London for a year just to find 'myself' and train… and I found my own drive and my own way of going about moving towards my goals instead of doing a full-time course where people are telling you what to do.
"Instead, I found my own path and how to get to where I want to be and how to achieve what I want to do!"
Q: What is one thing people would be surprised to know about you?
"It sounds a bit silly, but one thing that people would be surprised to know about me, especially because I'm a dancer … is that I have a bit of a foot phobia where I get scared of feet! I just find them really repulsive, and if there are any routines where it's got feet on my body I'm squirming and squealing inside!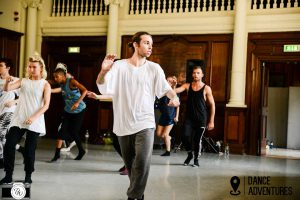 Q: What should every dancer try at least once in their life?
"If I was to ask that question with what I wanted to, I'd have to change the question to what every dancer should do rather than try… It would be for dancers to be improvising and free–styling because every dancer should know how to just put on a piece of music and just freely move!
"Every dancer should at least try it but it is something that a dancer should know how to do. A lot of people don't train in improv, they just take choreography classes and when you go to an audition or … say you're on a music video set… and the director just says 'Ok, now I just want two-eights of free style', you're not going to want to be thinking about whipping out choreography!
"You've got to be able to feel the music and just be free!"
Q: What can DanceLife Australia readers expect to see from you in 2017?
"For 2017 I'm doing the next season with The Dream Dance Company which is choreographed by Sarah Boulter. I am also in the works of planning a big series of dance/art concept videos. Really big production and mixing other art forms as well as dance with video effects and green screen technology and also mixing live music as well… I'm doing it to promote the art in dance, because a lot of people just do simple choreography.
"I really want these concepts in these videos to really challenge new ways of thinking for artists. So I'll be doing a lot of collaboration projects with different artists from different art forms, especially music and video editors as well. I'm also hoping to put on my own show.. a small budget show in an art space, so I'm in the middle of developing that now!"
Q: Do you have any advice for young dancers aspiring to work in the industry?
"Don't be afraid to be you! Don't be afraid to be yourself… a lot of young dancers look up to dancers and they go 'hey I want to be like this person'… but in the whole scheme of things the person they're trying to be like, there is already one of them!
"You need to find yourself and you need to find your own way of moving. I'm not saying you need to interpret every choreography you take, especially in auditions, … just saying that you need to know who you are before you try to mimic other people… just try and know your own way of moving!"

BIO | Callum Mooney
Callum has trained in hip hop, contemporary, ballet, tap and jazz at various studios around Sydney such as the Village and Urban Dance Centre. Most of his training was in London at Studio 68 and Pineapple Studio as well as being a faculty teacher, and travelled Europe teaching. Callum featured in Billy Elliot the Musical and ABC's Dance Academy at a young age, as well as being a company dancer for The Dream Dance Company 2016 and 2017 seasons. He was also selected as one of six choreographers to be a part of AusDance's DAIR Dance Artists residency program where he is developing a work called 'WeAreSOUND'.