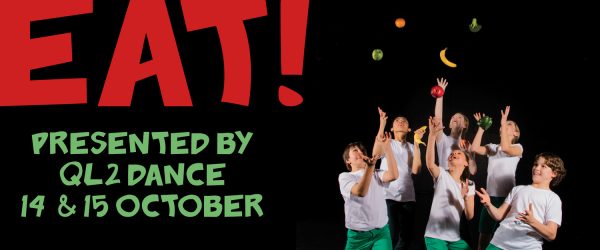 QL2's EAT!
Dancing and food – what could go wrong?
Following auditions held in August, junior contemporary dance company QL2 presents EAT! in October in Canberra.
EAT! is new contemporary dance, developed in collaboration with the QL2  junior ensemble (ages 8–16) plus a few older more experienced dancers. EAT! was created by choreographers  Jack Ziesing (Expressions Dance Company, DanceNorth);  Caitlin Comerford (Artistic Director of Stompin) and Jamie Winbank (Creative Director, Ausdance ACT Youth Dance Festival) under QL2 Artistic Director Ruth Osborne.
EAT! is all about food as fuel; too little, too much, too good, too bad! It explores concepts around finding a balance of what we eat, the traditions of cooking, the culture of eating and how we share a meal.
EAT! is suitable for all ages, although parents of very young children should note that it will include loud sounds and music, and times where audience quiet is required.
QL2 Dance Inc is home to Quantum Leap, Canberra's auditioned youth dance ensemble; and aims to assist the best dance graduates to find their creative pathway. They are dedicated to diverse, challenging and rigorous youth dance which develops the next generation of dance-makers and contributes to a dynamic, caring and diverse society.
EAT!

– 3 performances only
14 & 15 October 2016
7pm Friday, 3pm & 6pm Saturday
Theatre 3,  3 Repertory Lane, Acton ACT
$20 full | $15 conc | $12 under 15
Tickets: book online via Canberra Rep; or phone 6257 1950 or go to Theatre 3 (Mon–Fri 10am–4pm)