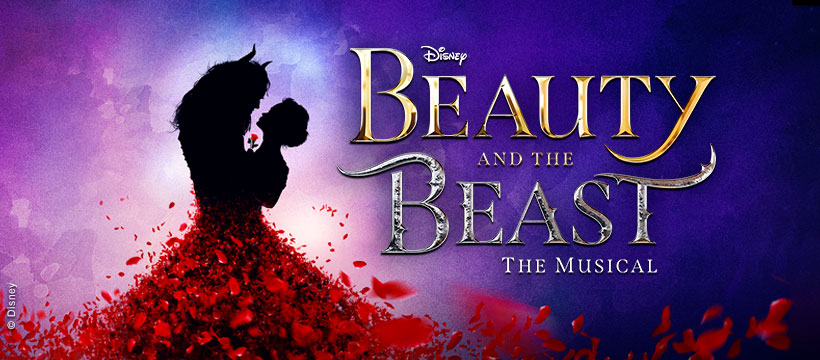 Beauty and the Beast
Sydney's Capitol Theatre
Disney's Beauty and the Beast had its Australian premiere in Sydney at the Capitol Theatre last Thursday 22 June 2023.
Produced by Disney Theatrical Productions (Aladdin, The Lion King, Mary Poppins, Frozen) this new production of Beauty and the Beast brings back members of the original creative team from the ground-breaking Broadway musical to reimagine this much-loved classic tale. Olivier Award nominee Matt West directs and choreographs, leading a team that includes original composer Alan Menken, lyricist Tim Rice, book writer Linda Woolverton, scenic designer Stan Meyer and lighting designer Natasha Katz.
Based on the 1991 animated film, the original production of Beauty and the Beast played for more than 13 years on Broadway, remaining to this day one of the top 10 longest running shows in Broadway history, and touring to 37 countries worldwide. Sydney audiences will rejoice in the spellbinding songs of Alan Menken, Howard Ashman and Tim Rice including Belle, Gaston, Human Again and Be Our Guest.
The stellar Australian principal cast includes Shubshri Kandiah as Belle, Brendan Xavier as Beast, Rohan Browne in the role of Lumiere, Andy Cook as Gaston, Gareth Jacobs as Cogsworth, Jayde Westaby as Mrs Potts, Nick Cox as Le Fou, Rodney Dobson as Belle's father, Maurice, Hayley Martin as Babette and Alana Tranter as Madame.
This enchanting and timeless tale has been brought to life in a reimagined production boasting all the spectacle and grandeur audiences know and love. The Australian production features a total cast of 34, backstage crew of 77 including musicians, an incredible 300 costumes, and 80 tonnes of scenery and automation.
Twenty-three x 8 tonne trucks are required to transport the set to the Capitol Theatre in Sydney for the Australian premiere, where it takes a team of 70 over 15,000 people hours to load in.  30 tonnes of flying scenery and 50 tonnes of automation and staging have been unpacked and built to recreate the French provincial town, including the forest, tavern, Belle's cottage and the Beast's castle.
The beautiful and intricate costumes include many different elements such as embroidery, beading, hot stoning, hand printed fabrics, digitally printed fabrics, laser cutting and leather work. The original costume team sampled over 4000 fabrics and 2000 trims to get the exact right look for each character.
Belle's blue dress embroidery was drawn by hand, then digitised and finally embroidered by machine to look 'handmade', while Belle's yellow ball gown design was based on Elizabeth II's coronation dress. Each petal on the dress has around 300 – 600 crystals, pearls and beads.
Lumiere's flames are real, while Mrs Potts has two spouts – one that smokes and one that doesn't. Audiences have to look closely to see Madame at first – her headdress is the same design as the decorative screen behind her.
There are 119 custom wigs in the show, each taking 14 people 40 hours per wig to hand-knot individual hairs: the equivalent of 191 days straight! There are 12 sets of Beast horns, totalling 24 horns in total. There are 60 magnets in the 'Be Our Guest' wigs, which help to secure their hats during the high intensity tap number. To transform him into character, Brendan Xavier and two understudies have each had a life-cast, body scan and hand-sculpted prosthetics created especially for them.
For the first time ever, the show stopping production number 'Be Our Guest' will include a new spectacular tap finale featuring Lumiere, Belle, and all of the enchanted objects of the castle, illuminated by 660 individual globes, 804 LED colour changing light bulbs, 112 LED light boxes, 766 metres of colour changing LED tape, and 84 high intensity strobe lights. The production features one of the first all LED lighting rigs on a musical this size.
Tickets are on sale now for performances through to Sunday 5th November 2023, exclusively through Ticketmaster.
Ticketing Information
Disney Theatrical Productions are thrilled to offer accessible pricing options, including some tickets available for as low as $50 (with no additional Ticketmaster transaction fee).  Those looking for the best value tickets are encouraged to look at mid-week evening performances and during school terms.
Customers who wish to buy 4 tickets at once can access great value seats in mid-week evening performances and save $20 per ticket in selected price reserves.
Groups of 8 or more are encouraged to contact the Ticketmaster groups department on groups@ticketmaster.com.au to save on their booking.
About Disney's Beauty & The Beast
Based on the 1991 film – the first animated feature ever nominated for an Academy Award for Best Picture – Beauty and the Beast opened on Broadway in April 1994 and garnered nine Tony nominations and one win. It played for more than 13 years on Broadway (before closing in 2007) and remains to this day one of the top 10 longest running shows in Broadway history. The 2017 live-action retelling of the animated classic starring Emma Watson quickly became the highest grossing live action film musical of all time, a record beaten only by The Lion King live-action release in 2019.
The original Australian production of Beauty and the Beast opened in Melbourne at the Princess Theatre in 1995 starring Rachel Beck in the role of Belle, Michael Cormick as the Beast, a young Hugh Jackman as Gaston, and the late Bert Newton as Cogsworth. The production played for over two years across Melbourne and Sydney and won the 1996 ARIA Award for Best Australian Soundtrack/Cast/Show Release.
The structure and tone of the story and score – as conceived for the 1991 film by its executive producer and lyricist Howard Ashman with a continued evolution for the Broadway adaptation three years later – made Disney history. Only once before – in Menken and Ashman's previous film musical The Little Mermaid – had a Disney film been structured like a stage musical where the songs are integral to plot and characterisation rather than only ornamental or digressions. This Menken/Ashman innovation is credited with the 1990's Disney animation renaissance that went on to create such film classics as Aladdin, The Lion King and Hunchback of Notre Dame and helped re-introduce the book musical form to popular culture.
This new stage production of Beauty retains the lush period sound of the Oscar-winning and Tony® award nominated score – which brought classics including Be Our Guest and Beauty and the Beast, as well as Change in Me, added to the musical production in 1998 and retained thereafter. New dance arrangements by David Chase, have allowed original choreographer Matt West to re-visit his work. Longtime Menken collaborators Michael Kosarin and Danny Troob are musical supervisor/vocal arranger and orchestrator, respectively.
Completing the design team, Tony® award winner John Shivers is sound designer, Darryl Maloney is the video and projections designer, and David H. Lawrence is hair designer. Jim Steinmeyer is the illusions designer, as he was on the original 1994 production.
Beauty and the Beast will be produced in Australia by The Walt Disney Company and Disney Theatrical Productions, under the supervision of Thomas Schumacher.
The Australian premiere of Disney's Beauty and the Beast is proudly supported by the NSW Government through its tourism and major events agency Destination NSW.
For more information please visit www.beautyandthebeastmusical.com.au