From Start-Up Enterprise to 'Dancepreneur'
Debut Book from Chris Duncan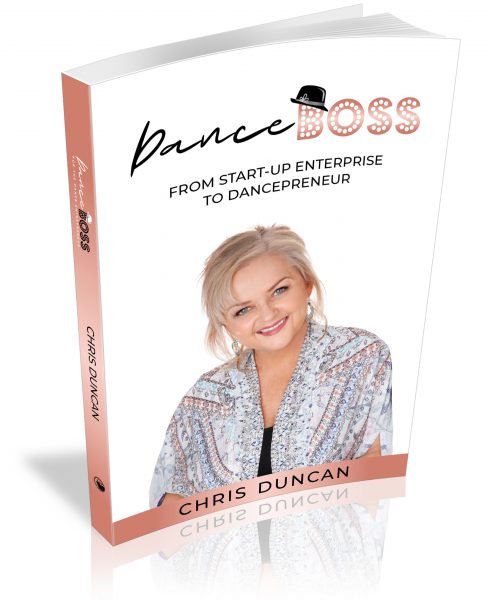 Do you dream of starting your own dance business but just don't know how? Or are you stuck wanting to grow but can't seem to make progress?
Chief executive officer of DanceLife Unite and managing editor of DanceLife Australia, Chris Duncan, has taken the step to put her 35 years of dance industry knowledge and experience in words in the launch of her first book – DANCEBOSS: From Start-Up Enterprise to Dancepreneur.
Many in the dance industry enter the business world 'accidentally' because they just want to find a way to monetise doing what they love. At first it doesn't even seem like work. Inevitably though, the fun-factor can fade – especially when things get tough (like when a pandemic hits!!)
First time author, Chris Duncan, knows the highs and lows of doing business in dance after a career spanning 35 years. As a teacher, choreographer, and studio owner, then as an agent, publisher, event manager and producer, Chris has dedicated herself to providing as many opportunities as possible for the next generation of dancers to learn, grow and become incredible future professionals. Now, Chris expands her mentoring role to help other passionate DANCEPRENEURS create their own dream enterprise and, in doing so, increase valuable work opportunities within the industry.
DANCEBOSS – From Start Up Enterprise to Dancepreneur covers all the major business pillars you need to know to avoid wasted time, energy, money and passion and fast-track your business to success.
"DANCE IS LIFE! But it is the PEOPLE that make all the DIFFERENCE! I feel honoured to share your passion for this incredible industry," said Chris Duncan.
Many talents in the dance industry have words of support for Chris' initiative to write this book including the following:
"Chris Duncan is a true force in the dance industry using her sharp business acumen and passionate heart to provide incredible opportunities for young dancers. She is always searching for new pathways to educate and inspire the next generation. She is driven and dedicated having had great business success in making her passion reach every capital city in Australia."
⏤ Kelley Abbey (Australian Dance Icon)
"I met Chris 15 years ago when I needed support and advice with my own dance studio, and Chris was generous in providing it. Since then I have grown to know Chris as a person whose generosity of spirit knows no bounds.  A passionate advocate for the dance industry, Chris works tirelessly to support and promote the businesses and careers of all those around her.  Through her innovative competitions she has launched many dancers, and her 'let's do it' attitude and selfless support of dance studios Australia wide has made Chris an inspiration to many dance educators. My pride in her achievements is endless, and my gratitude to Chris boundless."
⏤ Darren Disney (Original Tap Dog)
"Chris Duncan knows the business of dance… What Chris brings to the table that is special, is a thorough understanding of audiences and audience building, of partnerships, of value propositions, and of approaching markets through recognition of the real needs and desires of dance consumers. Anyone who is presented with an opportunity to learn from her experience would be a fool not to take it."
⏤ Rick Tjia (Cirque du Soleil Casting, Choreography Online – Canada)
"I have been fortunate enough to have worked with Chris for over 8 years now, and I am always grateful for the knowledge and sound advice she has offered. Her passion and dedication to the dance industry is contagious and she is a compassionate leader who truly cares about the people she works with."
⏤ Kate Ulbrick (Capezio Marketing & Product Manager – Australia)
"As an ever changing artist in many fields, it has been an incredible privilege to know that Chris Duncan has provided unshakeable support for many of my crazy ideas like 'The Movement – Youth Contemporary Dance Program', The Jason Winters Contemporary Syllabus – sold exclusively through COMDANCE, & The Winters Experience – Mentoring, Personal Development, Coaching, & Yoga… and what I find truly remarkable is that Chris hasn't offered this guidance to just me alone, she is consistently doing the same for so many other aspiring dancers, choreographers, teachers, & studio owners. The Dance Industry just wouldn't be what it is today without her!"
⏤ Jason Winters (Choreographer, Creative)
DANCEBOSS will be available in hard copy from December 2021 for $29.95 rrp. However, as a pre-release special you can secure your copy of DANCEBOSS now for $19.95 (plus $5 postage) Australia wide!!
To get one of the first signed copies of DANCEBOSS – From Start-Up Enterprise to Dancepreneur and siupport this first-time author's journey please click on the link below to order.