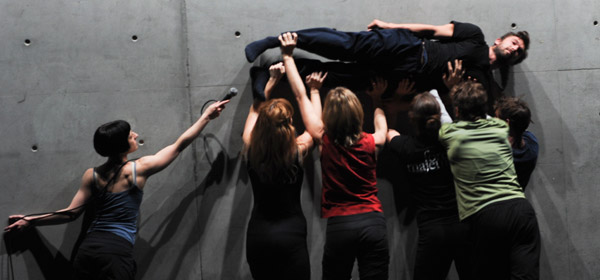 Cultivate 2013
Presented by Force Majeure in association with Carriageworks and Performance Space

Force Majeure invites applications to Cultivate, our second annual dance theatre laboratory, taking place 15 July – 2 August 2013.
Cultivate is a unique lab-style workshop that will give choreographers, directors, dancers and physical performers/actors direct experience of the methodologies employed by Force Majeure to create new work. The lab will be led by Kate Champion, Artistic Director of Force Majeure and Byron Perry, Associate Director of Force Majeure.
Cultivate aims not to teach, but rather to stimulate participants into thoroughly investigating their own concepts and the possible directions that their practice can take.
Participants will work within a supportive environment where they will be encouraged
to take risks with their own creative vision and where they will receive articulate and constructive feedback.
We welcome your application if you:
Are a dancer, actor or physical-theatre performer who is highly skilled and has
an interest in the devising process of dance theatre
We are particularly looking for artists from diverse cultural background.
Applications from inter-state artists will be considered.
7 Performers will be chosen.
To apply you will need to complete and submit an Expression of Interest online here:
https://adobeformscentral.com/?f=9u91uOPZK1lxr-ct0OZ%2AiA
Please note:
Closing date for applications is 5pm, Tuesday 30th April 2013.
Successful applicants will be notified by May 31st 2013.
A fee of $700 per week will be paid to each participant to assist in covering costs incurred whilst participating in Cultivate.
Airfares and accommodation will be provided to interstate artists.
You must be available from 15 July – 2 August 2013 inclusive from 10am – 6pm.