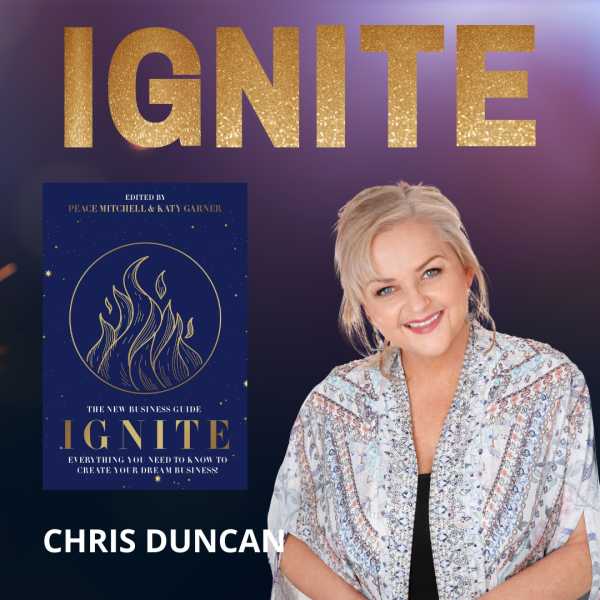 Top Leaders Share Their Hottest Business Tips
IGNITE Launch Festival
OUR VERY OWN DANCELIFE CEO CHRIS DUNCAN SHARES HER STORY IN NEW BOOK!
DANCE INDUSTRY ENTREPRENEUR CHRIS DUNCAN – our very own Editor in Chief here at DANCELIFE AUSTRALIA – is part of a collaboration sharing advice and inspiring women to follow their calling, believe in themselves and create the business they've been dreaming of!
This book is a collection of inspirational stories and practical advice for women by women focused on inspiring purpose, vision and ambition. Featuring real-life, relatable role-models from all walks of life who were inspired to follow their dreams and took action to make it happen!
Having the confidence to take action is one of the most important qualities you need to succeed in business as Chris Duncan explains, "While it would be nice to simply trust that the universe will do all the heavy lifting for you, realistically we still need to take physical action on inspired guidance to bring our hopes and dreams to fruition. Having or developing the courage to do this is one of the most important ingredients in becoming a successful businessperson and/or entrepreneur!".
Co-author Peace Mitchell of The Women's Business School says, "Believing in yourself is an incredible force of power that starts with you. Whether you want to change the world, invent an incredible product, take on the big brands, inspire people, take your business global, start a movement or dream bigger in anyway it's time to take action and follow that calling!"
It can be challenging to be a successful leader and Chris Duncan gives this advice for others thinking about following their calling to start a business. "LEADERSHIP is ultimately a BEHAVIOUR. And, like most behaviours, the SKILLS and QUALITIES you need to practise it effectively, can be LEARNED. Staying 'teachable' is key and engaging experienced mentors that are ultimately 'in your corner' helps fast-track your road to success".
"We wrote this book because we know that there are so many women out there with big dreams and ambitions who are being held back from following their ambitions by fear and self-doubt. We wanted to send a strong and clear message to the world and to women everywhere that it doesn't have to be this way, and this book will guide you through overcoming your fears and self-doubt and inspire you to instead embrace the courage to follow your dreams." Mitchell explains.
Ignite launched nationally this month of March to mark International Women's Day with an online festival featuring interviews and presentations from each of the 24 authors.
For more information about Ignite visit wcwpress.com
For all enquiries about Chris's new mentoring programs, contact chris@dancebosspro.com.
CHRIS DUNCAN BIO:
Chris Duncan began a lifelong passion and relationship with the world of dance and entertainment at a very early age. After extensive training in all genres of dance, Chris opened her first studio at age 19 and went on to direct successful students to international careers in dance and musical theatre.
In 2012 Chris purchased DanceLife Pty Ltd from founder Clint Salter, and over the following three years set about developing the events component of the company known as 'DanceLife Unite' from one successful Sydney-based dance competition to a nation-wide network of events and National Finals. Chris is also the Managing Director of 'DanceLife Australia' – the online media portal – which is now the leading digital news service in the Australian dance and musical theatre industry.
Chris now turns her focus to assisting other DANCE-BIZ owners achieve their dreams with her new book and online mentoring service 'DANCEBOSS' and lives by her mantra: CREATE, BELIEVE, INSPIRE, ACHIEVE. www.dancebosspro.com