Royal Academy of Dance's Centenary Celebrations in 2020
100 Events in 100 Places Globally – Starting in Australia
To celebrate 100 years the Royal Academy of Dance (RAD) is planning a programme of worldwide events and initiatives throughout 2020, designed to celebrate the past, present and future of the renowned dance organisation with a global dance community.
Founded in 1920 the Association of Operatic Dancing was born out of a campaign in the UK that founding editor of Dancing Times Philip Richardson and dancer and ballet teacher Edouard Espinosa launched in the pages of the magazine in the 1910s. Together, they lobbied for standards of dance teaching to be established, and pushed to create a governing body to ensure that standards of teaching were maintained. To reach this goal and form such an organisation, they enlisted the support of international dance stars and teachers, including fellow founding members Adeline Genée, Phyllis Bedells, Lucia Cormani and Tamara Karsavina. Today, the Royal Academy of Dance (RAD) as it is now known, is one of the most influential dance education and training organisations, with nearly 250,000 people around the world taking RAD exams each year.
Amongst the highlights is a free to enter display at the V&A museum in London, open from May 2020 which will also host wraparound events, workshops, performances, guided tours and talks to enjoy. In 2020 the RAD will also present the newly named Margot Fonteyn International Ballet Competition which takes place at the Royal Opera House in London for the first time, a series of 100 events in 100 places, a commemorative coffee table book, and Dance is in our DNA, a video project using the app Seenit to showcase the diverse work of the RAD and its membership around the world.
As the second largest RAD office outside of the UK, RAD Australia is excited to announce its own national programme of events taking pride of place in the global 100 series. The very first global event will take place in Adelaide, Australia in early January and will profile young male dancers as part of the RAD's global male dance initiative – Project B. Boys DANCE 20 and Challenge is a boys only workshop and competition aimed at widening access to dance for boys and celebrating their achievements. The Challenge competition will be adjudicated by the RAD's Artistic Director Gerard Charles who is visiting from the UK to take part in this and other centenary celebrations. The general public are encouraged to come along and buy tickets to watch the competition and show their support for male dance as well as help the RAD begin their yearlong celebrations.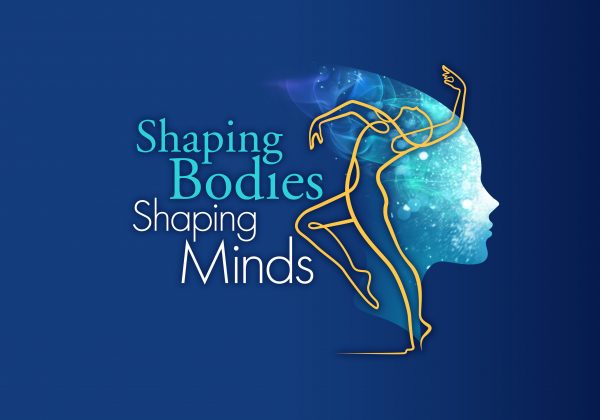 Also in January, RAD Australia will host its third international dance education conference Shaping Bodies, Shaping Minds in Melbourne, bringing together leading dance education researchers, scholars and practitioners to present the latest in best practice advice and pedagogical advances. Keynote speeches from David McAllister AM Artistic Director The Australian Ballet and Vice President of the RAD and Faculty of Education Director, Dr Michelle Groves will bookend a varied programme of presentations which examines dance for older learners, inclusive dance, mental and physical wellbeing of dancers and the value of dance in broader applications such as the treatment of veterans.
In a bid to inspire everybody to dance, the RAD will take to the streets of Australia for two free Pop Up events. Federation Square Melbourne and Rundle Mall Adelaide will showcase performances from RAD students and special guests, whilst giving the general public a chance to come and try various dance classes aimed at all ages and abilities. Students will also have the opportunity to perform in professional theatres, as the Academy hosts four celebratory gala performances in Melbourne, Canberra, Perth and Brisbane. These performances will feature RAD dance schools in these regions and include special guest performances by former students who have gone on to dance with the world's biggest international dance companies. Tickets for these galas will go on sale to the public early next year.
Further events include a Pas de Deux partnering masterclass for students taught by Artists from The Australian Ballet and an evening event hosted by David McAllister AM charting the development of the RAD's flagship international ballet competition. From Genée to Fonteyn will take place at Melbourne Arts Centre hours after the newly renamed Margot Fonteyn International Ballet Competition final at the Royal Opera House in London. David McAllister will interview former Australian medallists from the competition including current and past Australian Ballet dancers Amber Scott, Montana Rubin, Simone Goldsmith and Kirsty Martin. Tickets to this event are on sale now.
RAD National Director Rebecca Taylor said of the 2020 programme: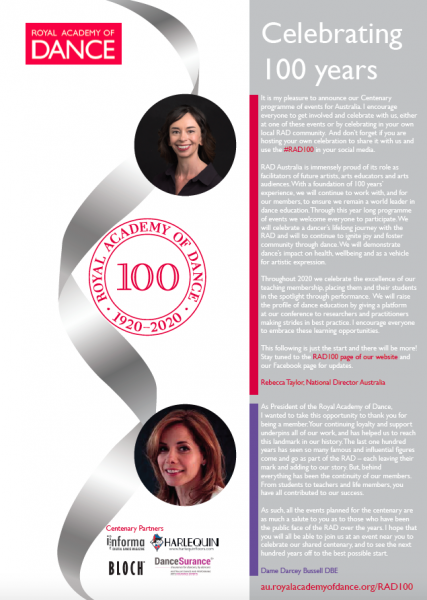 "RAD Australia is immensely proud of its role as facilitators of future artists, arts educators and arts audiences. We welcome everyone to participate in this year long programme of events which celebrates a dancer's lifelong journey with the RAD. Throughout 2020 we will continue to ignite joy and foster community through dance. We will highlight dance's impact on health, wellbeing and as a vehicle for artistic expression. We will celebrate the excellence of our teaching membership, placing them and their students in the spotlight through performance. And we will raise the profile of dance education, giving researchers and practitioners making strides in best practice a platform at our conference. We will also plan for our next 100 years, ensuring the Royal Academy of Dance is the dance education organisation of choice for years to come."
Download the Australian 2020 RAD Program of Events here: RAD AU Centenary calendar of events 11 Nov 19
A full programme of events for Australia and globally can be found through the RAD's website at au.royalacademyofdance.org/rad100. #RAD100