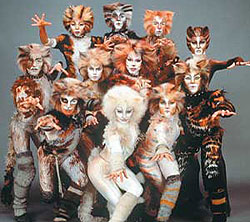 One of the world's best known musicals, Cats, will play a Brisbane season later this year, it has been announced. There's been no confirmation if the show will visit other cities.
Cats first opened in London in May 1981 to rave reviews and went on to win a record-breaking number of awards worldwide including two Olivier Awards for Musical of the Year and Outstanding Achievement of the Year in Musicals, and seven Tony Awards. It holds the record of the longest-running musical in West End history having played for 21 years. In addition Cats played 18 years on Broadway and has been presented in over 26 countries, in about 300 cities, in 10 languages.
The show is being produced by Lunchbox Theatrical Productions and David Atkins Enterprises in association with the Really Useful Group. The production is currently touring overseas.
A staff member from the Really Useful Group has just send me some more information.
"The company have a few weeks to decide if they want to stay with the tour and travel to Brisbane.
I suspect we won't lose very many as most will want to perform in their home country. If there are any changes and we do audition we will send out a notice".