TO WIN TICKETS READ TO THE END!…
The new season of CATS opened in Sydney last week to thunderous applause and standing ovation.
The much anticipated return of this production with tweaked musical arrangement by Andrew Lloyd Webber did not disappoint. Exceptional performances from a stellar cast bring this time-honoured tale to life for a new generation to enjoy. Delta Goodrem as 'Grizabella' is simply the icing on the cake.
The show is set amongst a larger- than-life junkyard playground and is alive with fabulous feline characters including Rum Tum Tugger, Mr. Mistoffelees, Macavity, Jennyanydots, Old Deuteronomy, Grizabella and Skimbleshanks.


Immediately as the musicians strike up the familiar overture, the audience is transported to another time and place where imagination is key to the tale that is about to unfold. The Jellicle Cats come out to play on one special night of the year – the night of the Jellicle Ball. One by one they tell their stories for the amusement of Old Deuteronomy, their wise and benevolent leader, who must choose one of the Cats to ascend to The Heaviside Layer and be reborn into a whole new Jellicle life.
To the uninitiated, CATS may seem like an unintelligible romp into a fantastical feline world with little to connect the 'dots' of storyline. However an appreciation of the poetic work of T.S. Elliot's "Old Possums' Book of Practical Cats" and the artistry employed by Andrew Lloyd Webber to bring these tales to life in such a mammoth production, soon enlightens even the most cynical of critics.
CATS is one of the most dance-oriented musicals of all time with original choreography by Gillian Lynne in association with Jo-anne Robinson and Bill Deamer (for the Gumbie Tap). Created at a time when large-scale DANCE production was an integral part of live entertainment, the choreography is reflective of both early 1980's classical-contemporary hybridisation and Gillian Lynne's interpretation of feline physicality. Each of the stunning performers exudes an exceptional movement quality and technique – particularly Christopher Favaloro as the 'Magical Mister Misoffelees'.
All the favourite characters are expertly brought back to 'life' with engaging and committed performances. A personal favourite was Daniel Assetta who excelled in the role of 'Rum Tum Tugger'.
Lloyd-Webber's 'magical' musical scores are set to 'replay' on your internal iPod many days past the actual event. Renditions of 'Jellicle Cats', 'Mongojerrie & Rumpleteaser', 'Old Deuteronomy', 'Macavity', 'Mr Mistoffelees' and of course the heart-tickling 'Memory' remain as mental tags to this excellent production.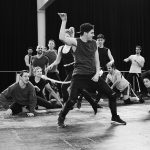 CATS had its world premiere at the New London Theatre in 1981 where it played for 21 record-breaking years and almost 9,000 performances. The ground-breaking production was the winner of the Olivier and Evening Standard Awards for Best Musical. In 1983 the Broadway production became the recipient of seven Tony awards including Best Musical, and ran for 18 years.
Since its world premiere, CATS has been presented in over 30 countries, has been translated into 15 languages and has been seen by more than 73 million people worldwide. Both the original London and Broadway cast recordings won Grammy Awards for Best Cast Album.
Featuring a fantastical oversized set, a superb score, inspired choreography and mischievous costumes, CATS is a brilliant song and dance spectacular not to be missed. Simply put, CATS is PURR-FECTION!
MELBOURNE | Regent Theatre


18th December 2015 – 24th January 2016
BUY TICKETS

HERE




BRISBANE | Lyric Theatre




29th January – 14th February 2016




BUY TICKETS

HERE




ADELAIDE | Festival Theatre


18th March – 10th April 2016
BUY TICKETS

HERE




PERTH | Crown Theatre


16th April – 8th May 2016
BUY TICKETS HERE

WIN TICKETS TO CATS!


Melbourne, Brisbane, Adelaide, Perth
DanceLife has a double pass to see CATS in each of the these cities. To enter, tell us which book the musical CATS is originally based on.
Simply send your answer and contact details into win@dancelife.com.au with 'CATS Tickets' in the subject line. Don't forget to specify which city you want to attend! And for extra chances to win, comment and share this article on your FaceBook page. Good luck!
********