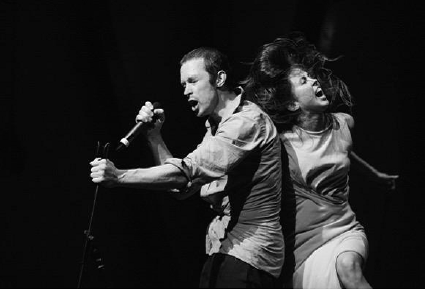 Chunky Move has been invited to perform Complexity of Belonging in Taipei this November and Gentle is the Power in Singapore in December.
The company is the first Australian performing arts company to tour to Singapore as part of the Federal Government's Free Trade Agreement and MoU on Arts and Culture between Australia and Singapore.
Executive Director Vanessa Pigrum said: "We are delighted to bring these outstanding works to international audiences. They showcase the extraordinary virtuosity of the dancers and Complexity of Belonging's themes of displacement and belonging are universal themes that communicate across all language barriers. We see these tours as the beginning of many more tours in Asia in the coming years."
Complexity of Belonging, created by Artistic Director Anouk van Dijk and long-term collaborator, German writer and director Falk Richter, premiered at the 2014 Melbourne Festival, and toured to Utrecht, Berlin and Paris, earlier this year to great acclaim.
The work will be performed at Taipei's National Theater & Concert Hall from 20-22 November as part of the 'Dancing in Autumn' Festival. This will be the  the second visit to Taipei for Chunky Move, following performances of Mortal Engine in 2010.
Gentle is the Power was created by Chunky Move Artistic Director Anouk van Dijk,  specifically for and with dancers James Vu Anh Pham and Niharika Senapati. It has been selected for T.H.E Dance Company's M1 CONTACT Contemporary Dance Festival  and will be presented twice  on 12 December in the Esplanade Theatre Studio, Singapore.