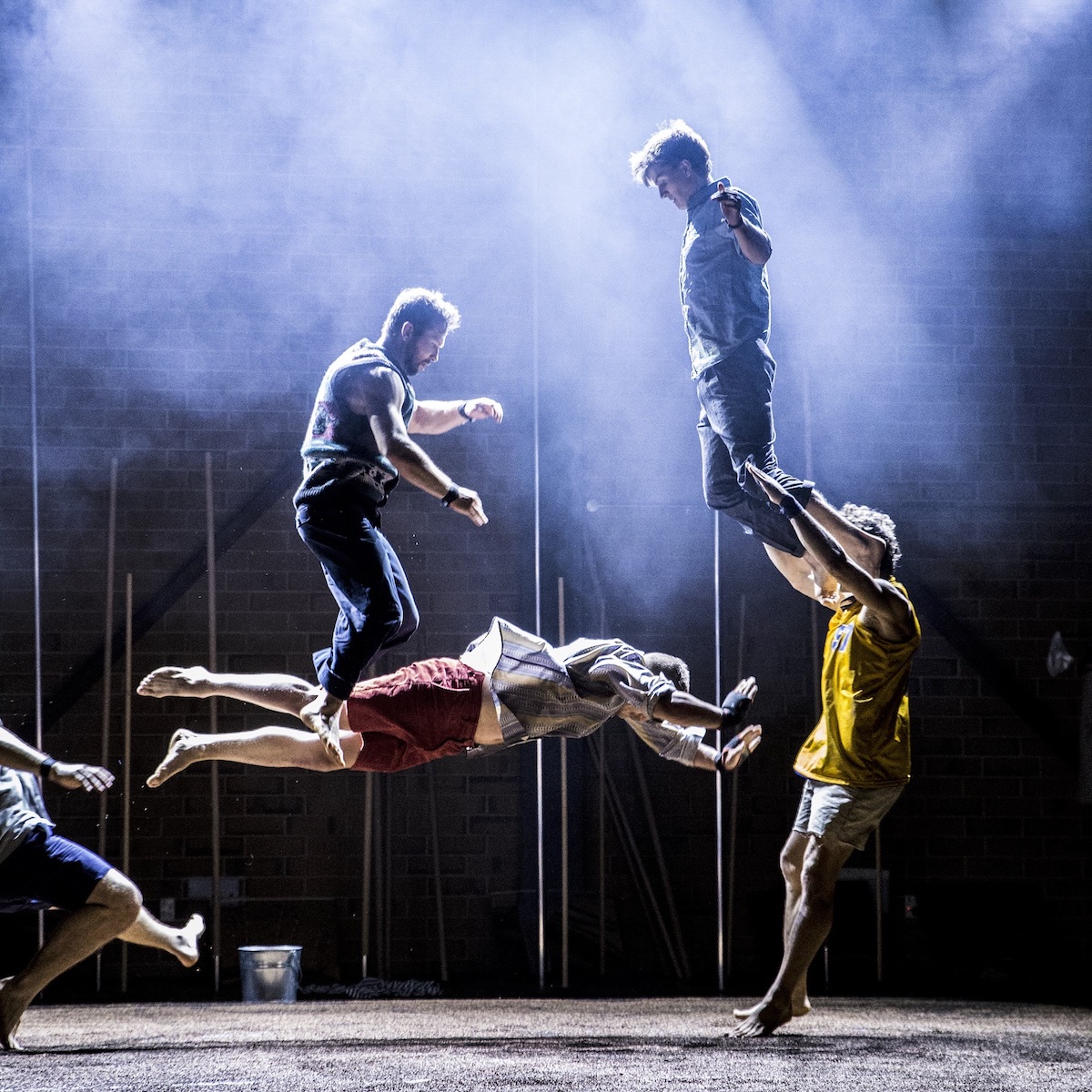 2018 Australian Performing Arts Market in Brisbane
Dance Highlights by Thomas E.S. Kelly & Gravity and Other Myths
PLUS!

… win tickets to see each of these shows. Send in your name and number to win@dancelife.com.au with the show of your choice in the title.

From 19 – 23 February 2018 leading national and international performing arts industry will descend on Brisbane for the Australian Performing Arts Market (APAM), Australia's largest internationally focused trade-market for contemporary performing arts.
At its simplest, APAM is a market for buyers from around the world to come and view Australian and New Zealand performing arts product and potentially give it a new audience in another city, state or country. The performing arts product is presented in one of three forms – as a pitch, an excerpt or in its entirety.
APAM provides this unique opportunity every two years and creative individuals, groups and companies apply for the opportunity to find the ear of the all-important 'right' people who can give their work an audience if it is already created, or if it is just a pitch help bring it to life!
This year, for the first time, a public program allows locals the unique opportunity to peer behind the Industry curtain and view some incredible full length works that will be showcased at APAM.
Brisbane Powerhouse Artistic Director Kris Stewart said Brisbane Powerhouse was excited to offer our audiences the opportunity to experience APAM. "This is the first time we're opening the doors and inviting audiences in to experience some of the very best performances from Australia and New Zealand, including two large scale site specific performances, and a free up late live music program on the Turbine Platform."
Dance Features on the Public Program include Backbone and [Mis]Conceive
Multi-award winning South Australian acrobatic ensemble Gravity & Other Myths will kick off the public program in the Powerhouse Theatre on Friday 16th February with their work Backbone. This all ages show (literally!) tosses around the perception of what strength is, where it comes from and how it is measured. It is a celebration of human interconnectedness which tests the limits of strength; physical, emotional, individual and collective.
In less than a decade, Gravity & Other Myths have rocketed to stellar acclaim with a series of disarmingly accomplished ensemble work, and now it's time for Brisbane audiences to discover why!
Staged with a deceptively DIY aesthetic and dispensing with trickery and distraction, this is circus that goes straight for the jugular. Backbone is the culmination of all that's gone before. A celebration of human connectedness and the meaning of strength, its athletic appeal is combined with a conceptual brilliance that elevates it to a new level.
Sexy but sincere, raw yet utterly disciplined, Backbone is proof you can't do the impossible without a little sweat.

On Sunday 18th February in the Visy Theatre at Brisbane Powerhouse, Queensland choreographer and composer Thomas E. S. Kelly will present [MIS]CONCIEVE, a mash-up of traditional and contemporary dance theatre show which explores the misconceptions and pre-conceived ideas on what people are supposed to look and act like with their aptly named work. This is a co-presentation between Supercell, BlakDance and Brisbane Powerhouse.
Combining Aboriginal cultural knowledge with contemporary gestural motifs, [MIS]CONCEIVE's fusion of hip-hop, physical percussion and rhythmic cultural pattern is expressive and immediate.
Through the mash-up of traditional and contemporary styles that simultaneously reject, reveal and re-educate modern (mis)understandings of Indigenity, [MIS]CONCEIVE argues that 'knowledge' does not equal comprehension. Books are not their covers. One size does not fit all.
A high-energy work that pulses with humour, play and personal stories, [MIS]CONCEIVE brings audiences through the past, to understand the present and move forward into a better future.




Backbone  |  Gravity and Other Myths
Friday 16th @ 7:30pm, Sat 17th February @ 2:30pm & 7:30pm (CHECK)
Powerhouse Theatre, Brisbane Powerhouse
Tickets: Adult $48, Concession $32, Package $30
Bookings: brisbanepowerhouse.org  or Ph: (07) 3358 8600
[MIS] CONCIEVE  |  Thomas E Kelly
Sunday 18th February @ 2:00
Visy Theatre, Brisbane Powerhouse
Tickets: Adult $38, Concession $25, Package $30/50/100
Bookings: brisbanepowerhouse.org  or (07) 3358 8600