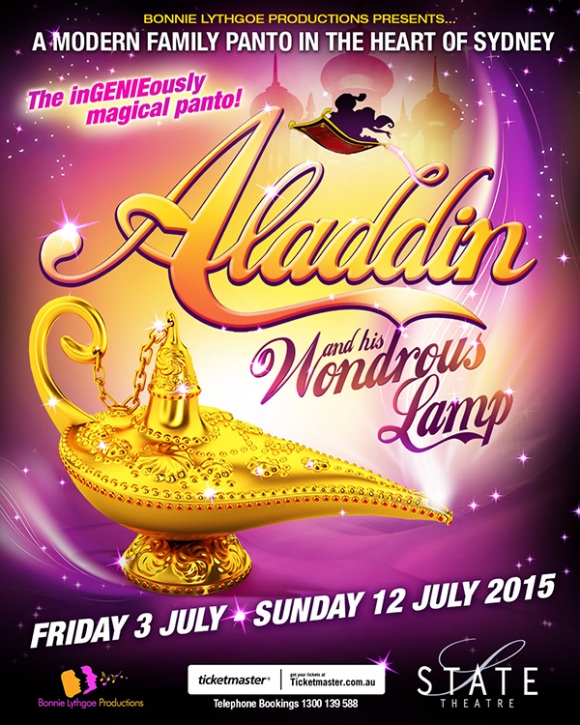 BONNIE LYTHGOE PRODUCTIONS ANNOUNCES FIRST CAST FOR PANTO AT THE STATE THEATRE IN SYDNEY
'ALADDIN AND HIS WONDROUS LAMP' MODERN MUSICAL
FEATURING "I'M A CELEBRITY GET ME OUT OF HERE" LAUREN BRANT, "THE VOICE SEASON 3" MAT VEREVIS, AND PRINNIE STEVENS AS SLAVE OF THE RING
THE PRODUCTION WILL PERFORM
JULY 3-12, 2015
Bonnie Lythgoe Productions has announced casting for the Australian Premiere launch of Aladdin and his Wondrous Lamp, featuring  Lauren Brant (I'm A Celebrity Get Me Out Of Here) as "Princess Yasmina", Mat Verevis (The Voice Season 3) as "Aladdin", Kev Orkian (London West End Star and Comedian) as "Wishee Washee", Josh Adamson (returning from last year Snow White and Aladdin in Los Angeles) as "Abanazar" and triple threat singer, dancer and presenter Prinnie Stevens as "Slave Of The Ring" at the State Theatre in Sydney, July 2015.
Returning from last year's hugely successful and critically acclaimed inaugural production of Snow White – Winter Family Musical in Sydney, director Bonnie Lythgoe (So You Think You Can Dance Australia) will bring an updated musical version of the classic Arabian Nights tale to Australian audiences.
"I'm so excited to finally be working with Bonnie Lythgoe on Aladdin, which allows me to continue to combine my two loves singing and dancing," says Prinnie Stevens.
In the style of a traditional British family panto, Aladdin and his Wondrous Lamp is a singing, swinging and soaring spectacular adventure that features family friendly comedy, magic and today's music, which will appeal to everyone from the ages of 4 to 104!
Director Bonnie Lythgoe said: "I rubbed the lamp and my wish came true, an amazing cast with a secret too.  T'will be revealed at a later date it's all about magic and a young boys fate…
Lythgoe will take the familiar traditional tale and inject contemporary chart topping songs including "Treasure" (Bruno Mars), "Shake It Off" (Taylor Swift), "Viva La Vida" (Coldplay), "Chains" (Tina Arena), "Party Rock Anthem" (LMFAO), as well as incorporating current local culture references, into the script.
"The audience will gasp as our hero fights through with the help of our Genie and a magic carpet too.
Have I won you over yet, I hope so! This is a spectacular Aladdin season for everyone, music you know, familiar faces with twists and turns that you don't expect. No one leaves without a smile and there is one wish you will never guess," says Lythgoe.
Bonnie has been staging pantos in the USA with huge success for a number of years. She has already produced Snow White, Aladdin (US) and her latest production, Sleeping Beauty and her Winter Knight was a sell out success at the Pasadena Playhouse in LA last Christmas.
Well known for her creativity and involvement in global television hits "American Idol" and "So You Think You Can Dance," Bonnie is dedicated to bringing affordable theatre to families across Australia through fun, musical theatre the whole family can enjoy.
Bonnie Lythgoe will soon return to Australia to cast for The Emperor, Widow Twankey, the dancers and of course the one role we can't forget the Genie!  Follow Bonnie Lythgoe on Facebook for all audition details and announcements.
Aladdin and his Wondrous Lamp will be held at the State Theatre in Sydney with performances running from Friday, 3 July through until and including Sunday, 12 July 2015.
TICKETS FOR A ALADDIN AND HIS WONDROUS LAMP
ON SALE NOW THROUGH TICKETMASTER.COM.AU
Tickets range from $83.00 Premium Seats / $68.00 Adults / $47.00 Children
Family of Four Tickets and Group Booking Discounts also available!