Alana Haines Australasian Awards 2017
April 13 – 17 | Wellington NZ
New Zealand's prestigious biennial ballet awards  – Alana Haines Australasian Awards – will be held over the Easter long weekend in Wellington with more than 500 dancers from around the world vying for over $400,000 worth of prizes, scholarships and grants.
The winners in each category offered complimentary entry into the Youth American Grand Prix Finals in New York in April as well as training scholarships to the leading ballet schools and companies around the world! All of 2015's winners and runners-up are training full time with international ballet schools.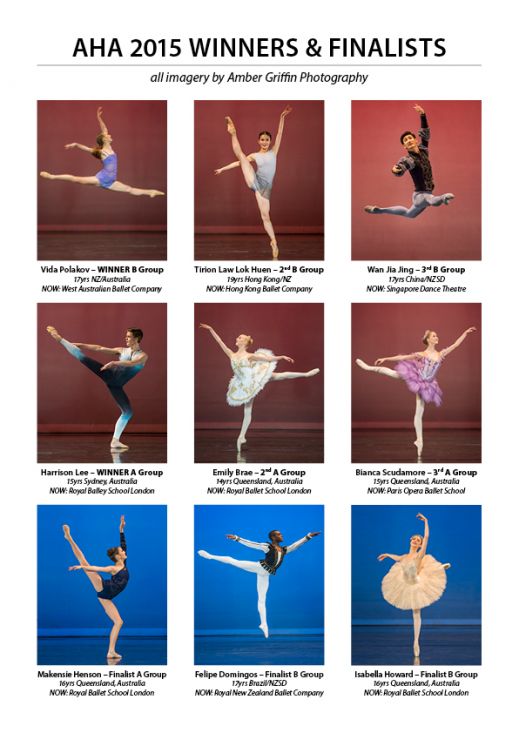 The AHA Awards will be held from Thursday 13 to Monday 17 April at the St James Theatre, Wellington. Competitors take part in classes and solo performances, with finalists performing in the Grand Final on Monday evening. The AHA Awards are open to dancers aged 11-18 years.
The Grand Final Gala will also feature guest performances including former winners Harrison Lee (Royal Ballet School), Chloe Paige-Young & Aaron Matheson, Ariana Hand & Tynan Wood (Melbourne City Ballet), as well as guest dancers from New York and the Royal NZ Ballet.
The 2017 awards will be adjudicated by Lisa Pavane (The Australian Ballet School), Terrence Etheridge (Dutchy Ballet, Hong Kong Ballet, Rambert School of Ballet); Leslie Hughes (Hamburg Ballet, Atlanta Ballet Theatre Bern); and Stefane Leonard (Royal Winnipeg Ballet School).
Class instructors this year will be Anne Gare and Vinencio Samblaceno (former principals with Royal New Zealand Ballet); and Peter Boyes (former Assistant Director of the Royal NZ Ballet and Maggiiodanza Italy).
ABOUT
A car accident took the life of a promising 11yr old dancer Alana on Xmas Eve 1989 after she performed to 1,500 in Wellington. This prompted other dancers to fund-raise for a biennial dance event in Alana's name. Today, the  'Alana Haines Australasian Awards' is the most prestigious & largest Australasian event of its kind & supported by the dance community around the world.
The Alana Haines Trust was set up in 1990 by Greg and Katie Haines (both former dancers with the New Zealand Ballet Company now Royal NZ Ballet) in memory of their 11 year old daughter Alana.
This registered charitable organisation is organised by Katie and Fiona Haines (Alana's sister) and is run strictly by volunteers. It provides a biennial international dance forum for artistic development and offers financial assistance for talented young dancers aged 11-18yrs providing a career platform and aspiration at this formative stage in a young dancers career. Cash awards & scholarships are allocated by an international jury to contestants who enter & compete at the AHA Awards biennial events in NZ. Dancers who do not enter are not eligible for any sponsorship from AHA Awards.
Keep up with this year's awards by following Facebook:
ALANA HAINES AUSTRALASIAN AWARDS
WHERE: St James Theatre, Wellington, NZ
WHEN: Easter Weekend April 2017 Friday 14
th
– Mon 17
th
– Grand Finals Mon Eve 7pm