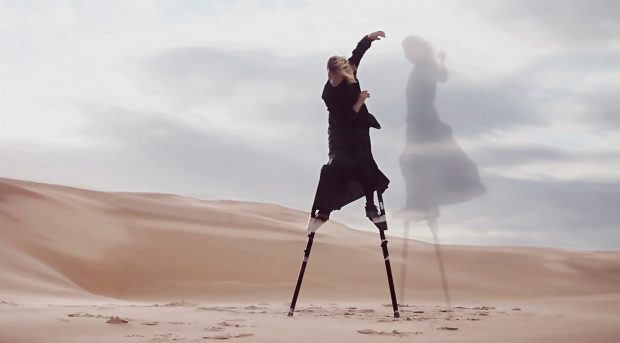 Exploring Above Ground Movement with Apparatus
June 21 – 23 | Riverside Theatres
From 21st to 23rd June, FORM Dance Projects and Riverside Theatres will present the exciting double bill, Above Ground, exploring the subtleties of above ground movement with apparatus.
The double bill will feature the new work, Cat's Cradle, from Australia's celebrated physical theatre company, Legs On The Wall. Expertly utilising a commanding apparatus that looms over the space, like a curtain of tentacles, Cat's Cradle will explore the depths of what is private and what is public. It will tantalisingly coerce the audience to look at their own desires, where reality and fantasy collide.
Artistic Director of Legs On The Wall and creator of Cat's Cradle, Joshua Thomson said, "The work delves into and exposes the true reality of intimacy between a couple who each crave more, and push each other's limits. It hums with an underlying tension, sometimes playful sometimes painful, and a little bit sexy."
The second work, Soft Prosthetics and Metal Gods, sees Kathryn Puie bring her extraordinary versatile physicality to the stage in a new variation of her career-long foray into dance for stilts.
A collaboration with artist Lux Eterna, the work explores how we depend on external devices and prosthetics to enhance, extend and expand our human experience. It will question whether it is possible to breathe life and extend consciousness into these inanimate objects, and if we have lost touch with the haptic realm.
Puie said, "This new work has developed from a rich and dynamic collaboration between Lux Eterna and myself, and brings our explorations of the embodied gaze and prosthetic bodies to the stage."
LEGS ON THE WALL have evolved into producers of spectacular physical theatre of world renown since its beginnings on the streets of Sydney in 1984. Legs explores, discovers, combines, and collaborates artists and artforms including aerial performance, dance, acrobatics, script, sound design, film, installation art, industrial design and more. Having performed for the opening ceremonies of Sydney, Beijing and London Olympics; the Melbourne and Glasgow Commonwealth Games; as well as numerous other national and international arts festivals, Legs will always be known for their bold and visually breathtaking performances of both scale and intimacy, for audiences from their tens to their hundreds of thousands, around the world.
ABOVE GROUND | Legs on the Wall and Form Dance projects
Riverside Theatres – Corner of Church and Market Streets, Parramatta
Thursday 21
st

to Saturday 23

rd

June; 8pm
Duration: 70 minutes
Bookings: Adult $35 and Conc $28 – From the Box Office (02) 8839 3399 or riversideparramatta.com.au
Note: Cat's Cradle contains mature adult themes and is recommended for ages 16+.