One Man. 60 Minutes. 100 Years of Dance History… Learning has never been more fun!
Fringe World 2020, Perth, Feb 3-16
One of Australia's most innovative artists, WAAPA graduate Joseph Simons, is bringing his hilarious show 100 Years Of The History Of Dance As Told By One Man In 60 Minutes With An Energetic Group Finale to FRINGE WORLD Festival in 2020.
100 Years Of The History of Dance will shake up the classroom at the Old Perth Girls School ⏤ Fringe's coolest hub for 2020 ⏤ every night from Monday 3 February to Sunday 16 February.
Bursting at the seams with fascinating facts, naughty stories and dance moves to die for, 100 Years Of  The History of Dance follows schoolboy Jacob presenting a school report on a topic of his choice. Not to be extra or anything, but Jacob has decided to cover 100 years of dance!
Exploring the lives of influential choreographers including Martha Graham, Merce Cunningham, Bob Fosse, Rudolf Nureyev, Pina Bausch, Gene Kelly and Paula Abdul, Jacob not only talks about them but demonstrates their signature style at the same time. As he prepares, Jacob ponders the difference between 'influence' and 'plagiarism' and begins to question his own legacy …
Ballet, jazz, modern and contemporary dance are all addressed in this physical theatre performance, which blends dance and theatre in an unusual, charming and funny way.
The show is directed by New York-based WAAPA alumni Emma Canalese and was co-written by Canalese and Simons. At FRINGE WORLD Simons is joined by Perth-born Andrew Longo and Brisbane local Trent Sinclair, both Queensland Conservatorium graduates, who will each take turns playing Jacob on consecutive nights.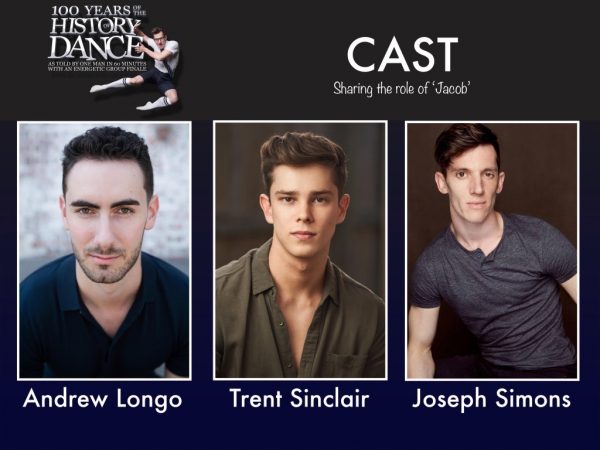 As well as teaching audiences the real story behind some of the world's most household names, 100 Years Of The History Of Dance  will also impart some essential life lessons; such as, if you want something in life, you just have to start it!
The castle-like 1930s Old Perth Girls School building is iconic in its 'Egyptian Art-Deco' grandeur and operated as a school from 1936 until 1962 before becoming a police station – making it the perfect location for this history lesson with a difference.
So head down to Old Perth Girls School, where you'll learn the history of dance as an academic concept, and also learn it's for everyone… and it feels good!
For more information:  thehistoryofdanceshow.com | josephsimons.com.au


100 Years Of The History Of Dance As Told By One Man In 60 Minutes With An Energetic Group Finale
FRINGE WORLD Festival
Home Economics, Old Perth Girls School
Nightly at 8.15pm from Monday 3 February to Sunday 16 February, 2020
Duration: 60 minutes
Bookings:
fringeworld.com.au