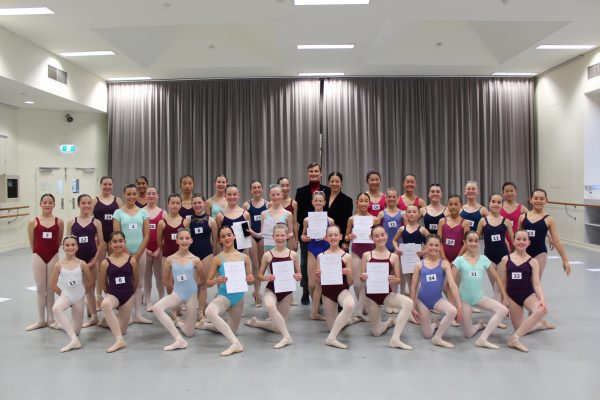 The Audrey Nicholls Awards
Royal Academy of Dance
The Royal Academy of Dance (RAD) enjoyed a triumphant return of its prestigious ballet Awards programme in Victoria last weekend. The Audrey Nicholls Awards ran for the first time since September 2019, due to the ongoing impact of the COVID-19 pandemic. With dancers in the region hardest hit by lockdowns and disruptions to training the RAD were particularly pleased to see this event return to their annual programme of student activities around the country.
RAD National Director Aaron Bloomfield said… "Despite a somber shadow cast over the weekend by the passing of our Patron of 69 years, Her Majesty Queen Elizabeth II, I believe this event which culminated on Sunday, was a true celebration of the dedication and determination of our young dancers. It was wonderful to see our Victorian students share their passion and artistry once again and impress both our adjudicators and eager audiences."
A minute's silence was observed during the course of the event as a mark of respect. The Audrey Nicholls Awards is named for retired professional dancer Audrey Nicholls who was a Principal Dancer with Ballet Rambert, a Leading Soloist with the Borovansky Ballet (which later became The Australian Ballet) and Principal Guest Artist with Ballet Guild (Ballet Victoria). She then became one of Australia's most experienced, respected and admired teachers. A Life Member, a former Graded Examiner for 33 years and an ambassador for the RAD, Audrey has been an advisor for new RAD Examiners and a mentor for new and already established teachers. In 2011 Audrey was awarded the Fellowship of the Royal Academy of Dance, one of the Academy's highest honours and in 2013 she was awarded the Order of Australia Medal for her services to the Performing Arts, particularly Ballet.
Adjudicating the Awards on behalf the RAD were Vice President David McAllister AC (former Principal and Artistic Director The Australian Ballet) and Jill Ogai (currently a Senior Artist with The Australian Ballet).
Young dancer Cindy Jiang from Brian Nolan Academy of Dance won the Overall Award for Grades 1-4 whilst Amy Hou from TDC The Dance Company won the same Award for Grades 5-8. Other notable winners were Miller Phillips from Geelong Ballet Centre who won the RAD Centenary Medal for Grades 1-4 and Amaaya Jayamaha from Parkwood Dance Academy who won the RAD Centenary Medal for Grades 5-8. See a full list of the winners on the RAD website here https://au.royalacademyofdance.org/audrey-nichollsoam-frad-awards-2022-all-winners-announced/
The RAD will now look forward to seeing its vocational students from Victoria also make their return to the stage in the Kathleen Gorham Awards this November.