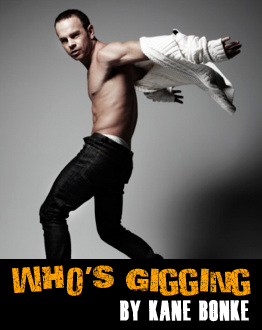 LA based dancer, Zac Brazenas was dancing for Hollywood's A list at the Oscars this week, he was in the opening number. Zac can also been seen on the big screen in Celine Dion's documentary film, which is playing at selected cinemas across Australia. I am visiting Zac in LA in June so I look forward to getting all the Goss first hand.
Mardi Gras party this year was the year of the pop star. George Michael made an appearance, even if it was a little ruff, in a show choreographed by the super ripped Michael Boyd. George was backed by some of the hottest male dancers, Antony Ginundjar, Ashley Evans, Eli Crawford, Cory To, Hilton Denis, Lockhart Brownlie, Troy Harrison.
To die for Diva, Kelly Rowland also blew the roof off the RHI with a performance choreographed by the one and only, Cameron Mitchell. Dancers lucky enough to share he stage with such a star were, Kate Wormald, Carly O'Connor, Cory To, Rowena Vila, Ashley Evans, Biance Birgan, Jason Jowett. My experience was ruined by the man behind me who thought he was Beyonce…..I can tell you he wasn't.
American Idol star Adam Lambert shut the party down backed by ED5 graduates from 2010. What a way to start your career dancing in the closing show for Mardi Gras party with flamboyant Adam Lambert. Camp!
Rehearsals for Fame got under way this week in Melbourne. As a member of the original Australian cast, I know this experience will live with them forever.
Nathan Wright, Drew Anthony and David Atkins have wrapped up their ceremonial duties for the Vancouver Winter Olympic Games. Nathan also is nominated for a Green Room award for his choreography for, Avenue Q.
Brett Rosengreen is currently touring the UK with the stars of TV show X Factor.
This week saw the closure of on of Sydney's largest and oldest dance agency Detour. Sad times.
Candy Man, starring Wayne Scott Kermond, is currently touring regional areas of Australia. Wayne is one of my favourite people in this industry so go along and support fantastic Australian performers. He is backed by Tracie Morley, Veronica Beattie, Kaylie Yee, Jesse Rasmussen and Jordan-I get every show- Pollard.