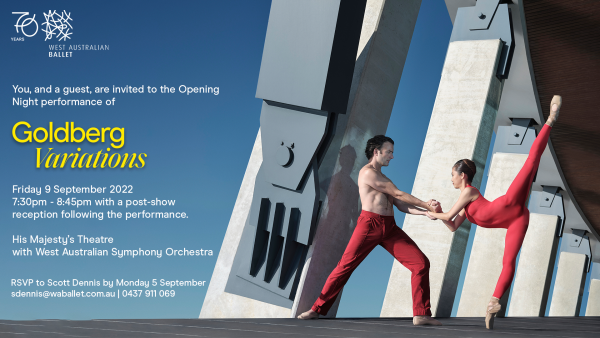 Goldberg Variations
West Australian Ballet
West Australian Ballet are set to premiere a brand-new ballet this September at His Majesty's Theatre Perth. Choreographed by acclaimed choreographer Natalie Weir and set to one of Johann Sebastian Bach's iconic compositions, the world-premiere of Goldberg Variations will have an exclusive 12-show run.
Inspired by Bach's Baroque Aria and Variations of the same name, West Australian Ballet's Artistic Director Aurélien Scannella has long been wanting to commission the work after seeing an adaptation whilst in Europe.
"Bach's Goldberg Variations are simple yet ambitious, textural and captivating," said Scannella.
"To feature this piece of historic composition alongside Natalie Weir's physical, flowing movement style will create a new masterpiece."
Australian choreographer Natalie Weir is well known internationally for her touching insight into humanity, highly physical partner work, and organic and beautiful movement. Perth audiences will remember her celebrated piece, 4Seasons, from As One: Ballet at the Quarry in 2021 where her cannoned vision was highly commended by audiences and critics alike.
Weir has long heralded acclaim as one of Australia's best dance choreographers, creating pieces for the world's leading ballet companies including the American Ballet Theatre, Hong Kong Ballet and West Australian Ballet's compatriots; The Australian Ballet and Queensland Ballet.
"I am thrilled to be working with West Australian Ballet's world-class dancers once again. Our previous staging in 2021 of 4Seasons was done entirely over Zoom, so it has been wonderful to be in the studio with them," said Weir.
"Bach's Goldberg Variations is such an iconic piece of music and the myth behind its creation is fascinating, I was honoured to be asked to choreograph to this masterpiece", said Weir.
Rumour has it that the score was created by Bach in 1741 to ward off Count Keyserlingk's debilitating insomnia. The Count would summon his harpsichordist, Johann Gottlieb Goldberg, to play through several variations to bring cheer to his sleepless nights.
Weir is set to build an alluring narrative to Bach's famous Goldberg Variations, following the legend of the insomnia-driven Count, who throughout a restless night, reflects on his four past loves whilst being affected by the core human emotions of love, happiness, loss and loneliness.
Set to a 'court-like' background and with a simplified Baroque-design from Western Australian designer Bruce McKinven, who takes inspiration from the likes of a modernised Marie Antoinette in fluoro pink, and Dior's classic angels.
Consisting of 30 different musical variations West Australian Symphony Orchestra will bring a bespoke Chamber Orchestra to perform alongside West Australian Ballet's dancers, with WASO's Associate Concertmaster and Violinist Riley Skevington, directing the 12-musician orchestra.
With just 12 performances of this neo-classical season, tickets for West Australian Ballet's Goldberg Variations are available from waballet.com.au/goldberg-variations
West Australian Ballet's Goldberg Variations
Perth

– His Majesty's Theatre
From 9 – 24 September 2022