VIOLET | Hayes Theatre | 27 Nov – 20 Dec
Hayes Theatre's final production for the year is the sensational VIOLET by Brian Crawley and Jeanine Tesori, and directed by Mitchell Butel. Presented by Blue Saint Productions.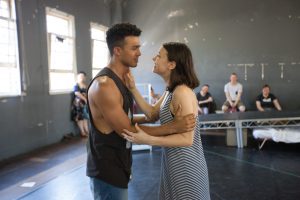 Set against a backdrop of racial tension during the 1960s, VIOLET tells the story of a young girl who is facially scarred as a child in an accident. Violet undertakes her search for beauty amidst the image obsessed landscape and racial tensions of the American South in the 1960s. Journeying across the country with a rag bag of fellow travellers, she discovers that true beauty is not always in the eye of the beholder. Her search for divine intervention becomes her salvation comes in a very different manner.
With a vibrant and exciting score by Jeanine Tesori, composer of Caroline or Change, Shrek The Musical, VIOLET takes you on a musical journey through the American South with blues, roots, soul and gospel. If Chekhov, Lena Dunham and Aretha Franklin conspired to write a musical, this would be it!
Featuring a stunning cast including Samantha Dodemaide, Steven Danielsen, Barry Conrad, Dash Kruck, Damien Bermingham, Luisa Scrofani, Linden Furnell, Elenoa Rokobaro, Ryan Gonzalez, Katie Elle Reeve and Genevieve Lemon.


"When a show works it tugs you insistently into its universe. This journey unfolds a half-century ago, but you don't have to look far to see that the idea that life can change dramatically and devastatingly in a flash. What you do next becomes the question – and it makes VIOLET evergreen." – NY Daily News
Musical director | Lucy Bermingham
Choreography | Amy Campbell
Set design | Simon Greer
Costumes | Lucetta Stapleton
Lighting | Ross Graham
www.violetthemusical.com.au
VIOLET


Presented by Blue Saint Productions
Hayes Theatre, Potts Point, Sydney
Friday 27 November – Sunday 20 December 2015
Tuesday – Saturday 8pm | Saturday 2pm | Sunday 3pm & 7pm (no 3pm show 29 Nov)
Prices: Full $54.00 | Concession $49.00
Book here www.hayestheatre.com.au