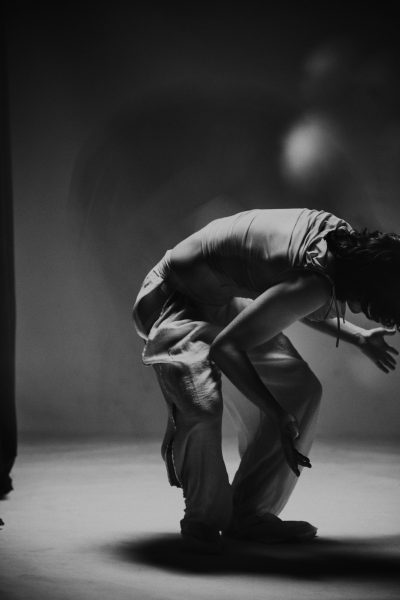 Triptych
Sydney WorldPride 2023
For Sydney WorldPride 2023, Phillip Adams, Australian maverick of contemporary dance presents Triptych, a divine intervention of queer crucifixions inspired by Francis Bacon's triptych paintings (1944–1986). Triptych celebrates the cultural kitsch of Christian spirituality and transforms its heteronormative iconography with a queer veneer.
Under the new roof of Phoenix Central Park, Adams creates choreographic abstractions of Bacon's crucifixions: dancers enact duets of physical detachment and violent tremors that evoke the spectacle of horror – a distinguishing feature of Bacon's oevre. Amidst a sphincter-sex-sling installation, performers portray Bacon's theatrical and surreal imaginariums of the crucifixion in a Disney-esque balletic parody of the grotesque.
Adams' collaborators on Triptych are some of Australia's most influential contemporary artists: visual artists Paul Yore and Devon Ackerman; fashion designer Toni Maticevski; composers David Chisholm and Duane Morrison; and video artist James Wright. These artists break with convention, make queer art and design with intelligence, and experiment with the sort of risk that gives way to unshakeable originality.
Over 25 years, Adams' body of work has insisted on and argued for the visibility of queer aesthetics in Australian contemporary dance, performance and art. Triptych honours queer elders, histories and communities by exploring queer expression throughout art history as a reliable signifier of the ever-changing avant-garde.
Created by Paul Yore and Devon Ackermann, the set for Triptych is drawn variously from depictions of domestic and cinematic space in the work of Bacon, particularly two Triptych works from 1970. The material and formal elements for the set are largely drawn from these paintings, in which modernist depictions of domesticity foreground a psychosexual depiction of the body that can openly be read as masculinist, queer, libidinal, violent, performative, grotesque and/or ambiguous. The set itself will consist of three distinct elements, which also references what Bacon himself called the 'balanced unit' of the Triptych format.
Australian fashion icon Toni Maticevski has built a brand, and vision that has defied trends and inspired contemporary women's fashion and design for nearly two decades. Maticevski has collaborated with Phillip Adams BalletLab for two productions, Miracle (2009) and Aviary (2011) for which he won a Helpmann Award (shared with Milliner Richard Nylon.) For Triptych, Maticevski's costume designs subvert Bacon's exposed and disconfigured bodies through ornate bondage and suited attire: kinky-prince meets power-bottom adorned in designer jock straps.
 
Triptych 
Triptych includes a film created and performed by Adams in collaboration with NON Studio's Director, James Wright. Adams' works often include startling elements to shake an audience out of complacency. In Triptych, this tendency is made centrepiece, portraying the queer body as an unstable site of sublime beauty and abhorrence. The film in which Adams performs a painterly choreographic expression atop a large-scale canvas using his anus as a brush, references the blood of Christ
"I read the rectum paint as 'a font of creation', an expression of deep privacy, a physicality we are conditioned from childhood to reject. In attending a crucifixion, one witnesses an act of ultimate judgement. In Triptych, I challenge the act of witnessing – by joining the dancers only on film, my presence seeps outside the frame of the live performance; in this intervention my fragmented presence becomes the omnipotent judge and the ultimately judged." – Phillip Adams
Phoenix Central Park
Phoenix Central Park is Sydney's newest contemporary performance space and gallery promoting genuine artistic risk-taking and unique collaborations that are as bold as the building's multi-award-winning architecture. As the singular vision of philanthropist Judith Neilson AM, well-known as the founder and owner of Sydney's prized White Rabbit Gallery, Phoenix serves as a creative beacon for adventurous artists and audiences alike.