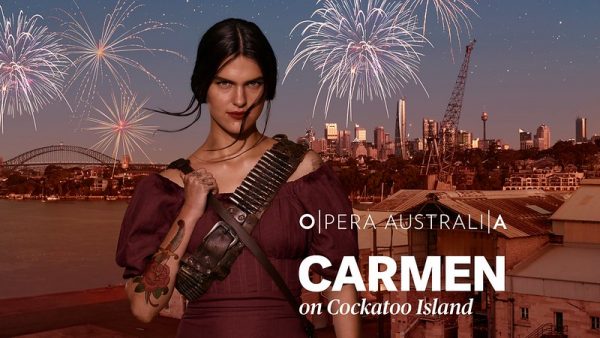 Carmen on Cockatoo Island
Opera Australia
We are giving away 2x double pass tickets for Carmen on Cockatoo Island on the 29th of November 2022. Find out how you can win tickets to see this amazing show – read to the end of the article for details. 
The ultimate femme fatale is back, in a brand new island performance in the middle of Sydney Harbour.
Carmen tosses her hair, stamps her feet and the whole world falls under her spell.
Revel in the irresistible Spanish tunes, sultry story and dark undercurrent of Carmen. You'll hear the flirty Habanera and famous Toreador song amid a spectacle that features motorbike stunts, crashed cars and fireworks.
Your night begins with a ferry ride across the glittering water to the world-heritage listed sanctuary of Cockatoo Island. Step off the boat and you're surrounded by layers of history. Once a meeting place for the Eora Nation, the site is now dotted with the industrial relics of a century of ship-building and architectural marvels dating back to Sydney's convict past.
Today, the island is a world-class contemporary arts venue, hosting everything from the Biennale of Sydney to live concert performances. It's the perfect backdrop for Bizet's gritty tale of fate and freedom.
Raise a glass with friends and grab a snack from an array of pop up bars and eateries on the foreshore before settling in under the stars for an unforgettable night out.
TO WIN TIX:
'Write to us at win@dancelife.com.au and tell us why you would love to see this show and who you would take with you!'
Entries close Friday 18th November.
Carmen on Cockatoo Island
Sydney

– Sydney Harbour
From 25 November–18 December 2022