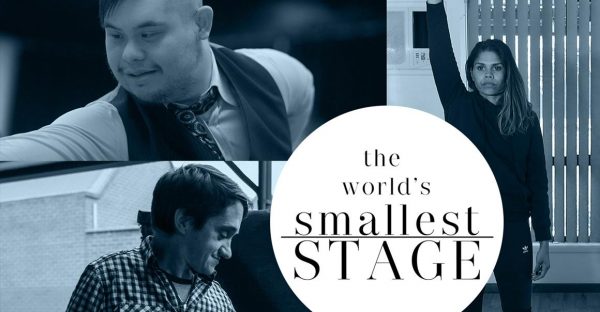 Australian Dance Theatre's Collaboration with South Australian Artists
Due to Demand New Matinee Show on October 2
Australian Dance Theatre (ADT) in collaboration with indigenous dancers and choreographers from Kurruru, the team at Restless Dance Theatre, local independent choreographers and an eclectic range of local musicians, identified in partnership with Music SA, have come together to present The World's Smallest Stage.
The World's Smallest Stage is a collaborative project with ten (10) choreographers matched with twelve (12) dancers and ten (10) composers to create a series of new short dance works, between 5-10 minutes each.
Due to popular public demand, an additional third show has been added to the schedule being performed at ADT's home theatre The Odeon on Friday October 3 at 2pm.
Created in isolation this year, each new dance piece is confined to 2m x 2m (perfect for rehearsing in a lounge room) and clearly references social distancing regulations that have become a major part of our lives.
The choreographers in this series are: Tobiah Booth-Remers, Felicity Boyd, Thomas Fonua, Lina Limosani, Gina Rings (Artistic Director, Kurruru Arts and Culture Hub),  Michelle Ryan (Artistic Director, Restless Dance Theatre),  Kaine Saltan-Babij, Adrienne Semmens, Matt Shilcock and Jo Stone.
The musicians are: Collarbones, Dave Gibson (Space Bong), Kiah Gossner, Dan Rankine (P.K.A Trials, A.B.Original), Michael Ross (Electric Fields), Gabriella Smart, Mario Späte (aka Badcop), Neon Tetra, Bree Tranter and Anth Wendt/Oisima.
The idea was conceived by Garry Stewart, ADT's Artistic Director, as a direct response to the limitations that arts companies and artists are facing during the current public health crisis.
"COVID-19 has been incredibly disruptive and damaging for all of us in the arts, but it has allowed us to re-establish our relationships with the wider arts sector and start innovating and creating together rather than separately."
"Thanks to the generous funding from Arts SA's Arts Organisations' Collaboration Grants, we have been able to bring together our colleagues at Restless and Kurruru, a fantastic group of independent choreographers, and the amazing composers selected in partnership with Music SA to create The World's Smallest Stage," said Nick Hays, Executive Director.
Although the creative development for this project has progressed in insolation, ADT will be sharing the final performances of The World's Smallest Stage for a very special season at The Odeon in October 2020.
THE WORLD'S SMALLEST STAGE
Thursday 1 October1 @ 8pm
Friday 2 October @ 2pm & 8pm
The Odean, Norwood
Bookings: www.trybooking.com/book/event?eid=649459&