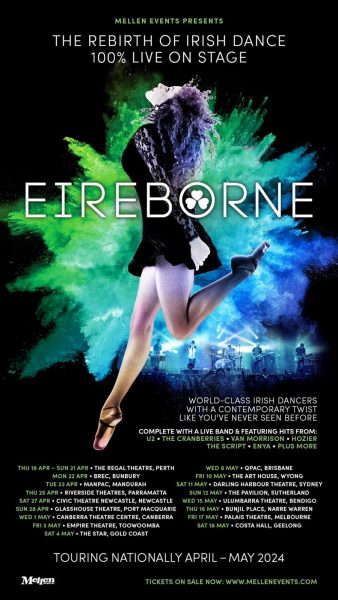 Eireborne
Touring Nationally 2024
After a sensational and sold-out success in 2022, Eireborne is back next year by popular demand! The wait is finally over for all the fans who have eagerly anticipated its return. Mark your calendars as the tour kicks off on April 18, 2024 and continues for 22 shows across Australia.
Tickets are on sale Friday August 11 at mellenevents.com
Eireborne's unique fusion of 100% live rock music with a live band and the world's best Irish dance and tap dancers has captivated audiences around the world. This all-Australian production features a talented cast of 20 of the best Irish, tap and ballroom dancers in the world.  All dancing completely live with no mimed tap!
Critics are raving:
DanceLife Australia called the show "Simply sensational."
Newcastle Herald described Eireborne as a "breathtaking showcase of Irish dance and music."
Studio 10's Tristan MacManus stated, "The show was unbelievable, we lived every dance and felt and loved every song. It's a show to be proud of."
With the show's 100% live presentation as its defining feature, Eireborne is set to revolutionize Irish dance once again. The electrifying performance, accompanied by a six-piece band featuring renowned singers Reigan Derry and Pete Murphy, will immerse the audience in the anthems of Irish artists such as U2, Sinead O'Connor, The Cranberries, Van Morrison, Hozier, The Script, Enya, The Corrs and more.
"We are thrilled to bring back this dazzling and unmissable show," says lead dancer/creator/choreographer/co-producer, Peta Anderson. "Our goal is to push the boundaries of Irish dance and deliver a mesmerizing experience like never before. The audience can expect 11 costume changes throughout the show, making it an unforgettable visual display."
This all-Australian production will take you on a rare journey through Ireland's rich artistic heritage. The 100% live performances will transport you to the heart of Irish culture and leave you breathless with its fusion of rhythm, melody, and theatrics.
Don't miss this incredible event that showcases the Irish spirit through the talent and passion of Australia's finest performers. With over 2.5 million Australian residents identifying with Irish ancestry, we know this will be a show that resonates deeply with the audience.
Secure your tickets early, as this extraordinary production is expected to sell out quickly. Secure your spot and witness Eireborne, an experience like no other. Let the Irish spirit ignite your soul!