The Phantom Of The Opera
Arts Centre Melbourne
The Phantom Of The Opera continues its record breaking success becoming the highest selling show of all time at Arts Centre Melbourne.
Final Seats On Sale Now
Must Close 18 February 2023
Cameron Mackintosh's spectacular new production of Andrew Lloyd Webber's The Phantom of the Opera, currently wowing audiences and critics alike at Arts Centre Melbourne, has now become the highest selling show of all time to be staged at the iconic venue.
After its record breaking season at the Sydney Opera House last year and an extended season in Melbourne, this production has audiences flocking to experience one of the most successful and much loved musicals of all time. The season has been a critical contributor to the ongoing challenge of sector recovery from COVID-19 impacts.
One of Arts Centre Melbourne's (ACM) premiere Resident Companies, Opera Australia (OA) has, for the first time, partnered with the world's leading musical theatre producer, Cameron Mackintosh to present this new production of Andrew Lloyd Webber's The Phantom of the Opera, which has clearly resonated with audiences from around Australia.
Opera Australia CEO Fiona Allan congratulated everyone at OA and ACM on reaching such a significant milestone.
"Truly a remarkable achievement by all involved with this spectacular production. It certainly has proven to be a very successful partnership with Cameron Mackintosh and Andrew Lloyd Webber's Really Useful Group, and we look forward to many more collaborations in the future," said Ms Allan.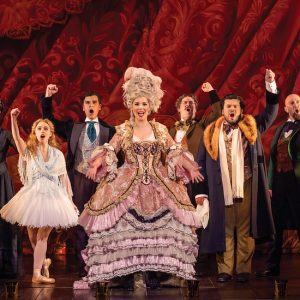 "I'd also like to acknowledge the long standing relationship between OA and ACM , where together we have once again made a significant contribution to Melbourne's vibrant arts and cultural calendar," said Ms Allan.
Arts Centre Melbourne Chief Executive Officer Karen Quinlan said, "It has been wonderful working closely with Opera Australia to ensure that such an iconic show was able to be presented in Melbourne for Victorians to enjoy. The live performance sector continues on a road to recovery and seeing large numbers of people back in the theatres for the season is wonderful.''
Exclusive Ticket Give-away! 
To celebrate The Phantom of the Opera becoming the highest selling show of all time at Arts Centre Melbourne – and to thank Melbourne Phans for helping us achieve this milestone – the Phantom is hiding 50 notes across the Melbourne CBD, inviting audiences to the musical based upon his legend.
There are 100 tickets to win: every note will feature a unique code, allowing its finder to book two tickets to a performance on Tuesday 24 January. Clues as to the notes' locations will be revealed on the morning of Friday 20 January on Opera Australia's social media accounts.
The season must close on 18 February 2023 with no further extension possible.
State Theatre, Arts Centre Melbourne until 18 February 2023
Ticket bookings PHANTOMOFTHEOPERA.COM.AU
«««««
'Big, bold and stunningly beautiful…A production that leaves you wanting more, much more.'
Sunday Telegraph
«««««
'Classics are classic for a reason…cannot fail to impress.'
Time Out Sydney
««««½
"It's marvelous…this slick and spectacular revival has everything it needs to let the music of the night carry you along."
The Age
««««
'The show that transformed our expectations of what music theatre can do remains as visually ravishing as ever…a triumph of traditional stagecraft.'
Sydney Morning Herald
 The talented Australian cast is led by Josh Piterman in the coveted lead role of the Phantom while Amy Manford takes on the role of the ingénue Christine Daaé and Blake Bowden plays Raoul Vicomte de Chagny.
Australian musical theatre stalwart David Whitney plays Monsieur Firmin, Andy Morton returns to the stage as Monsieur Andrè and soprano Giuseppina Grech plays Carlotta Guidicelli. Madame Giry is played by Jayde Westaby, while classical crossover artist Paul Tabone plays  Ubaldo Piangi, and newcomer Mietta White plays young ballerina Meg Giry.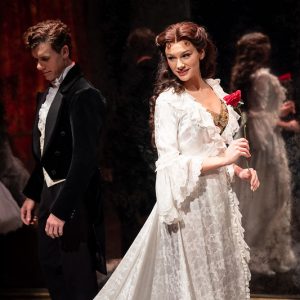 Joining them is the talented ensemble cast including Elliot Baker, Anton Berezin, Laura Bianchi-Bishop, Eleanor Blythman, Gavin Brown, Ben Clark, Bridget Costello, Andrew Dunne, Lewis Francis, Christina Gibbs, Claudia Hastings, Olivia Jenkins, Daniel Koek, Naomi Livingston, Josephine Lonergan, Aaron Lynch, Imogen-Faith Malfitano, Kayleigh Marven, Emma McFarlane, Lachlan O'Brien, Brittany Page, Edward Smith, Anna Stephens, Tod Strike, Troy Sussman, Raphael Wong, Jack Wunsch and Elisha Zion Lee.
Directed by Laurence Connor with choreography by Scott Ambler, set design by Paul Brown, Tony Award®-winning original costume design by Maria Björnson®, lighting design by Tony Award®-winner Paule Constable and sound design by Mick Potter, The Phantom of the Opera has music by Andrew Lloyd Webber, lyrics by Charles Hart (with additional lyrics by Richard Stilgoe), book by Richard Stilgoe and Andrew Lloyd Webber, orchestrations by David Cullen and Andrew Lloyd Webber. This new production is overseen by Matthew Bourne and Cameron Mackintosh
Cameron Mackintosh's spectacular new production of Andrew Lloyd Webber's The Phantom Of The Opera is directed by Seth Sklar-Heyn and is presented by Opera Australia in association with The Really Useful Group.
Since opening in London in 1986, The Phantom of the Opera has played to over 145 million people in 183 cities in 17 languages. Over 36 years after opening in London's West End and 35 on Broadway, in 2023, the show will play in 15 countries, across 4 continents and in 7 languages.