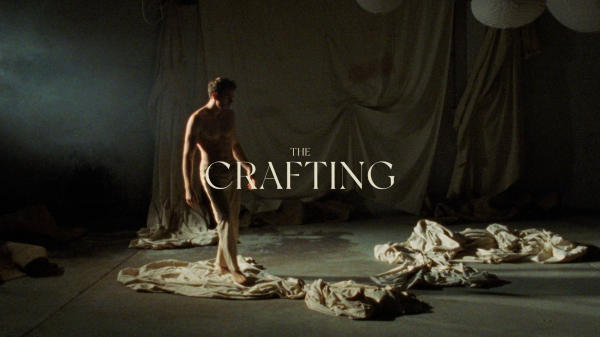 The Crafting
A Film and Book by Brayden Harry
Dance on screen is becoming increasingly ambitious as we see an uprising of artists fusing these mediums together to create works and tell stories. When director; Brayden Harry came back to his Sydney roots after a
season of living in New York City, he was ready to test and challenge the norms of these artforms. Brayden's film and book; The Crafting visualises the idea that we are limited in our ability to attain perfection but there is
beauty when we surrender in the contention for control.
The three act film begins with a cinematic set of draping textures and warm piercing light, in which it reveals the finest of details as director, choreographer and dancer, Brayden opens the scene. With the varied pace and
tone throughout The Crafting, the film is not just for watching but experiencing. It features Rhys Kosakowaski of Sydney Dance Company and Thuba Ndibali, who were both brought onto the project given their captivating movement quality and unique style. Tony, Grammy and Emmy nominated actor, Jeremy Pope narrates The Crafting with brilliance and subtlety as he threads the three acts seamlessly as a voice of reason.
The genesis of The Crafting by director Brayden Harry was inspired by lived experiences and the forging of a new path. "Hands design what the heart desires, but what happens to the heart when the hands can't reach high
enough?". This question, amongst others is posed throughout the film, and are purposely answered inexplicitly allowing for the viewer to find their own answer.
The 6 minute short film highlights the talent of not only Australian dancers and choreography but that of true musicianship, which is amplified by composer Nik Karlin. "The score was an integral part of the narrative as
we wanted to convey the essence of each act and give room for moments of quiet, honest reflection", explains Brayden.
The Crafting, captured by cinematographer Andrew Gough, was shot on 16mm film. "Shooting on 16mm film is such a tangible process, the medium has such a textural and imperfect character to it, which worked so beautifully with the story we set out to tell" explains Brayden.
Further to the film, Brayden wanted to bring this piece to life in print form. The Crafting is accompanied by an 80 page hardcover book, displaying a selection of the 63,000+ 16mm frames that were shot over the course of
production and is a moment for them to stand still. Through the book, it unpackages the story, poses questions and gives insight into the process behind the incredible artists that crafted this film.
The Crafting film is available for viewing and the hardcover book is available for purchase for $70AUD at braydenharry.com