Kira Nelson Premieres 'Colour eMotion'
3 Shows Only! October 26 – 27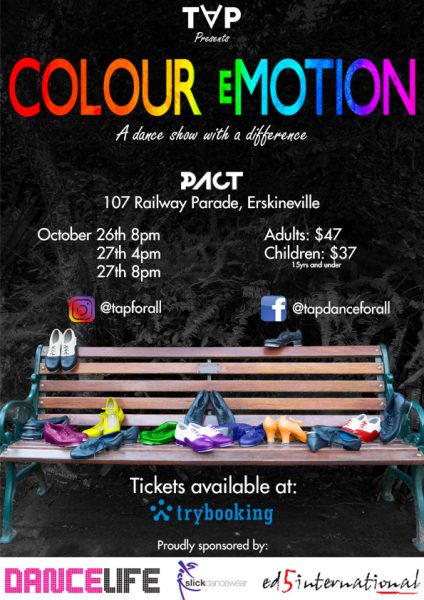 PLUS! … Win a Prize Pack if you purchase your tickets by October 8th!
T∀P (Tap For All) is excited to announce its first full-length show Colour eMotion to be presented at PACT in Erskineville, October 26 & 27,
There will also . be an early sneak-peek of the new show at the Grand Final Show of DanceLife Unite Nationals on Wednesday 6th October!
T∀P has a unique way of showcasing tap dance. They say their aim is to use the influences of today's entertainment to project tap dance forward into the future. By incorporating and fusing together other styles of dance, they aim to create tap dance that can be enjoyed by ALL – dancers, tappers and audience members alike.
T∀P is a Sydney-based tap dance company, which sprung out of Dancelife Unite's Kelley Abbey Choreographic Challenge, which creative director Kira Nelson won in 2017.
"T∀P were privileged to be the national winners of this competition. The competition allowed us to explore various styles of fusion, as well as provide us with an opportunity to share this idea with influential industry members. After the positive reaction to our national winning routine, other video projects and workshops, we are excited to present Colour eMotion; a kaleidoscopic roller-coaster ride of emotions, combining popular music, all genres of dance and showcasing tap dance," said Nelson.
The show is a collaboration by the six performers: Georgia Anderson, Rhiannon Gilmore, Michael Hughes, Benjamin Purser, Cameron Brawley and Kira herself.
Kira says the premise behind her first show is the idea that every colour represents a different emotion. "Dance has always been associated with story telling, however I feel that tap dance has always felt 'limited' in the different emotions/stories it can portray. This show aims to challenge society's view, as well as showcase how versatile tap can be – by fusing it with many different dance genres such as latin, lyrical and commercial styles," said Kira.
"This show will be like nothing else anyone has seen! Not only is it a roller-coaster ride of different emotions, but we have targeted a wider audience, ensuring that not just dancers will enjoy it, but families, friends, and partners will find a reason to tap their toes to the music. By using the artistic influences of all 6 performers, we have created a show filled with so much versatility that we truly believe there will be something for everyone, and no one will leave unsatisfied. Every song has a twist, and we hope that everyone can relate to our show in some way."
As a passionate champion of tap, Kira hopes this show will be the first of many annual showcases. "Sydney and Australia have some of the most amazingly talented and versatile dancers, however I feel that our representation in the tap industry is not as prevalent as it could be. Even the most prestigious venues in Sydney won't allow tap on their floor without the performer having to provide their own stage, and I feel that if we can get more exposure for such a wonderful art form, then they will have no choice but to bring tap to the forefront again. When young people think of tap, they think of the old broadway musicals, but very rarely do people try and modernise it. Sarah Reich's collaboration with Scott Bradlee and the Syncopated Ladies have shown what can be done, and we want to carry that on, showing that tap dance can be 'cool' and 'modern' again."
She would also like to host workshops in the future for people wanting to be inspired, and see more tap routines appearing in eisteddfods around the country.
SPECIAL PROMO!
All tickets sold

before October 8th

will go into the draw to win Tap For All's ULTIMATE prize package which includes:
– Tap For All Socks
– Tap For All Keyring
– Show Poster signed by the cast
– Limited Edition Colour eMotion T-shirts (cannot be purchased!)
– AND the cost of your ticket reimbursed!
(Competition run by Tap For All via the booking link below)
COLOUR EMOTION
October 6th @ DanceLife Unite, Luna Park
October 26th@ 8pm; October 27th @ 4pm & 8pm
PACT Theatre, Erskineville, 107 Railway Pde
Bookings: www.trybooking.com/book/event?eid=405787&