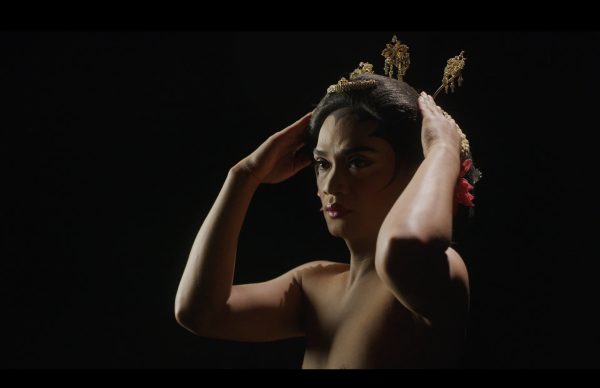 Queers of Java
Sydney WorldPride Arts
"I'm always thinking about how to survive this world… "Many people in Indonesia see the Lengger as mere entertainment, and they ask why the dancers are not women…", says Rianto, "…but actually the Lengger body is not male or female, it is an unlimited spiritual body that has a long history in our tradition."
Acclaimed Indonesian dancer and choreographer Rianto sets free the cross-gender Lengger from the dichotomies that society has constructed to symbolise nature – male or female, day or night, happiness or sadness.
Rianto places the body at the epicentre, in an attempt to reclaim the lengger body that has undergone the long journey from the spiritual, to the material and through to the digital. New possibilities of the lengger body are imagined by an Australian-Indonesian team of dancers, performance artists, sound and video technologists to collapse division between sound and movement, real and unreal, analogue and digital. What is traditional and what is contemporary are indistinguishable. The body becomes a topology through which the Lengger becomes inverted, stretched, deformed, unlimited.
Queers of Java is a prayer for survival of this ancient dance form that is at risk due to socio-political pressures in religiously conservative Indonesia.
Spiritual Indonesian dance traditions are not normally mentioned in the same breath as mixed reality technology, but for Rianto, survivance is also about embracing the future and finding a new ecosystem of life. Queers of Java, while imbued with the spiritual, will also incorporate digital avatars created with detailed motion capture data recorded during a recent residency at the University of Melbourne's dance school, exploring the role of virtuality in new understandings of the body and preservation of dance forms.
Rianto has performed a mesmerising blend of traditional and contemporary dance at many iconic locations around Australia – Carriageworks, Arts House, Arts Centre Melbourne, Rising Festival and Darwin Festival, as well as touring internationally with Akram Khan Company and Choy Ka Fai's SoftMachine.
Now, Rianto brings a new generation of dancers and musicians to Sydney to perform this new work with a host of incredible collaborators including trans performance artist Tamarra, dramaturg Carol Brown and sound and video technologists Monica Lim and Patrick Hartono.
Queers of Java is running for a strictly limited season at Sydney Dance Company's Neilson Studio from 4-5 March.
Creative Concept: Rianto & Monica Lim
Choreographer& Performer: Rianto
Dramaturg: Carol Brown
Performers: Rianto, Tamarra, Sigit Kurniawan & Suratno
Interactive Sound & Visual Design: Patrick Hartono & Monica Lim
Lighting Design: Giovanna Yate Gonzalez
Costume Design: Tamarra